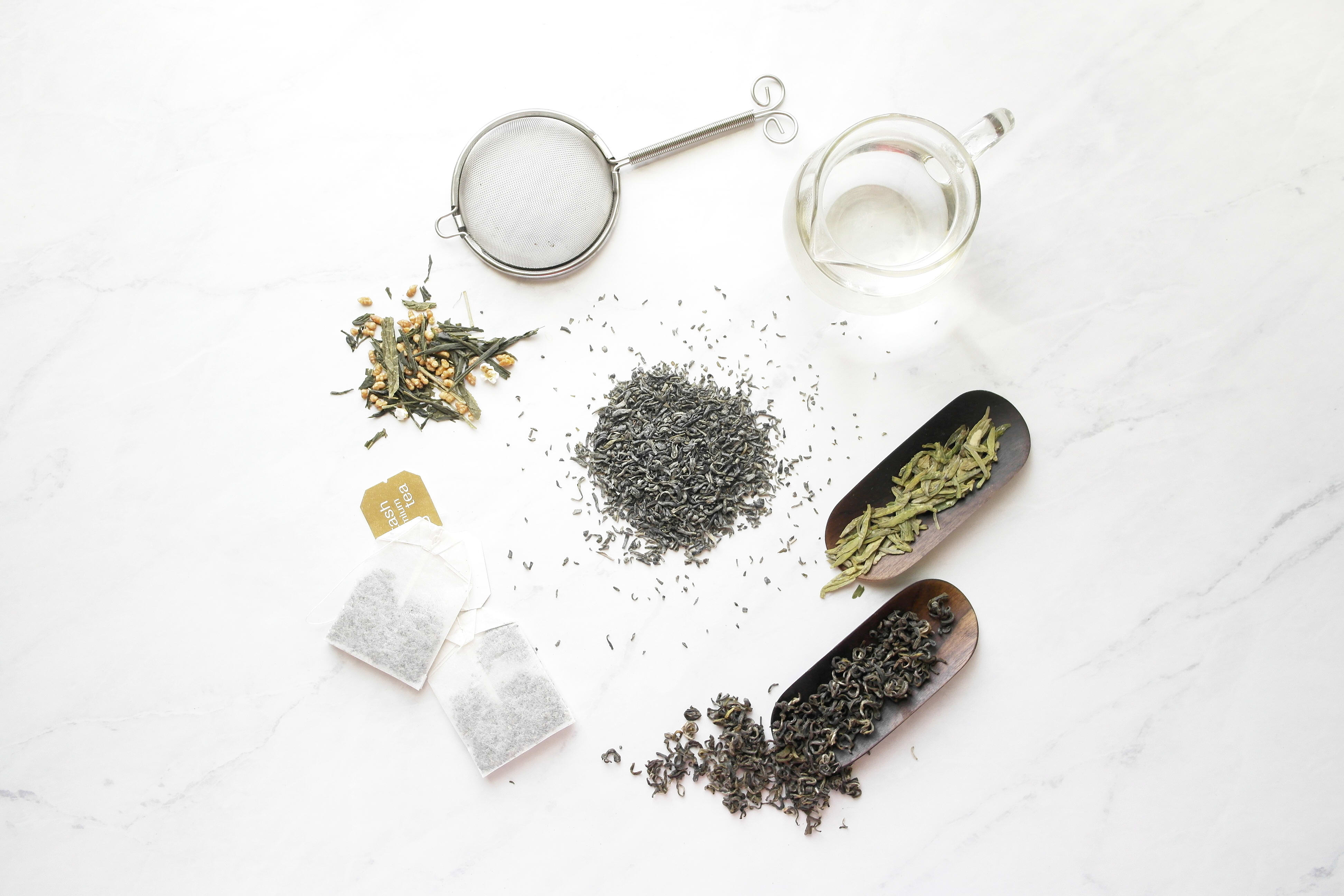 "I want to like green tea, but everytime I make it, it's tastes so bitter."
"I love the green tea at Chinese restaurants, but I can't make it the same way at home."
"Green tea tastes terrible, but I drink it because it's healthy."
Sounds familiar?
I hear things like this all the time. And whenever I do, I just want to rescue anyone in the world who is suffering through horrible, bitter green tea (that tastes more like overcooked spinach than tea).
Green tea doesn't have to be this way! And yet, many people who've never had a cup of good green tea before just assume that green tea is always that way. At least, that's what I thought when I was just starting to get into tea, too. 
Years ago, I used to drink mostly Earl Grey and herbal teas, until I picked up some green tea leaves from Chinatown one day. Up until that point I had never seen green tea leaves before, just green tea bags. 
Of course, I brewed my green tea up the only way I knew how to. Like black tea, you know, boiling water right out of the kettle, for 4 or 5 minutes. Even today I can still clearly remember that first sip of my new green tea… It was this weird, dark brown color, and tasted SO bitter. Like burnt grass, or overcooked brussels sprouts, with a lovely hint of cardboard. I wanted to spit it out.
I didn't, since I thought maybe I just had an unrefined palate, or something… so I decided I should just get used to the taste. And isn't it the bitterness that makes green tea good for you? Right?
…But then as I'd try green tea at different tea shops and Japanese restaurants, I felt like something was wrong. Their green tea tasted fine. Delicious, even! Finally, after a healthy dose of Dr. Google ("Why is my green tea so bitter?"), I realized that it wasn't the tea that was bad, but the way I was brewing the tea. 
Here's how I banished bitter green tea from my tea practice.
Bitter Be Gone! How To Fix Bitter Green Tea
Fix #1: Brew with cooler water.
Pay attention. This is the big one.
The most common problem behind bitter green tea is overly hot water.
While we use boiling water for most other teas, boiling water just isn't a good match for most green teas. Their delicate, vegetal leaves are easily burned by hot water, which causes that bitter, "overcooked spinach" taste.
The tea plant is naturally bitter, so all tea can potentially turn bitter. Green tea is the most susceptible to bitterness, though, because it contains a higher amount of catechins. Catechins one of the compounds that are studied for health benefits in tea, so they're probably good for us, but they're also naturally very bitter.
Tea chemistry is super complex, so I am sure there are other bitter compounds in there too, but catechins are the main ones. Boiling water extracts these compounds WAY too much, but by using cooler water, you can extract the good stuff without overdoing it.
Boiling water + green tea = usually bad news.
Cooler water + green tea = mellow, nice grassy brew.
Check out this side by side of the same green tea, brewed in the same way, but with two different temperatures. On the left, I brewed the tea in boiling water. On the right, I brewed the tea with cooler water, around 175 F / 79 C.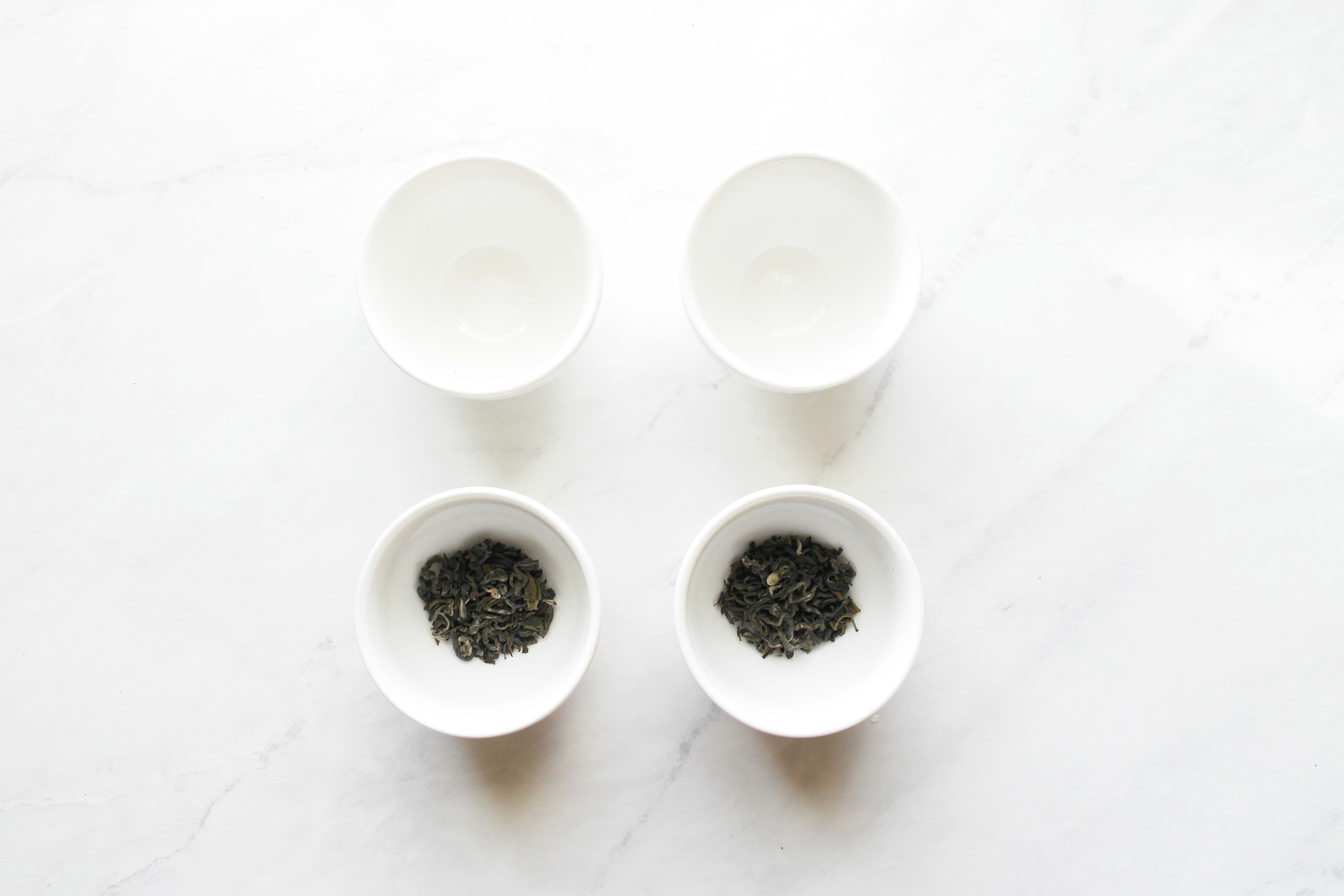 Check out that color difference! That's the same tea, same amount of leaves, and same brewing time, and yet the color changed so much. The green tea with boiling water, on the left, was pretty bitter and left a dry feeling in my mouth. The tea on the right, with cooler water, was nutty, grassy, and even a little sweet. Big difference!
How can I tell what temperature to use?
If you have a thermometer

Test the water. Wait for your water to reach 175F-180 F (79 – 82 C).

If you don't have a thermometer

Pour the boiling water into a bowl and wait for it to cool. Wait at least 1-2 minutes.

You can also use shortcuts to cool the water: either add just a bit of lukewarm water to cool it down, or pour it between two vessels to accelerate the cooldown process.

Test the water with a fingertip. When the water is cool enough that you can just touch the water for a few seconds and have it be bearable, then the water is cool enough. (At this level I go, "Whoa, that's pretty hot! But not scorching hot…")  
With cooled down water, you should be able to improve your green tea by a mile. Give it a try! 
Fix #2: Brew with shorter steep stimes.
Another major cause of bitter green tea is when we steep the leaves for too long. 
The longer you brew a tea, the more stuff is extracted. It's good to wait long enough for the leaves to infuse in the water, of course, so our tea isn't tasteless. But if you wait too long, or even worse, leave the teabag or tea leaves sitting there like so many of us do, those bitter compounds will start seriously over-extracting. 
Here's another side-by-side to check out, this time with different steep times. I did 30 seconds, 1 minute, and 5 minutes.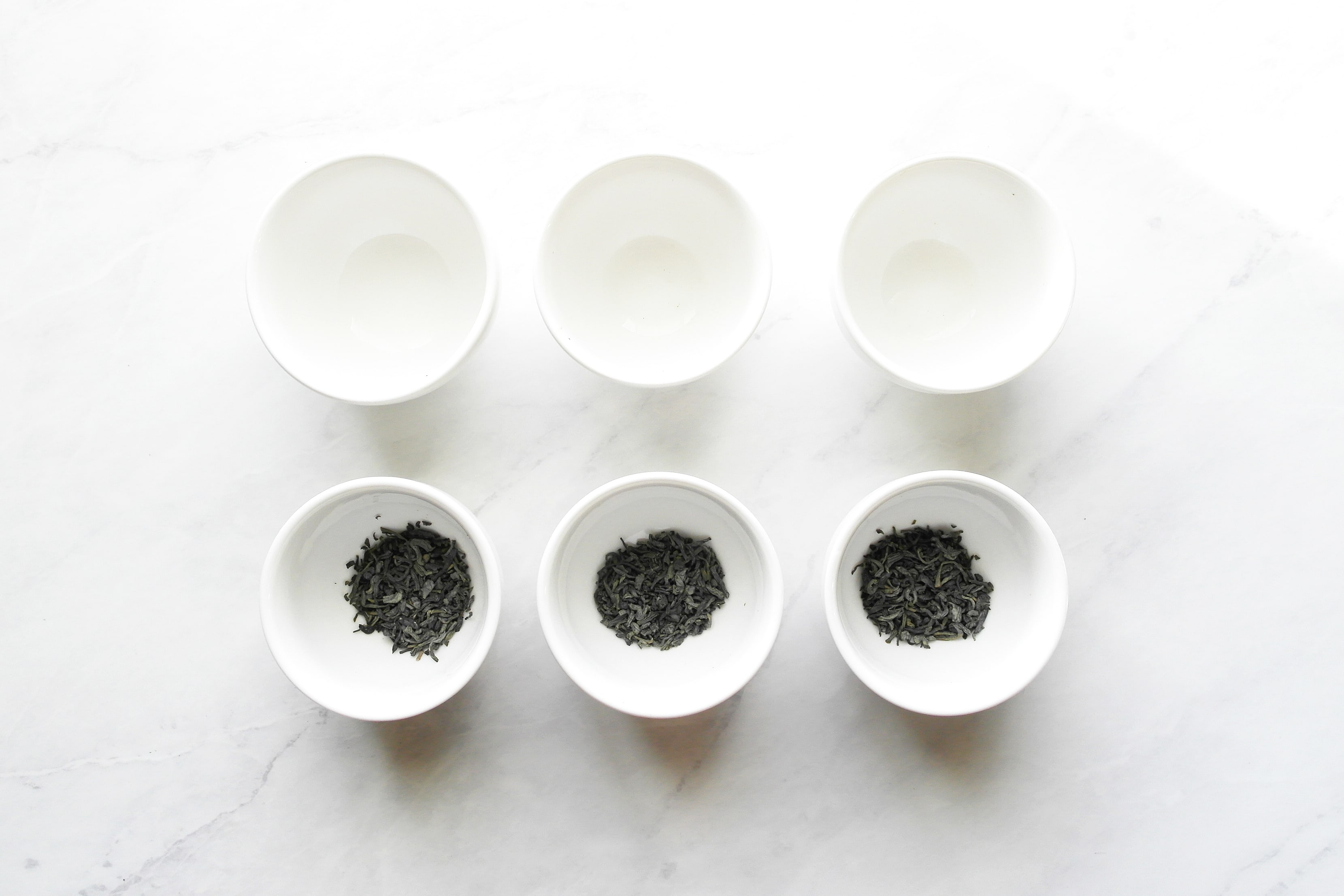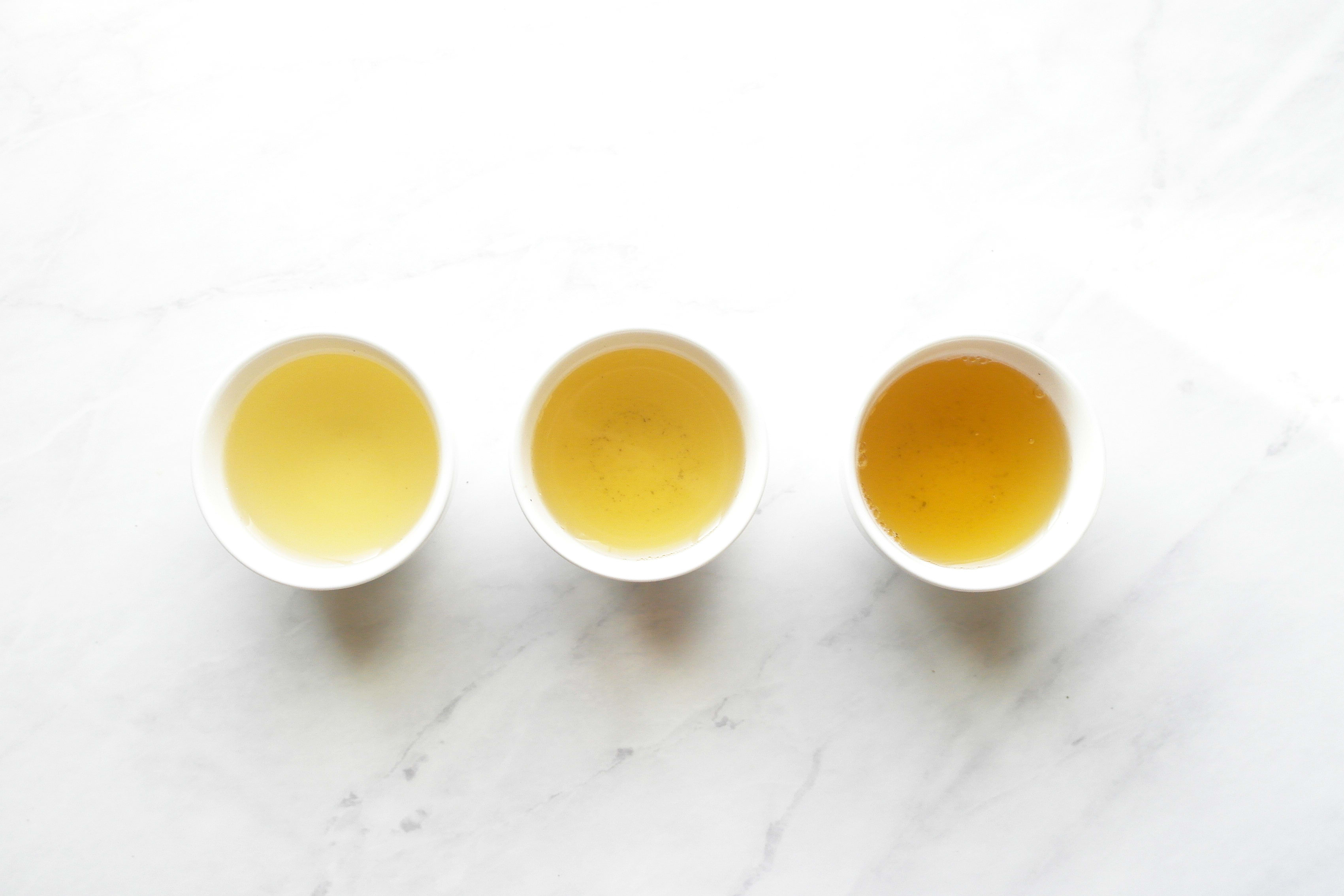 The color difference here is even more drastic. The tea on the left, at 30 seconds, was actually okay. I liked it, it was light, grassy and sweet, but some people might find it too weak. The tea in the center, at 1 minute, was the most balanced. It was grassy, nutty, and very flavorful. The tea on the right, at 5 minutes, was a disaster. The taste was SO, SO bitter, it was undrinkable. No grassy or nutty taste left, just a horrible burnt orange rind flavor (and not in a good, fancy restaurant ingredient way – I mean, in the unpleasantly scorched and acidic way).
Don't overbrew your tea!
How long should I brew my tea?
It really depends. Different teas, even if they're both green teas, will need different steep times. In general, tea bags and more broken up leaves need shorter steep times, while full leaves need longer steep times. Start with 30 seconds – 90 seconds, then adjust according to your taste from there.
Also, if you're doing multiple steeps, make sure to pour out ALL the tea after each brew. There should be no water/leftover tea in your teapot or steeping vessel. If you leave even a small amount of water behind, that will continue to brew and over-extract the tea. Those tiny, overbrewed drops pack a punch! You don't want those getting into your next steeping of the tea.
Fix #3: Brew with better water.
This one is a more subtle one, but still very important to consider, especially if Fix #1 and #2 don't work. In fact, I wrote a blog post about comparing bottled waters for green tea, as part of a whole series of tea and water experiments.
Basically, if you want good tea, you need good water.
This true for all teas, but especially for green teas, as they're so light that any defect in the water will show through pretty clearly. If your water is overly hard with weird odors (a.k.a. my tap water), or already naturally bitter, or too heavy, it will show through clearly in the tea. Also, while some bottled waters are good for tea, some can even be worse than tap water!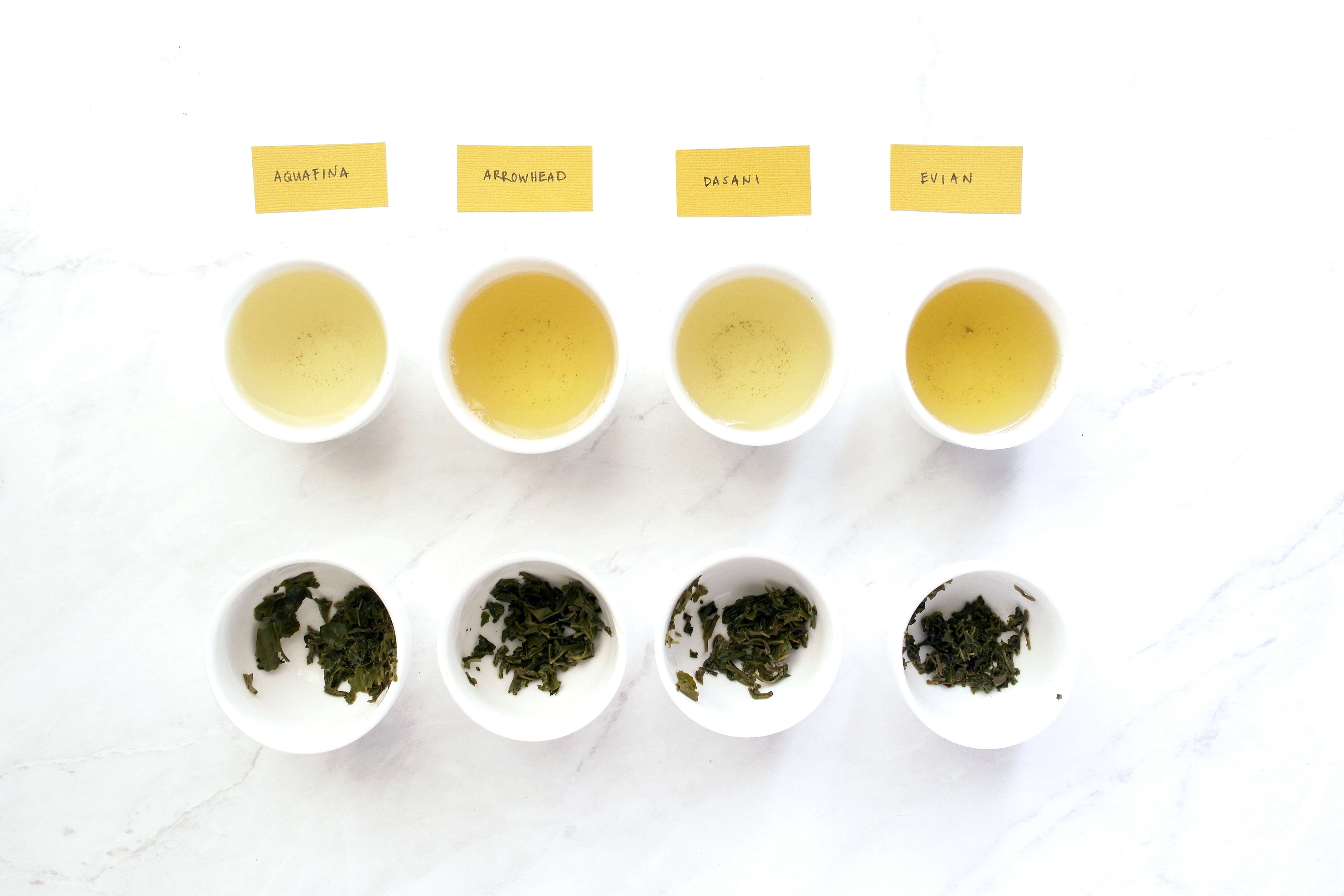 How can I tell if my water is bad? 
Does your city have heavily treated water? Do you constantly have water stains on your dishes, or does your tea leave a discolored ring around your cup or teaware? Does your water have any off smells (chlorine, sulfur, heavy metals)? If so, then you should really not be using your tap water for tea. Filtered water is usually good, and there are certain bottled waters that are good for tea, too. Why not do your own experiments, like I did in the Water Matters post?
Fix #4: Brew with better tea.
With the first 3 fixes, you'll probably be able to improve your green tea a LOT, even if it's just cheap supermarket green tea. But sometimes, the culprit isn't you, but your tea… especially with teabags.
Teabags are often made of low grade material, called "dust" or "tea fannings", which are the leftovers after all the other teas are produced. These go stale much more quickly than loose leaf tea, especially inside the paper or cardboard packaging that's common for teabags.  
Check out the difference between a "premium quality" green tea bag, and Japanese sencha tea leaves, below.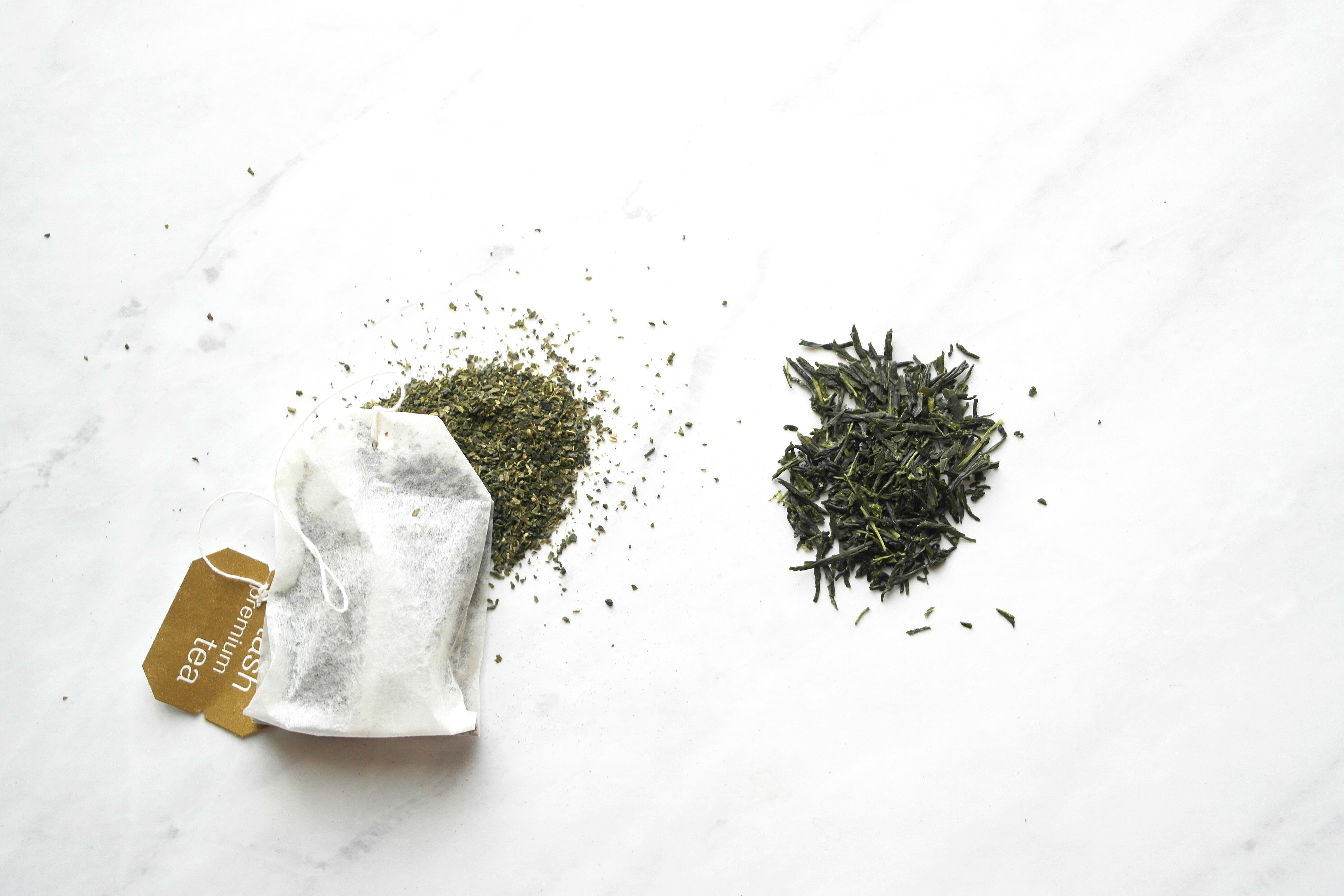 See how fragmented the teabag leaves are? This brews up really quickly, but can also become bitter faster because of the quick extraction. Also, when tea is cut up like this, it loses a lot of its body and flavor. So, if you're looking for a little something more in the taste of your green tea, try loose-leaf tea.
If you're not used to brewing loose-leaf tea, it might be intimidating to start. But from what I've seen, high quality tea leaves are actually easier and more forgiving to brew. I have some super high quality Chinese Dragonwell green teas that can take boiling water for 5 minutes without getting bitter, thanks to the excellent skill of the teamaker. If you are seriously getting into tea and you haven't made the switch to loose leaf yet, it's the best thing you could ever do for your tea hobby. Seriously, loose leaf unlocks so many amazing flavors, textures, and experiences in the tea. Give it a try!
I hope this article helps you banish your bitter green tea forever. Or for the most part, because I still always end up leaving my green tea oversteeping when I get distracted by something… But that's okay, because half the fun in tea is about all those mess ups and mistakes, so we can do better next time! Just keep exploring, learning, and sharing.
Till net time. May your green tea be sweet, smooth, and un-spinachy,
Rie