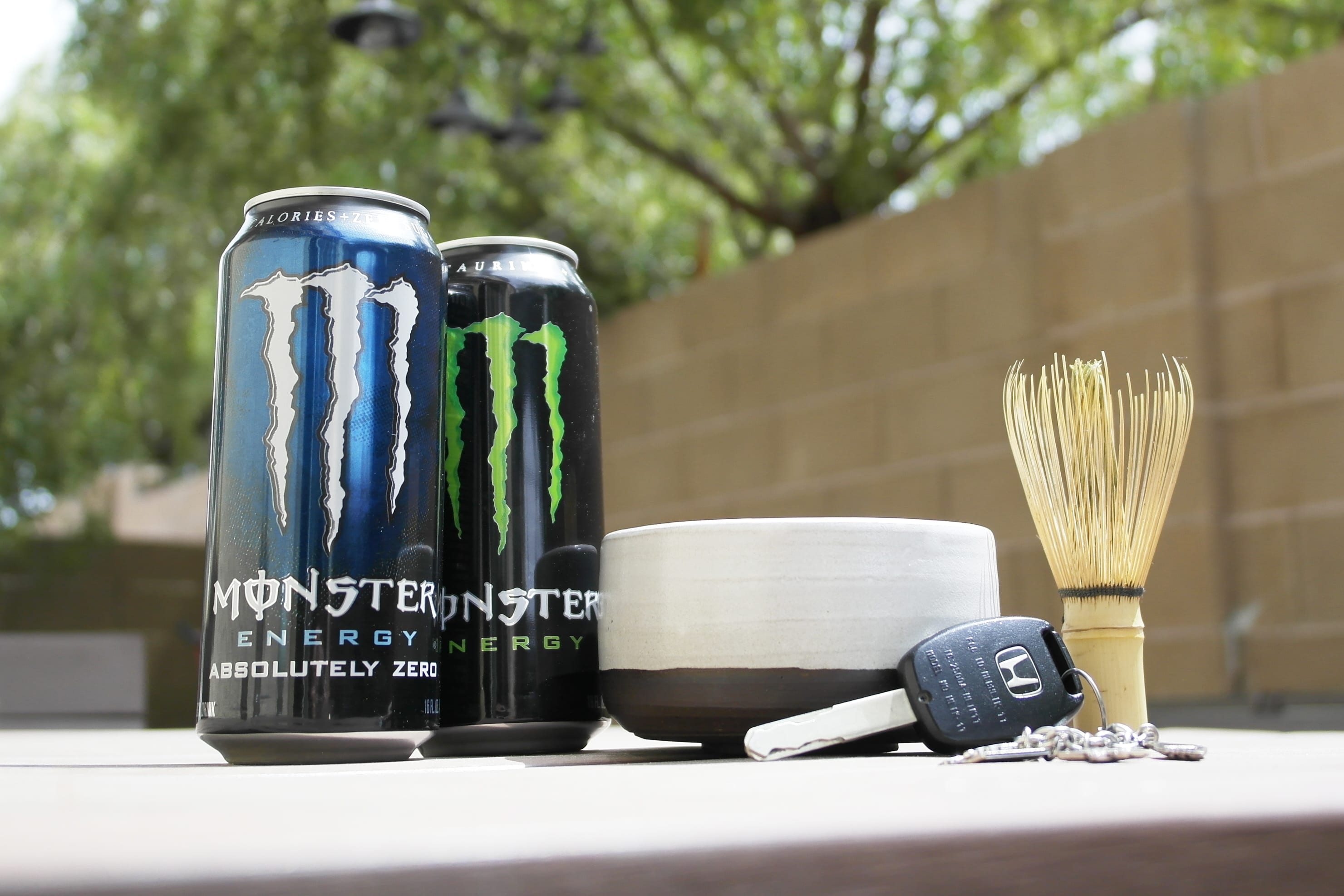 When it comes to staying awake for those long, solo car drives, energy drinks reign supreme.
Well, at least in the marketing department. Just walk into any random gas station or convenience store in America. You'll find racks of 5 Hour Energy, a branded fridge of Red Bull, and all sorts of other sugar-free, low-carb, max-intensity, and creatively-flavored options.
Basically, if you're taking a road trip, they want you to: (A)  buy gas, and (B) pick up an energy drink for the road.
They're also (C) not really trying to sell you tea. I mean, I don't think the veteran truck drivers of the world are hauling tea in their cup holders… Where energy drinks promise to deliver the kind of high-performance energy boost you need for long drives, tea is for relaxing and winding down, right?
With one important exception: Matcha.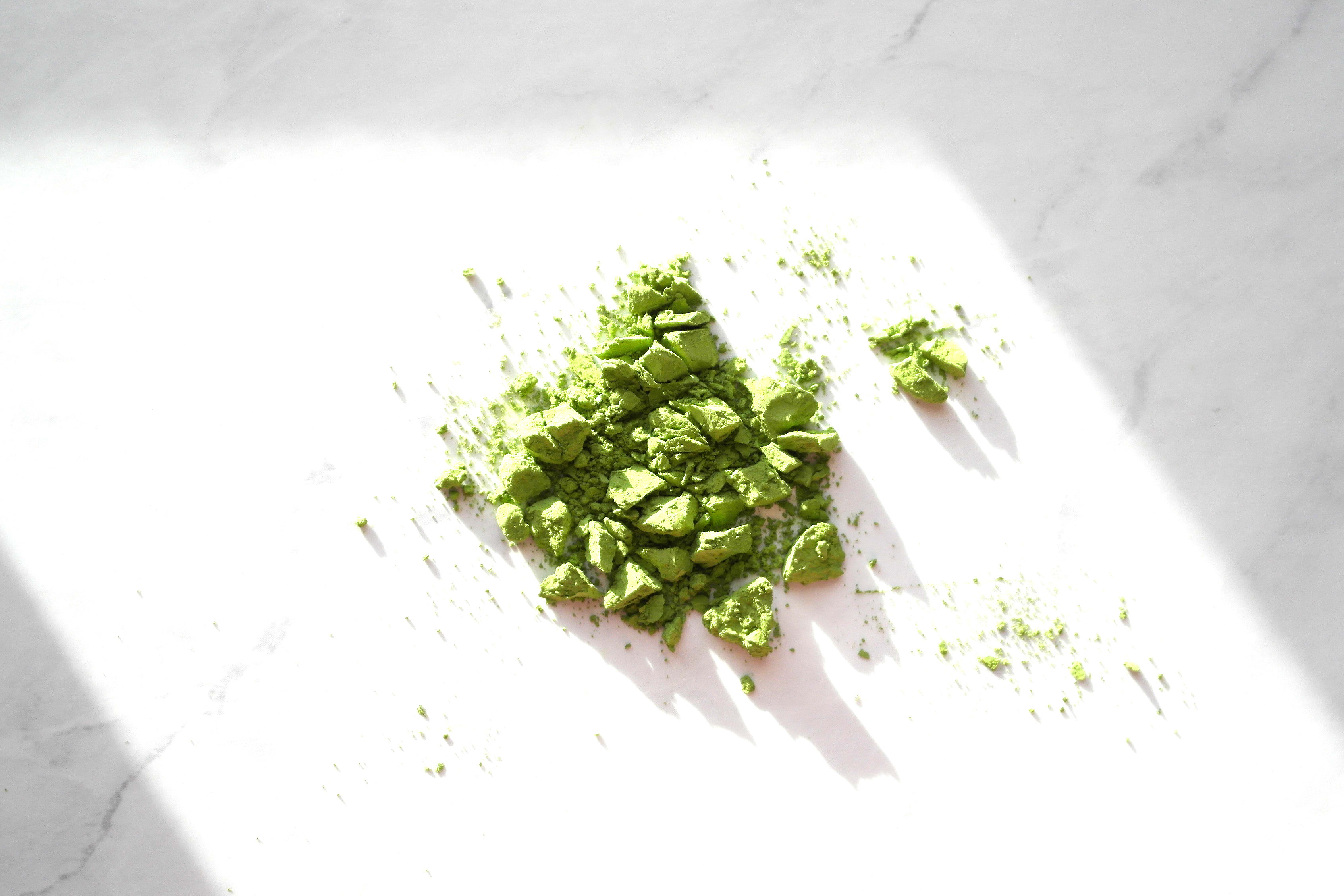 Matcha is the heavy-hitting, supercharged, Incredible Hulk of the tea world. It's different from most other teas because, with most teas, we're just drinking an infusion of the leaves, rather than the leaves themselves. (That's partially why tea feels so chill in comparison to coffee, even if tea leaves actually contain more caffeine than coffee beans.)
With matcha, though, we end up consuming the whole tea leaf. To make matcha, shaded green tea leaves called tencha are ground into a powder, then whisked into water. That means we get all the caffeine, L-theanine, and other beneficial compounds from the tea leaves.
So while all teas have their benefits, it's probably matcha that packs the biggest punch. Studies have shown that the main components of matcha can improve attention, memory, and mood, and Zen Buddhist monks have been drinking matcha for ages as a way to keep wake during meditation.
So, if matcha is all that, could it possibly stand up to popular energy drinks like Red Bull and Monster?
Well, there's one way to find out… It's experiment time!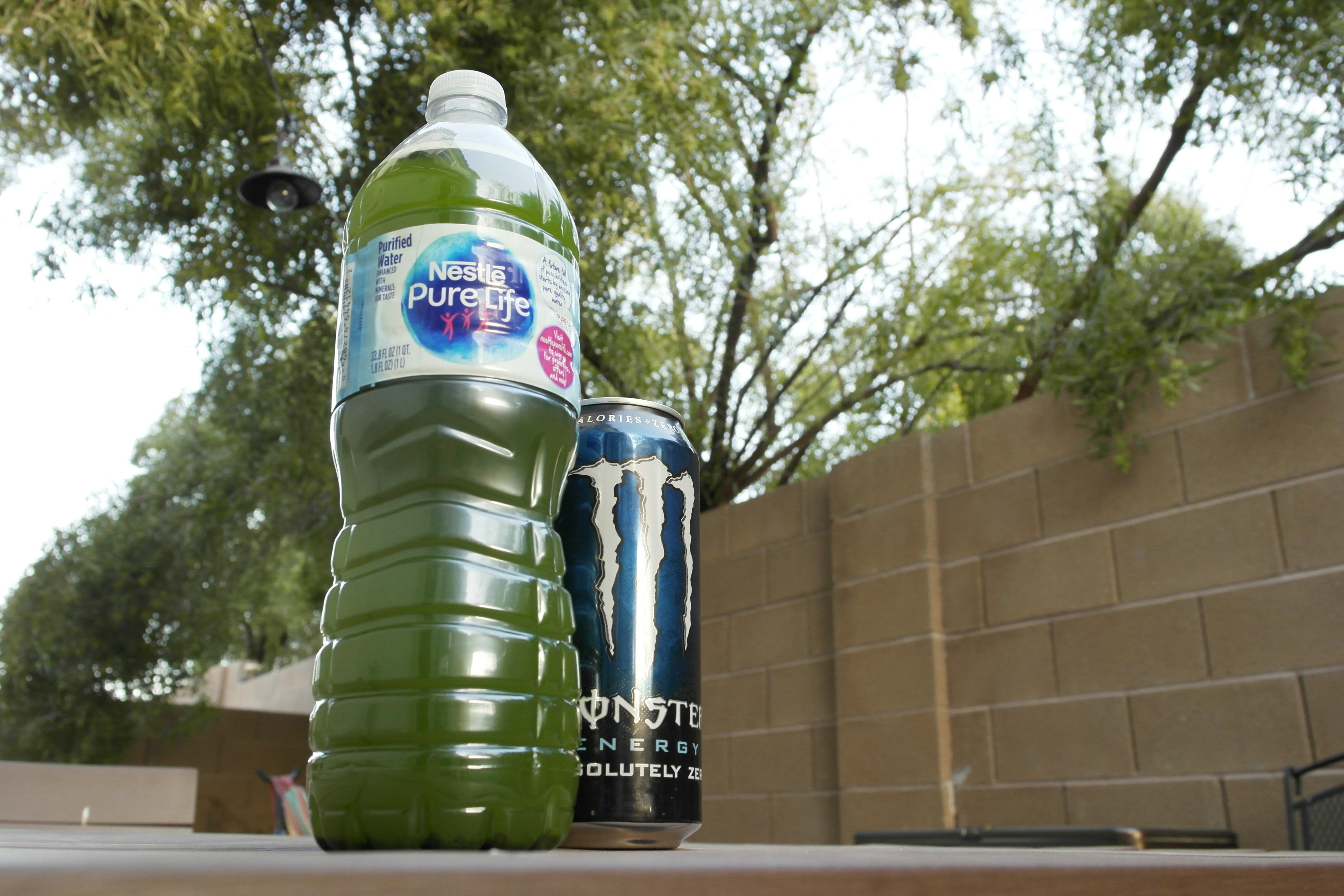 Showdown! Matcha vs Energy Drinks
I found the perfect excuse for a Matcha vs. Energy Drinks showdown back in February, when I had to make it to the UC Davis "Future of Tea" symposium. From Las Vegas, it's a 9 hour, 550 mile drive to Davis, CA. Then of course, another 9 hour, 550 mile drive back down.
This posed a problem because I really, really don't like driving. I also get sleepy on long car drives, to the point that I usually have to blare musicals at full volume, crack peanuts, and drink ice cold water just to stay awake. I've also never driven more than 5 hours before on my own, so I was feeling nervous, and wondering how I could make the drive work. 
I'm not sure if this is true elsewhere in the world, but in America, long car drive = energy drinks, and true to their top-notch marketing game, I immediately thought of energy drinks as a solution.
I've never purchased an energy drink before in my life, and I was a little wary of all the side effects and occasional overdoses I'd heard about, too. But, faced with this long-ass car drive, I was ready to give it a try.
Then I realized, why not test it out against my old reliable caffeine hit of choice: matcha? And if there's anything I'm always down for, it's a tea experiment… even if that means I had to play the guinea pig.
And that's how, in late February, my experiment commenced. Given a long, solo car drive, which would work better to keep me alert and awake: Matcha, or energy drinks?
I decided to drink just matcha on the drive up, and just energy drinks on the drive down. While I was driving, I logged my alertness, awakeness, energy levels, and other experiences during the trip on my phone's voice recorder app, and also did a couple Instagram lives just to check in.
For the matcha, I chose a first spring harvest, ceremonial-grade matcha: actually, same solar panel shaded one from Shizuoka, Japan, from my Future of Tea post. (You bet I was excited to tell Kunikazu-san about my drive, at the conference.) For convenience, I prepared it by simply scooping matcha into a bottle, then shaking it. 
For the energy drink, I chose Monster Energy Absolutely Zero, a sugar-free version of the standard Monster, so we could rule out any effects from sugar. But why not Red Bull, which might be even more popular than Monster? Well, "Matcha vs. Monster Energy" was just a little more catchy, so… yeah. Sorry, Red Bull. Maybe a "Rou Gui vs. Red Bull" test someday? 
Experimental Variables
As you can already tell from my objective selection of my energy drink (not), this was more of a fun, personal experiment than something super scientific or structured. Still, I did try to keep the testing conditions as consistent as possible.
Drive conditions: Same route, but opposite ways. (Las Vegas to Sacramento, then vice versa). I started both drives at roughly the same time, between 4 and 5 PM. Same vehicle. Similar weather conditions. The same number and duration of planned breaks.
Diet: I ate the same type and amount of food on the day of the drive, early light protein + carb breakfast, then Subway veggie sandwich 2 hours into the drive.
Entertainment: Musicals only, no radio. I mean, I bet listening to classical music vs Linkin Park could cause a pretty big difference in the results…
Sleep: The one I messed up. On the night before my drive out, I just couldn't fall asleep. So, I ended up driving the matcha drive on just 3 hours of rest. For my energy drink drive, I tried to deprive myself of sleep to stay consistent, but I overslept my alarm that morning and got 7 hours of sleep. Oops. So, 3 hours on matcha, vs 7 hours on energy drinks.
So, keep that in mind when you read my results.
On the Road: The Results!
Awakeness and alertness are probably the two most important things for a long car drive. Can you stay awake while driving, and keep alert enough from getting into an accident?
Awakeness
Average Scores:
Matcha: 5.38
Monster Energy: 6.41
Based on the scores alone, the Monster Energy won out against the matcha for awakeness.
The Monster Energy had a pretty impressive ability to keep me awake. Whenever I drank some, I felt totally and instantly awake, and like I never had to nap again. The feeling was similar to having a cup of coffee, but more… wired and extreme.
That would be great, except, 4 hours in, I just couldn't handle drinking more Monster Energy (see: "Mental State" and "Physical Comfort" for explanations), so the boost to awakeness wore off. That, or maybe I suffered a caffeine crash? Either way, I had to pull over for a nap in Bakersfield, and ended up knocking out at a McDonalds parking lot for 3 hours (05:29 – 08:50 on graph).
In comparison, while the matcha wasn't as powerful or quick-acting as the Monster, it provided an effective boost to awakeness. It was enough that I didn't have to take a nap during the matcha drive, even if I was super sleep deprived!
Maybe this is the L-theanine in the matcha talking: when combined with L-theanine, the energy from caffeine feels more smooth and steady, and less likely to end in a caffeine crash.
However, it was hard to figure out how much matcha I needed to stay awake. The Monster Energy has clear caffeine content on the can, while the matcha does not. You can see on the graph where my awakeness levels dips, which line up with times when my matcha intake was low.
I'm tempted to assume that the matcha's low scores here are just because I was sleep deprived from the night before, but that's just a guess – I can't confirm it either way. Therefore, I'll still give the edge to Monster Energy here for instantaneous, extremely awake feeling.
Winner: Monster Energy
Alertness
Average Scores:
Matcha: 6.49
Monster Energy: 6.51
The Monster Energy and the matcha were about equally as effective for alertness levels: that is, I felt about equally aware of what I was doing, and what was happening on the road.
However, the actual feeling of "alertness" was different.
On the Monster Energy, I felt on high alert, but not in a good way… I was focusing on all the wrong things, like things I wanted to look up on my phone (while driving full speed on a California freeway – not the best thought!), or things I wanted to eat at the next stop. I didn't feel mindful of the drive itself. 
In my recordings, I was saying things like "I feel totally awake, but not actually present", and "I feel like I'm here, but my mind is somewhere else". It was like being in some serious, heavy brain fog, and my recordings showed it, too. I was rambling, repeating myself, and not really expressing myself well. 
In comparison, the matcha kept me super mindful, present, and aware of my surroundings. When I drank the matcha, any brain fog I did have would just melt away. My motor skills, ability to articulate myself, and ability to make good driving decisions were better, too. Definitely the kind of alertness you want on a road trip.
So, despite the similar scores, I have to give this one to matcha.
Winner: Matcha
While awakeness and alertness are super important, I also wanted to measure other things that can make or break a roadtrip: my physical comfort, mental state, and relaxation (lack of jitters). 
Here's where the results get really different…
Physical Comfort
Average Scores:
Matcha: 7.16
Monster: 5.16
Huge difference in the graphs, here, with very stable scores for the matcha, and some trouble for the Monster Energy.
Before the experiment, I got warnings from friends not to even mess with energy drinks at all. Of course, I've also heard about the side effects and overdoses on the news. But those overdose cases were rare, and mostly involved people with pre-existing heart conditions anyway, and isn't the news always a little alarmist?
Honestly, I wasn't really worried about it. Some people drink Monster Energy all day, everyday, so how bad could it be?
Pretty bad, apparently… Everyone is different, so your mileage may vary, and to be fair I'm also the type who gets tipsy from a 1/4th can of beer, but for whatever reason, me and Monster Energy did not get along. Physically, I felt awful.  
For one, whenever I was drinking the Monster Energy, I felt super awake, but my eyes were uncomfortably heavy, like they were made of lead. It was strange to be so awake, while feeling like my eyelids would get stuck together at any moment. 
Also, I got all sorts of aches and pains. My head, back, and shoulders were all achy, and I swear I didn't feel or notice any of that at all during the matcha drive. My hands were tingling a bit, and I felt a little colder than usual.  
At one point, (01:56 – 2:12) I even got paranoid that I overdosed on the Monster somehow. At that time, I got the worst headache of my trip, which I rated a 7/10. My chest felt heavy, and I felt like I was having trouble breathing… then, my forehead, nose, and eyes got so warm, I thought they were going to melt from my face. 
Weird.
In comparison, I got just a few mild, physical sisde effects during the matcha dirive. Whenever I drank the matcha, I'd get a slight, immediate headache – like a 2/10 at most, not enough to even call it a headache, and it always went away very quickly. I don't know where that came from, but I think it's because of the sensation of bitterness from the tea. Just a guess, though.
I also got some mild munchies, and at times, I felt a little tingling in my hands, but that's pretty much it. No records of aches, pains, or splitting headaches on the matcha trip… just a lot of "feeling good!". 
Winner: Matcha
Mental State
Average Scores:
Matcha: 7.60
Monster Energy: 5.81
Another telling graph. Matcha scored high, stable scores here: I was in a great mood more or less all trip. Monster Energy has some big ups and downs, which are pretty reflective of the big mood swings I was getting during that drive.
Whenever I was actively drinking the Monster I was pretty irritable, pessimistic, and scatterbrained. I was in a bad mood. My mental processes weren't great either: my recordings ramble on and aren't very coherent, and whenever I did talk, it was mostly to whine about how down and achy I felt. It was so bad, I often didn't even feel like listening to my Broadway musical CDs.
Those feelings would fade away if I hadn't had any Monster over an hour or two, but sure enough, they'd come back immediately if I tried it again.
As for the matcha? Man, I felt awesome on the matcha. I was optimistic, aware, and relaxed. Even during times when the trip felt really challenging, like during tough parts on the road or when I was starting to feel really drowsy, my mood was always positive.
At times I was having a full on salsa party in my car (maybe the musicals helped), and at other points I was driving in silence but feeling calm, contemplative, and at peace.
To be fair, it's possible that I just felt good on the matcha because I'm used to it. Something familiar will always feel better, right?
Well, while that might be partially true, it doesn't explain how terrible I felt on the Monster. Even with the same CDs available, there definitely wasn't any salsa party rap battles going on during the energy drink drive (and I never get tired of "In The Heights" or "Hamilton"). It wasn't like I felt great on the matcha, and just neutral on the energy drinks… the differences were pretty huge.
With the matcha, I definitely had some low points, especially when I was really tired, but I still really enjoyed the trip. I just felt more alive, even considering I had only 3 hours of sleep that day.
Winner: Matcha
Relaxation
Average Scores:
Matcha: 5.50
Energy Drinks: 3.96
Relaxation was important for me to measure, since I can be a pretty nervous, anxious driver. I also wanted to track any caffeine jitters from either of the drinks. Matcha scored pretty high, stable scores here again, while Monster Energy scored medium scores, though fairly stable scores.
Some good news: neither of the drinks exhibited the caffeine jitters we commonly associate with coffee. Neither of them kept me awake after the trip, too, so I was able to relax and sleep right after.
However, during the Monster drive, the physical and mental side effects were making me pretty anxious. The weird brain fog didn't help, either: at times, I was worried I'd make the wrong move on the road, or something.
With the matcha, I felt relaxed, calm, and at ease. Sometimes, I'd be sitting there quietly, in an almost meditative state of reflection. After experiencing that kind of peace while driving at 80 miles on a dark, one-lane California high way, I can see why those Zen Buddhist monks liked matcha so much.
Winner: Matcha
Final Results
Boy, I wasn't expecting such huge differences. I figured there'd be some interesting results from this experiment, sure, but it's almost funny how badly the Monster Energy did. And I can't even blame other circumstances, like time of the month hormones, or a bad workout that day, or some kind of argument or outside stress… For me, the results are pretty conclusive.
Maybe I'm just not used to the Monster Energy, or there's something about my body chemistry that doesn't jive with the ingredients. Whatever the case, even if it's just to never experience that face-melting feeling from the Monster again, matcha takes the cake for me in this showdown.
Monster Energy Absolutely Zero
Average Score: 5.57/10
Total Drive Time: 12 hours and 43 minutes
Total Cost: $2.99 (1.5 cans)
Total Caffeine: 210mg
Pros: High Awakeness, High Alertness, Instant Effectiveness, Convenience, Low Cost
Cons: Significant physical and mental side effects, including headaches, body pains, mood swings, negative feelings, and erratic breathing.
Taste: Sweet, candy-like and citrusy flavor. Full, fizzy texture with sweet aftertaste.
Even with the pretty bad experience I had with the Monster Energy Absolutely Zero, I still think energy drinks have their place in the market. For one, they're extremely convenient: you can purchase a can of Monster almost anywhere, with the servings, ingredients, and caffeine level all measured out perfectly for you. You won't have to worry about getting matcha powder all over your car seat while trying to pour it into a water bottle. (True story.)
At $1.99 a can, it's also significantly cheaper, too. My total cost for the trip was $2.99, or $3.98 if you count the whole second can that I couldn't finish.
I'm still impressed by how inhumanly awake and alert I felt on the Monster, too. I wish I didn't experience such bad side effects, since I could definitely get behind such a powerful tool for productivity. After trying them myself, I can see why energy drinks are so popular in the market, and how some people drink them daily to get stuff done.
Monster Energy Absolutely Zero Ingredients: Carbonated Water, Citric Acid, Erythritol, Natural Flavors, Taurine, Sodium Citrate, Panax Ginseng Root Extract, Color Added, L-Carnitine – L-Tartrate, Caffeine, Sorbic Acid, Sucralose, Benzoic Acid, Niacinamide, Acesulfame Potassium, Sodium Chloride, Glucuronolactone, Inositol, Guarana Seed Extract, Pyridoxine Hydrochloride, Riboflavin, Maltodextrin, Cyanocobalamin
(Sugar-free version; standard Monster Energy is 27g sugar per serving.)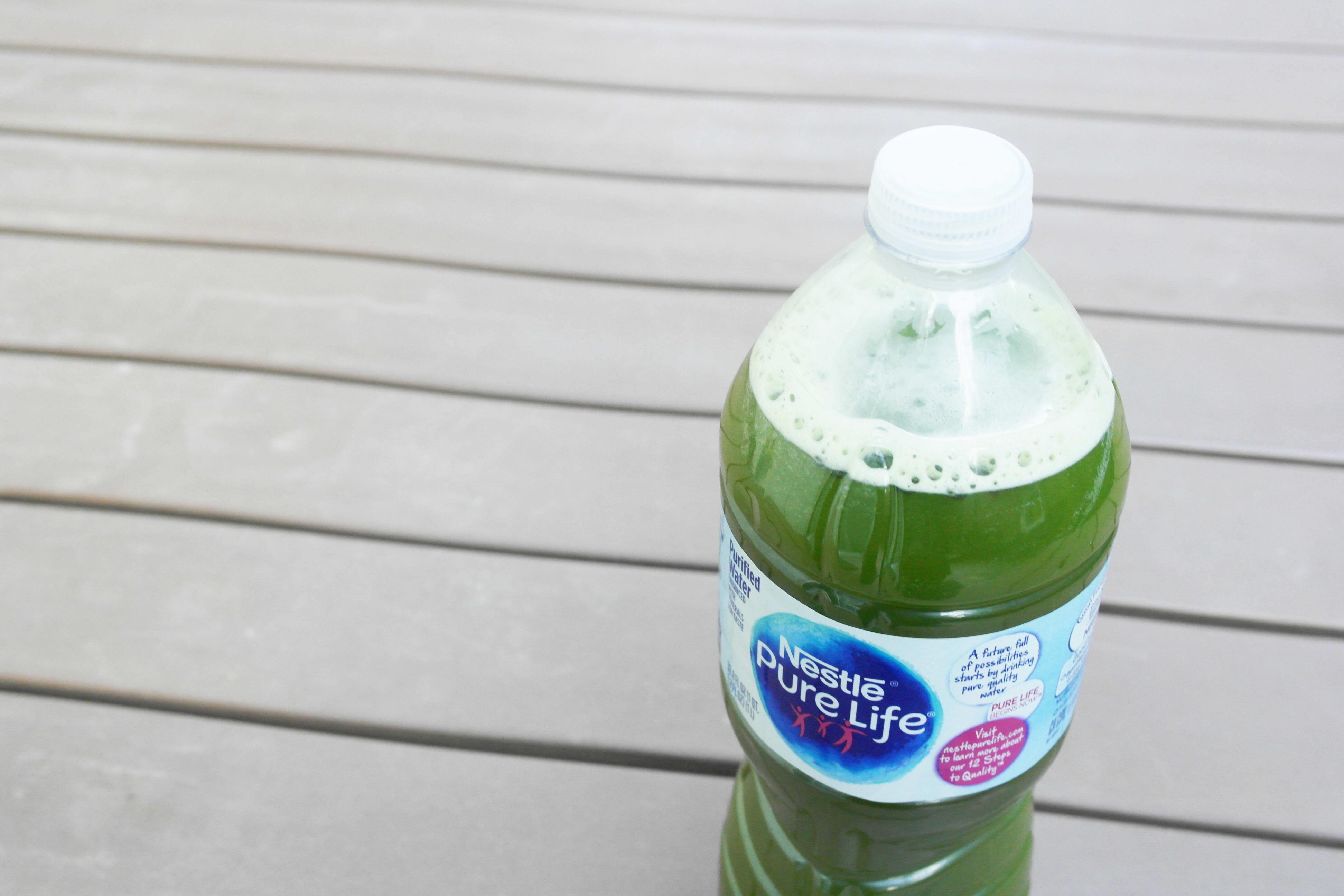 Matcha
Average Score: 6.42/10
Total drive time: 10 hours and 21 minutes
Total Cost: $6.75 (9 grams)
Total Caffeine: ???
Pros: Awakeness, Alertness, Mental State, Physical Comfort, Relaxation, Low Side Effects
Cons: Mild physical side effects, including mild hunger pangs, mild headaches, slight tingling in hands. High Cost 
Taste: Bittersweet, grassy flavor. Refreshing texture with grainy patches. (As prepared shaken in bottled water)
In theory, I should have had a hard time on the matcha route. I was running on just 3 hours of sleep, and I started my drive after a full 8 hour shift at work. I was also nervous starting out, since I had no idea what to expect on the road.
Instead, thanks to the matcha, I had a pretty fantastic time. While the matcha didn't have the same punch and immediate effectiveness as the energy drinks, ultimately it was effective as an energy drink alternative. Despite my sleep deprivation, I never had to pull over to take a nap, and I kept awake, alert, and safe.
I think the biggest downside is the inconvenience. You'd have to pack your matcha with you for the roadtrip, then make sure to have enough water to prepare it in. Even if you're using water bottles, it's still not as easy as just picking up a can of Monster from the gas station. 
Also, while energy drinks have all the caffeine and active ingredients listed for you on the can, matcha doesn't… so it'll take some trial and error to figure out the dosage. Unless you're sending your matcha to a lab each season, you won't know how much caffeine, or any other active ingredient, it contains. The caffeine levels in any tea will be slightly different from batch to batch, including matcha. 
From looking around online, matcha apparently contains anywhere from 25 mg (online news articles), to 128 mg (caffeine studies in Tea: History, Terroirs, Varieties). That means I consumed anywhere from 225mg to 1,152mg of caffeine… so, probably somewhere in the middle. There's no exact, ideal amount of caffeine to take, so you just have to test what works best for you.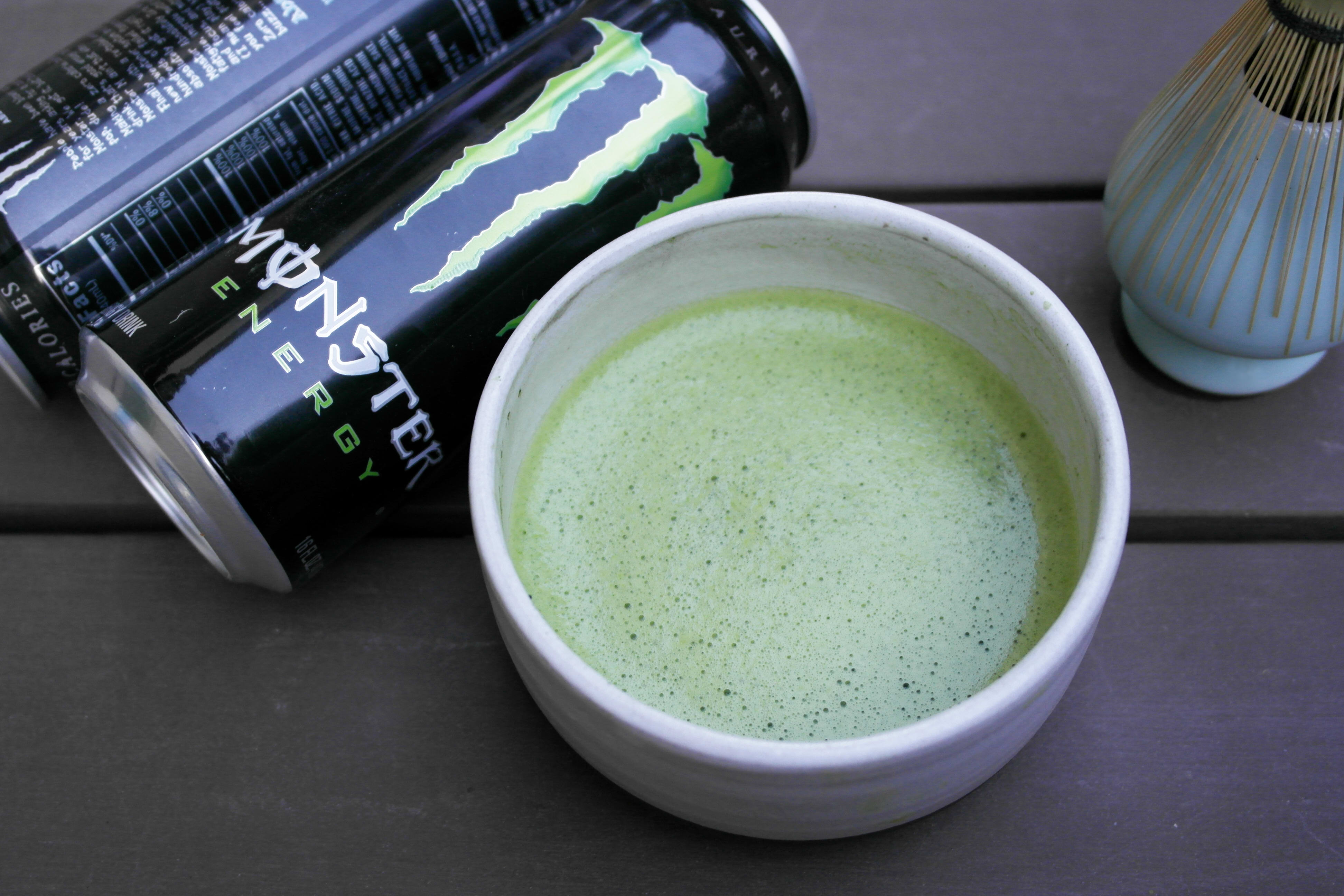 At the end of the day, I'm just even more impressed than ever in the power of our favorite, frothy green tea. Matcha can really hold its own in the world of energy drinks, and bring something new to the table, too. After this experiment, I'd be surprised to find any energy drink that could make me feel as calm, energetic, and in focus as matcha. 
Cheers!
Rie