I've been creating pretty but practical tea sessions since 2012. Good tea design has helped me better share tea with thousands of people, both online and in-person. 
In this post, learn how to design a memorable tea session for you and your guests while getting the MOST out of your tea.
It's a common misconception that flowers and fancy teaware is a distraction from the tea.
If we're serious about tea, why bother with a pretty tea table?
Tea design is more than just having a pretty looking table, though.
When done well, tea design can be a powerful tool, helping us bring out the absolute best from a tea. We can extract as much flavor, aroma, and texture as possible, and create the best possible experience too.
On the other hand, the wrong design choices can completely ruin your tea!
In this post, you'll learn how to start creating practical AND beautiful tea sessions, with three things to consider:
Tea
Teaware
Decor
When these three things are in harmony, we can transform even our everyday tea sessions into something special, something that leaves a lasting impression on ourselves and our tea guests.
Let's get started!
Tea Design in Action
Before we design our own tea sessions, let's look at good tea design in action.
While I always liked making my tea sessions look pretty with a sweet treat or flower from the garden, I first learned about focused tea design from one of my favorite blogs: Stéphane Erler's TeaMasters. 
Click here to visit the TeaMasters Blog.
Mr. Erler is a French-German tea blogger who has lived in Taiwan since 1996, studying tea and sharing the journey with others. 
Scrolling through his blog, you can really get lost looking at all the beautiful teaware and fabrics.
But remember, it's not just about the pretty table – the focus is the tea.
Take a closer look at Mr. Erler's tea sessions, and we'll see that they're built on smart, thoughtful choices that are meant to enhance the tea. At times, it seems like Mr. Erler condenses YEARS of experience and practice into the tiniest adjustments! 
On his blog, Mr. Erler calls these tea sessions Cha Xi, or "tea play". Click here to learn more about cha xi on the Teamasters blog.
As he explains, these tea sessions don't have to be a formal tea ceremony, with rigid rules. It can be fun and playful to set up the tea table, like setting up a performance with the right actors, props, and stage.
For example, if you want to share your favorite tea with friends, what teapot would bring out the MOST from that tea?
Do we want to drink tea from Styrofoam cups, or porcelain cups? 
How can we express our personal thoughts on the tea, while also working to objectively enhance all the tea's qualities? 
Luckily, you don't need to spend hundreds of dollars on teaware and accessories to set up a good cha xi.
I still remember some of my first focused tea sessions, owning just one gaiwan, a set of cups, and some pretty damn campy teaware from Teavana. 
You know, pink cherry blossom cups with gold cherry blossom etchings matched with pink & gold cherry blossom tea pots and paper tins… 
I loved it though!
I still remember many of those tea sessions almost 6 years later, and in the process, learned more about tea than I ever did brewing in my old fancy Breville automatic teamaker. 
Tea design just takes awareness, practice, and a little patience to see what works for you.
We start with the most important part, of course – the tea.
How To Choose The Right Tea
(Because Yes, Sometimes Tea Can Be Wrong)
As a tea lover, I almost can't believe I wrote that. What the hell? When is tea ever "wrong"?!
But don't worry – I'm not trying to tell you what to drink. Tea is tea, and we all have our preferences.
However, we can become aware of which teas objectively perform better than others, especially in specific situations.
Humor me for a second, and imagine the hottest, most miserable summer day you can remember.
I can distinctly recall a record breaking 117°F/47°C day here in Las Vegas.
You've been walking around in this sticky heat, and the sun is BLAZING in your eyes and on the hot pavement. You're hot, thirsty, and tired. Thank goodness you find a tea shop!
Outside, they have a chalkboard advertising the specials for the day. On the menu:
Lapsang Souchong (a smoked black tea)

Masala chai latte

Iced Dragonwell green tea
Which tea would YOU choose?
I'm sure there are some hardcore hot chai fans that would STILL order a piping chai on a summer day. But for most of us? The iced green tea is the clear winner here, for a few reasons.
For one, green tea has a light, crisp taste compared to other types of tea, making it a great match for summer. Poured over ice, though, and that ice-cold frosty tea will taste like heaven on a 117 degree day.
Think of how light, cold beers and crisp white wines are popular in the summer, too!
There's also the visual effect of the light, cool-colored tea.
According to scientific studies, we seem to perceive cool colors, like green or blue, to be more "thirst-quenching" than warm colors, and more pleasant on a warm day. Click here to read a scientific journal on these findings.
Psychologically, the green tea will do more to make the day's heat bearable. 
Now, imagine that same iced green tea on a cold, dark winter morning. Would it still be the best choice?
Likely not. It wouldn't matter how expensive, rare, or outstandingly delicious that iced green tea is: if you're coming in from the cold outside after shoveling snow, you won't fully appreciate it.
Your guests at the tea table probably won't either.
The point is, different times call for different teas. It's important to follow your personal tastes, but also consider the circumstances surrounding the tea.
Are you brewing for yourself, or for others?

Can you take your time with the tea, or are you short on time?

Did you have something mild for lunch, or did you have a Level 5 Thai curry?
Be aware of the water you use for brewing tea, too. This includes the brewing parameters (temperature, time, and volume), but also water quality.
Water quality SIGNIFICANTLY affects the taste of tea, to the point that a sweet, delicious tea can turn plain bitter with the wrong water. Click here to see how different bottled waters performed with green tea.
Even really small factors can change how we perceive tea. If you're serving tea for beginners who just had spicy curry, they won't be able to taste the delicate flavors of a Silver Needle white tea.
Save the white tea for later, and choose something more bold to start.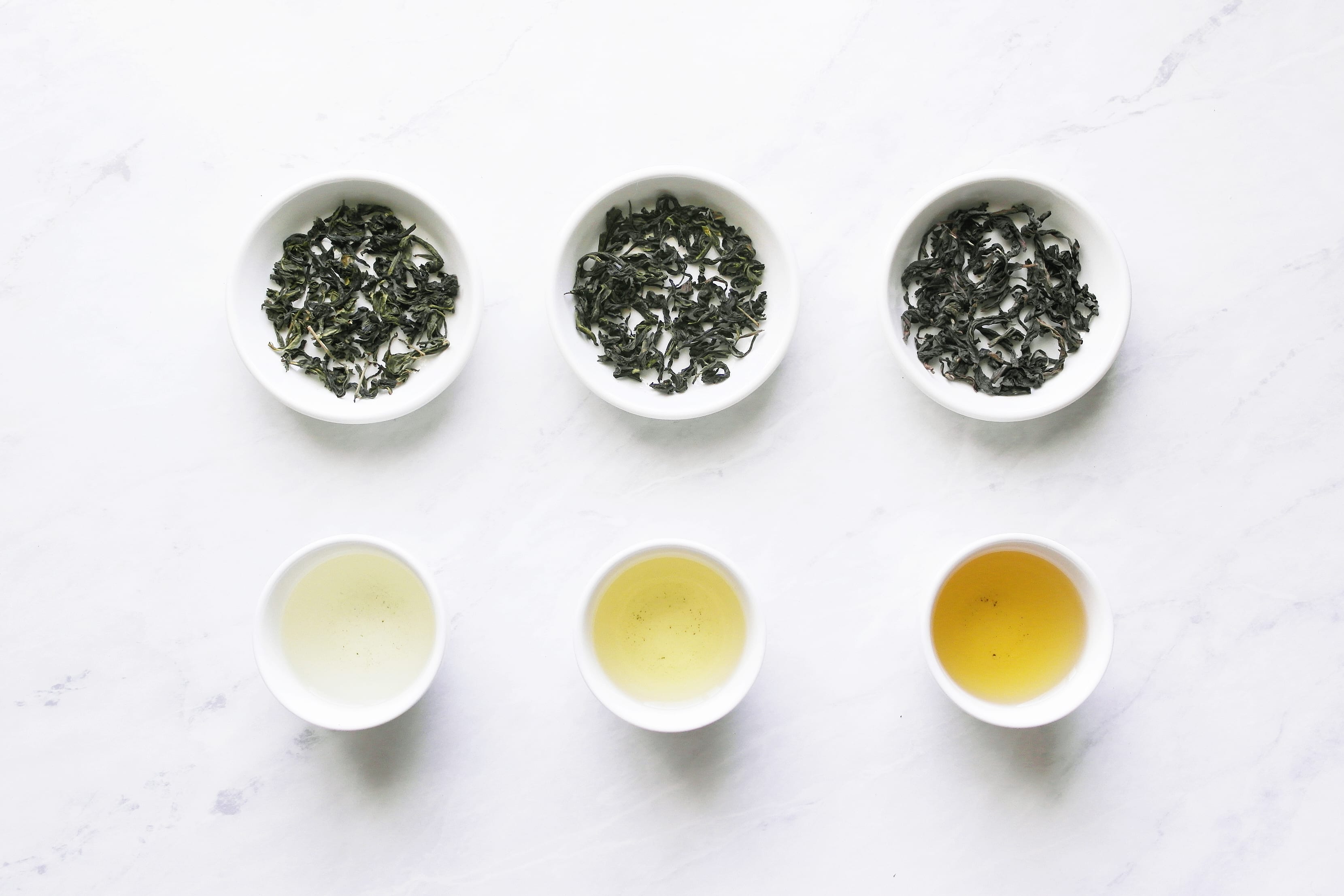 Tea Picks Cheat Sheet
Hot days: Green tea, white tea, light oolongs. Any light, refreshing teas with crisp flavors. Brew at slightly lower temperatures, or as iced tea, iced lattes, or cold-brew. 
Ex: Dragonwell green, Kukicha green, Si Ji Chun oolong, Silver Needle white, Nilgiri black, young sheng pu'erh, mugicha herbal tea
Cold days: Black tea, pu'erh, roasted oolongs. Any bold, satisfying teas with sweet, earthy, or spicy flavors.
Ex: chai, Wuyi oolong, Houjicha green, aged white tea, shou pu'erh, aged sheng pu'erh
Large social settings: Teas with a strong but beginner-friendly flavor and aroma. People will be busy socializing, often eating or drinking other beverages. Pick teas that are easy to brew so you can afford to socialize without having to babysit the tea.
Ex: Houjicha green, Genmaicha green, Jasmine, chai, Tie Guan Yin "Iron Goddess" oolong, Fujian Gongfu black
Tea drinkers who grew up in the UK: Teas with a bold, strong, and straightforward profile. These tea drinkers grew up with classic black teas, which are often bold and bittersweet to stand up to milk. Softer teas will register as "weak" or "tasteless" for many of these tea drinkers. 
Ex: Assam black, Ruby #18 black, Wuyi oolong, Oriental Beauty oolong
Kids: Interesting teas with a sweet, smooth flavor profile. Avoid bitter teas! Low caffeine or caffeine-free.
Ex: Houjicha green, chai, mugicha herbal tea, Milk Oolong, rooibos, butterfly pea flower herbal 
As tea drinkers, just the very THOUGHT of tea is exciting to us: but that might not be the case for whoever we're serving. Our goal is to do more than brew tea: we want to create an experience! 
Observe how your teas perform in different situations. I've had to learn that the hard way over time.
Sometimes, I've brought some of my absolute favorite (and expensive!) high mountain oolong teas to share with a group, only for people to be unimpressed, more excited about a cheap Earl Grey.
But that's not their fault – it's mine, for not choosing the right tea for the right time.
It's on us, as the tea hosts, to choose the right tea for ourselves and others. 
If we can tap into the flavors and feelings that we care about, a simple cup of tea can become something super memorable. You could even inspire someone to go down the rabbit hole, too.
Got a tea picked out? Great.
Now, let's move on to our second step: choosing our teaware.
Teaware: Seasonality and Practicality
Teaware is one of the most exciting rabbit holes to explore, in the tea world.
There are all sorts of different teapots, cups, brewing devices, tea tools, and accessories you can collect and use.
Each will have slightly different qualities that affect the tea experience, in subtle but significant ways. The possibilities are endless!
Lucky for us, we're not the first people to worry about teaware to choose for a tea session, so let's tap into some of that old wisdom.
In Japan, the tea ceremony for matcha, called chanoyu, is extremely informed by both beauty and practicality. The tea ceremony is held in a tea room and guided by the tea host, who carefully chooses the teaware and decor according to the time of year and occasion.
For example, the summer calls for thin, wide tea bowls, usually with brighter colors. Winter brings thick, heavy tea bowls, often with motifs hinting at the coming spring.
Everything else in the room follows the same trend: more dark, sturdy, warm items in the winter, and more airy, light items in the summer.
Just like with Stephane Erler's cha xi, these choices look purely aesthetic or ceremonial at first, but they're actually quite practical.
In the winter, those thick, heavy bowls are awesome to hold after dealing with the numbing cold outside. These winter bowls also hold heat better, keeping the tea warm for a long time.
On the flipside, the summer bowls are wide, allowing the tea to cool down to a comfortable temperature for a hot day. Summer bowls also have light, cool colors which are visually refreshing. 
It takes years for chanoyu practitioners to master the process of selecting items and teaware, but we can take some lessons from them. I have never studied chanoyu formally, but we can use these seasonal traditions to inspire our own kickass tea sessions. 
Here are pictures from some of my (solo) tea sessions I had during the fall and winter. Do you notice a pattern? 
In the winter, I'm drawn to my heavy clay teapots, cups, and coasters. These have a rich, warm feeling which is pretty damn luxurious during cold winter nights.
My tea sessions aren't elaborate. But even just the simple addition of a cozy, dark-colored coaster or familiar tea pet can help bring warmth to the tea table.  
Now, check out some tea sessions from the Spring and Summer. Do you notice anything different?
Notice the light, refreshing colors and natural colors and textures. I also used more of my thin-walled teapots and glass teawares, which help dissipate heat quickly.
They feel more comfortable to handle, and help me avoid overbrewing my tea in the hot ambient temperatures.
Listen to feedback from your guests, too: I learned to use wide, cool teacups during the summer because my friends would always burn themselves on the hot tea.
There's no exact science for teaware, so don't be afraid to experiment, and see what works best.
How Material Affects Your Tea – Some Preliminary Findings
It's a common misconception that all materials are created equal, especially "neutral", non-porous materials.
But the same tea in a glass teapot, a paper cup, or metal French press will turn out totally different. The only way to know is to test!
Even teaware in the same category will taste a little different, and we all experience things in different ways.
I run tons of experiments on Teacurious, and I've found that even subtle differences in the material, shape, or even color of the teaware can change how we experience the tea.
Here are some of my general findings so far, but be sure to do your own experiments, as even different ceramic cups will be made with materials and glazes that interact differently with the tea.
Porcelain/Ceramic

Most versatile & convenient material

Highlights aroma and flavor

If tea is bitter, can highlight the bitterness

Good match for fragrant oolong, green, white, and black teas

Glass

Fragile but great for ambiance

Good to show off the color of the tea

Sometimes makes tea weak, or a little tart/sour

Can reduce bitterness and texture

Good match for green tea

Clay (unglazed)

More advanced material: clays have big effect on tea, and can season over time
Wrong clay + tea match can ruin a tea!

Good for texture

Ideal for long tea sessions: takes longer to heat up, but holds heat well

Can reduce aroma

Good match for roasted oolongs and pu'erh + heicha

Thin material – Heats up faster, also cools down quicker

Thick material – Heats up slower, but holds on to heat after multiple brews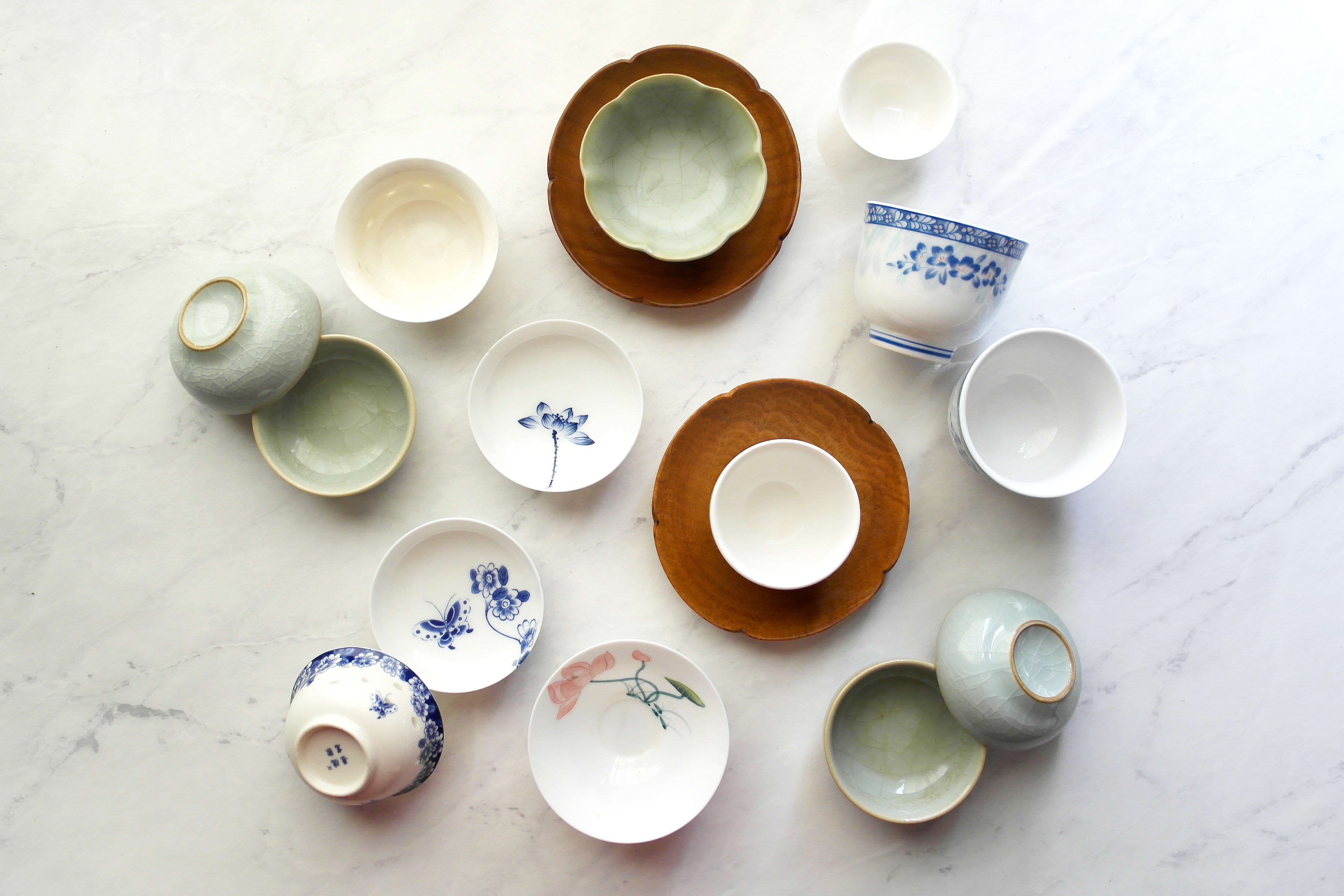 Even the way the cup feels on the lips can also change the perceived flavor, texture, and aroma of the tea, just like we know for wine glasses.
Pure white, bluish cups – Gives a "cool" tint to tea, appears more refreshing and green

Ivory white cups – Gives a "warm" tint to tea, makes teas appear more golden and warm

Dark cups – Gives teas a deep, satisfying appearance, but not complementary for light-colored teas

Shallow cups – Thin, finer texture, cools down faster
Tall cups – Great for aroma, retains heat better
Ultimately, my findings are subjective and based on what I've found from the teaware I've encountered over the years. Your teaware may perform differently. Test and experiment!
Some elaborate and decorative teaware can sometimes be hard to clean or even contain glazes and materials that interact unexpectedly with the tea. 
When in doubt, you can go with the classic choice: plain white ceramic or porcelain. This material is versatile, easy to clean, and shows off the color of the tea nicely. You can establish a "baseline" knowledge of your tea with ceramic, then go on to test other materials. 
You can always spruce up these simple teaware with our third step in the tea design process. 
Decor: Styling the Tea Space
Now that we have our tea and teaware selected, it's time to bring everything together with our decor.
The layout includes everything else we'd like to include in our tea experience. It's the way we set up the tea space, including any accessories, fabrics, and floral arrangements, ambient music and food, and even where our guests are seated.
The goal is to make it easy to enjoy the tea, and create a beautiful environment that's not distracting.
It might be tempting to light some apple cinnamon candles for your tea session, or put together a gorgeous arrangement of roses in the middle of the table.
But will it sacrifice substance for style?
Will those choices enhance the tea, or take away from it?
While there are some special occasions where it's OK to turn our tea table into an abstract art project, we usually want to avoid this. Our cha xi should work to highlight the tea.
Keep in mind that tea is a simple thing: just plain-looking leaves and hot water, really. Anything that's extremely bright, fragrant, or large will drown out the tea.
Even something like a brightly colored table cloth or scented lotion on your hands will subtly throw off the tea experience.
We can use this to our advantage to make subtle choices to enhance the experience. A red clay pot can appear more "pink" with a warm colored cloth, and more "brown" with a cool colored cloth. 
Items to Use For Tea Style
To avoid drowning out the tea, a great trick is to scavenge decorative items from the outdoors. Natural things, like flowers, grasses, rocks, and branches, work really well on a tea table.
It's also a great, sustainable way to bring a seasonal feel to the tea table.
Spring flowers, summer grasses, fall foliage, and so on. Bring the beauty of your local surroundings to your tea experience!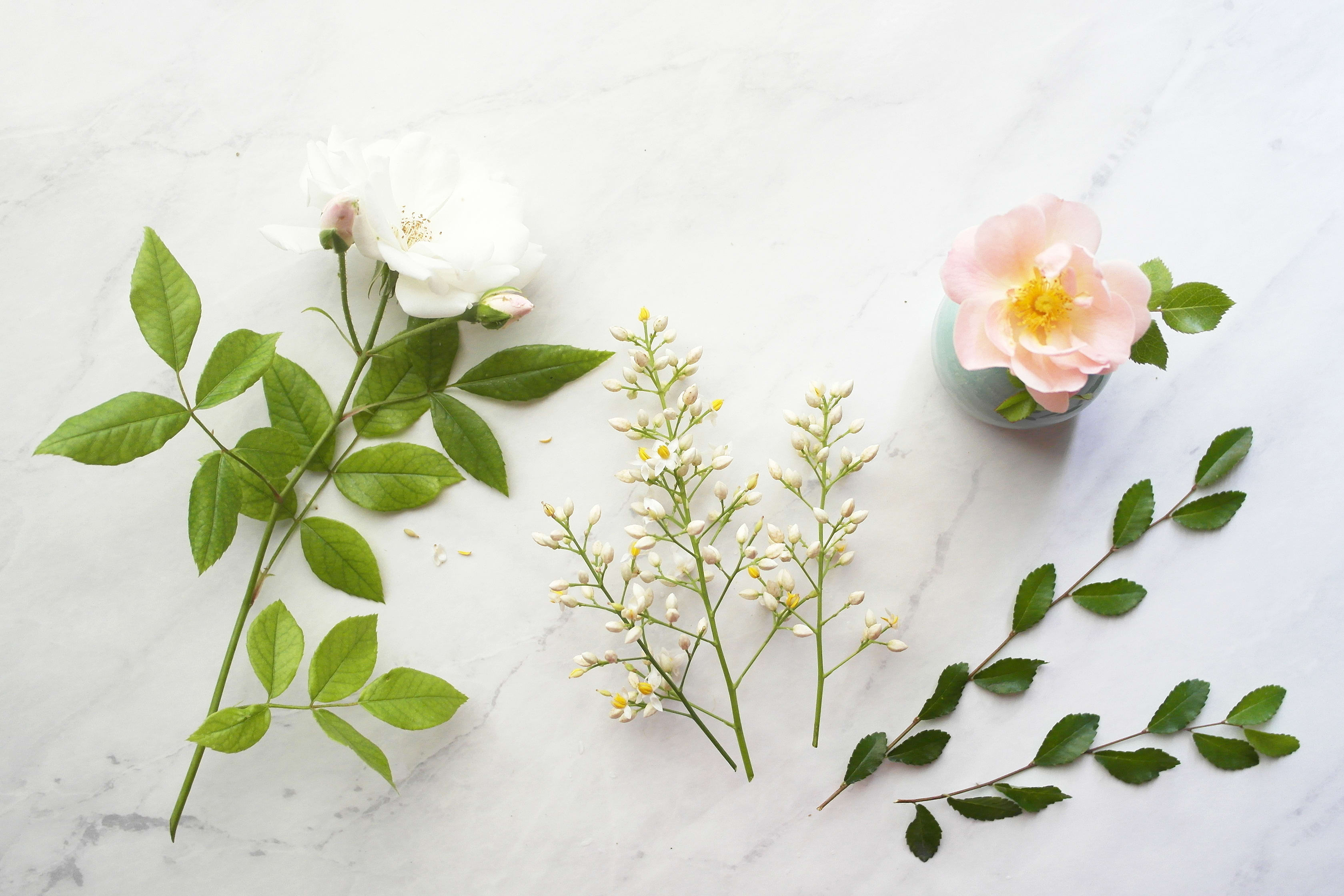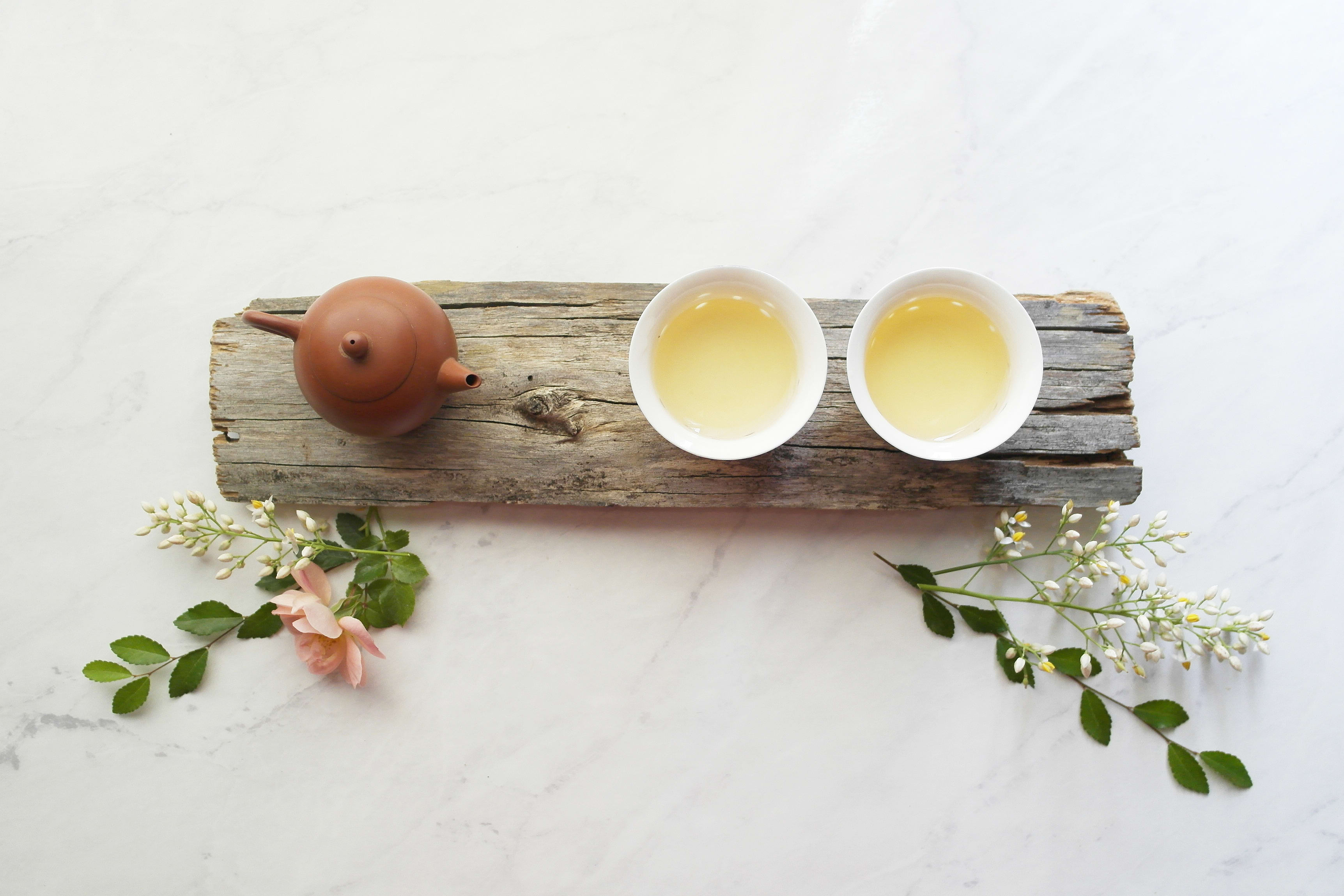 Just remember to avoid items that might be messy or distracting. For example, strong-smelling flowers like lavender and jasmine are tempting to use, but might cover the subtle aromas of the tea. Avoid common allergens as well, such as peanuts and pollen-heavy flowers.
Ideas For Natural Items
Fresh & dried flowers
Fresh fruit
Rocks and minerals
Flower branches
Autumn foliage
Sea shells & sea glass
Clean driftwood
Leaves & grasses
There's always something you can find. Trust me, I live in the desert and I can still find all sorts of beautiful things for the tea table! Use your local surroundings to your advantage.
Personally, the practice of designing cha xi at home has helped me find much more beauty in my local area. You'd be surprised what small, beautiful items you can gather. 
Even the most simple pieces of decoration can really add to the mood of a tea experience.
Take a look through the closet or cupboard too. You may find any nice coasters, trays, vases, and fabrics that you might be able to use for the tea table. 
Use light, thin, and airy items for warm weather, and darker, thicker items for cool weather.
Keep in mind your location as well:
Even if something might not make sense in theory, why not test it? Your unique expression can add that X-Factor to a tea experience that can't be found anywhere else, and that intention alone will elevate your tea session.  
Explore, do what makes sense for you, and make some beautiful, practical, and hopefully memorable tea sessions. Along the way, you may find that you get more from your tea than expected. 
Cheers,
Rie