Tea lover visiting Seattle? You're in luck. Seattle may be famous for its coffee, but it's also got a kickass tea scene that's one of the best in the country.
In this post, enjoy a one-day tour through some of my favorite tea spots in Seattle.
When it comes to good tea shops, most of us would be happy to have just one or two in town – but not Seattle. The city has about a dozen seriously good tea shops, many of them in the same neighborhood!
It's a good thing there are so many, because tea shops are kinda like ramen shops.
When you have just one ramen shop in town, that poor store has to cater to everyone. Odds are, the ramen will be decent, but not fantastic. But when you have a whole bunch of ramen shops in one place – or tea shops, in this case – the magic starts to happen.
You get a healthy competition that allows each shop to develop its own unique style, serving up the stuff they truly know and care about.
Seattle's like that – a city full of specialized tea shops, perfect for the serious tea drinker.
Now, with so much to explore, you might be tempted to hit up as many as possible, but it's worth taking your time. Each shop is so full of character, community, and potential, you'll miss out on the details if you're in a rush.
In this post, I'll share a manageable, one-day route through 3 tea shops in north Seattle, with recommendations for teas that are sure to impress – and perhaps convince you to slightly overstuff your luggage above your carrier's limit. (Just don't fly Spirit.)
Let's get started.
Stop 1: Floating Leaves Tea
World-class oolong tea in a friendly, intimate setting 
We start off with a tiny shop with a big reputation: Floating Leaves Tea in Ballard, just a 15 minute drive from downtown Seattle.
Inside, the shop is little more than shelves lined with teas and clay teapots, and a tea table for just 5 or 6 people at most, but that's really all you need for the magic of Floating Leaves.
Tea hosts Shiuwen and Noah share tea through focused, hour-long tastings, which are super educational but also just awesome, light-hearted, and often hilarious enjoyment of the tea.
As for the tea, this is some of the best oolong you'll find anywhere – even in Taiwan. Owner Shiuwen Tai personally selects her teas from long-time teamakers in Taiwan, and she's got such a depth of knowledge and experience that I can often find better Taiwanese tea through her in Seattle than on my own in Taipei.
Even if you're not particularly into oolong, the selection is so diverse that you're bound to find something awesome, especially with guidance from Shiuwen or Noah.
Some of my favorites are the He Huan Shan High Mountain, a smooth crowd-pleaser that I swear tastes like egg pudding in the aftertaste, and any of the Baozhongs, which are the best I've found in the US. Click here to learn more about Taiwanese teas.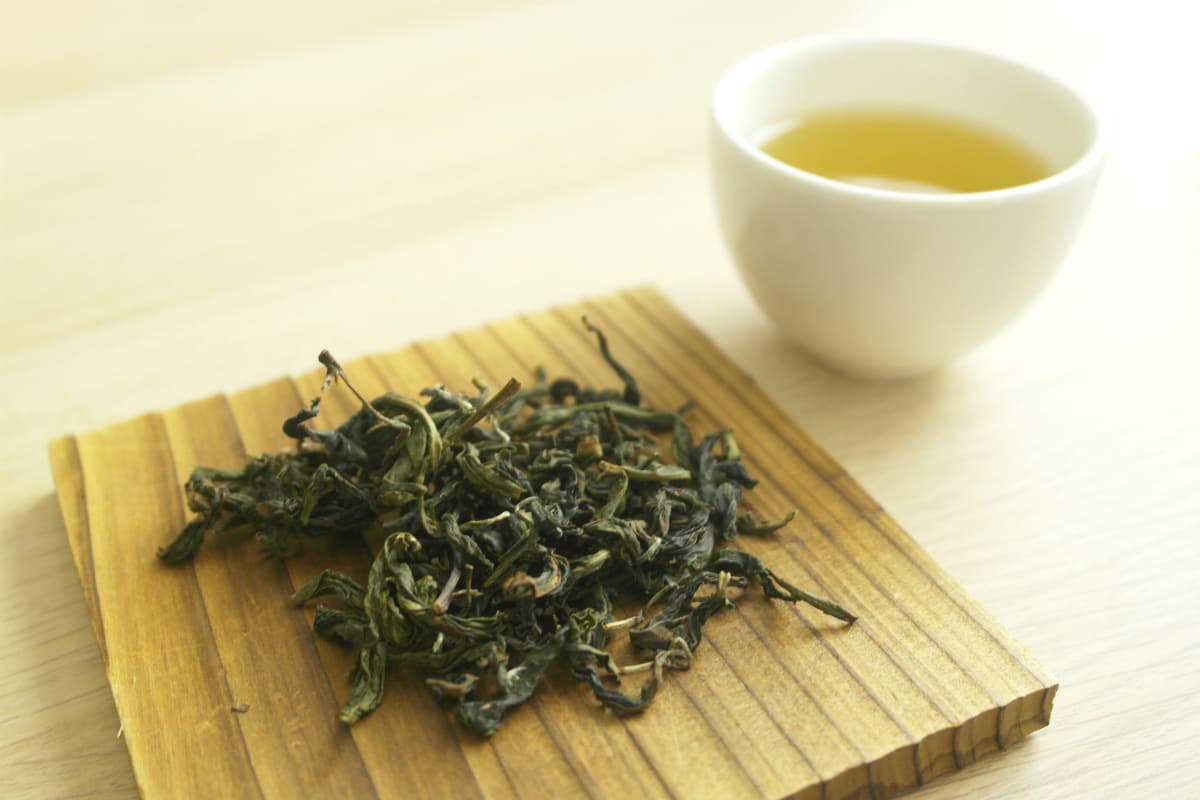 After an hour or three sipping, learning, and laughing at Floating Leaves, you'll walk away even more in love with tea than before – if that were even possible! I think it is. Somehow, I always leave Floating Leaves feeling even more passionate about tea, inspired by some mind-blowing new tea or tea practice.
What To Get:
Tea Tasting Experience: by appointment at tea@floatingleavestea.com, or all day Saturday and Sunday
Farmer's Choice Baozhong –

 A stellar example of Baozhong. Big fruity and flowery aroma, and a rich texture. 

Dong Ding – A Taiwanese classic, warm and satisfying. Shiuwen seems to love Dong Ding and offers many different styles in the shop, so be sure to ask about Dong Ding!
He Huan Shan High Mountain – Crowd favorite. An easy-drinking Taiwanese high mountain tea with great value. Sweet, silky, with a delicious finish – I swear that aftertaste is like custard egg pudding or Chinese dan ta (egg tarts).  
Stop 2: Miro Tea
Elegant tea oasis, serving loose-leaf teas and local food & pastries
Just an 8 minute walk from Floating Leaves is Miro Tea, a bustling, beautiful space that looks so polished, you might wonder if they actually serve good tea… 
I mean, any place this gorgeous is usually going to serve me raspberry mango flavored iced tea. 
Thank goodness Miro is different.  
At Miro, you'll enjoy an elegant cafe vibe, offering the usual chai and matcha lattes, but also an amazing tea program that will impress the serious tea drinker.
There's an extensive menu of teas, including high-end selections like Menghai shou pu'erh, Feng Qing Silver Needle, and Da Hong Pao, all available to-go or in a gaiwan or teapot for brewing. A thermos is provided so you can re-steep your tea as many times as you'd like, gongfu style.  
Pair this tea experience with the great local food available at the counter, and voila! You have an urban tea lover's dream come true. Good, reasonably priced gongfu style tea at a trendy cafe, complete with a warm quiche and Free Wi-Fi, if you need to get any work done. No coffee taste in your tea, no overbrewed green tea to fear.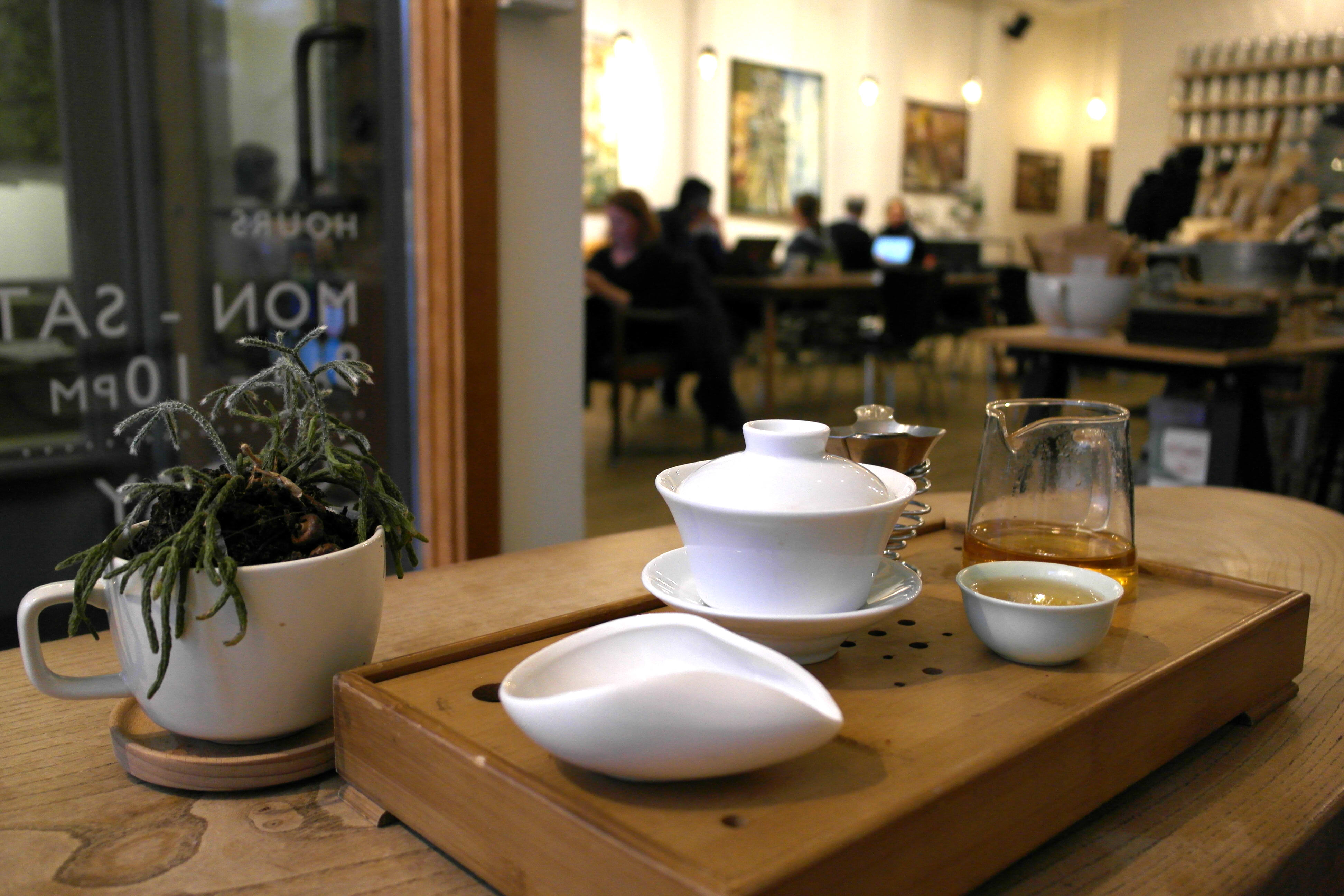 If Japanese tea is more up your alley, you can even get a matcha bowl served with beautiful Japanese wagashi (traditional tea sweets), sourced from Seattle confectioner Tokara. 
Miro Tea also offers its teas for retail purchase- and if you're thinking a cafe couldn't possibly sell good tea, think again.
The collection here rivals any loose-leaf tea shop, thanks to owner Jeannie Liu's razor-sharp palate. She seems to have a knack for finding some fascinating teas with big flavors: her Silver Needle Feng Qing is a stand-out among other Bai Hao Yin Zhen/Silver Needle teas, which are typically more mild. This one has a striking, lush jasmine and cinnamon character.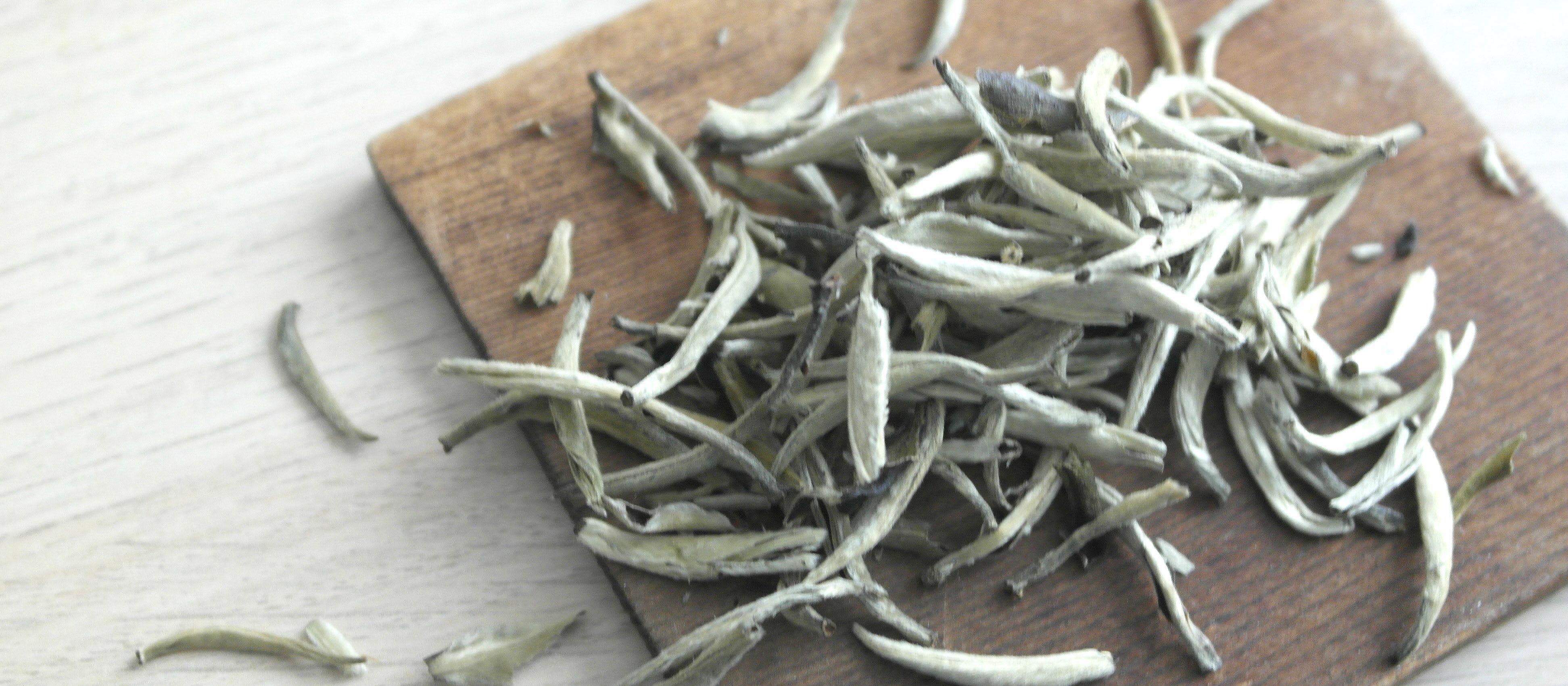 Just spend a few hours at Miro Tea, and you'll get a glimpse into the future of American tea culture: a casual meeting of modern and traditional, working to bring people together.
It's surreal to see aged pu'erh being served (properly!) at the same table as a Rosemary Earl Grey, but that's why Miro Tea is so exciting. It'll get you imagining that, maybe someday, every city in America could have a visionary tea cafe like this, too.
What To Get:
Two Sisters – A surprisingly good Vietnamese oolong, made in the style of Taiwan's honey-sweet Gui Fei oolong. Vietnam is a newer tea region that's still getting the hang of making tea, so it's a nice surprise to find this here.
Feng Qing Silver Needle – Silver Needle (Bai Hao Yin Zhen) from Yunnan. A more bold take on the style, lush jasmine aroma with notes of cinnamon and vanilla bean.
Tokara Wagashi
Daily Special Tea Drinks – Blown away by the Rosemary Earl Grey this summer – a creative tea beverage that actually still tastes like tea. Also check out their more regular fare: Matcha Soda and a list of other blended tea beverages.
Stop 3: Friday Afternoon Tea
Geeky community tea shop with exceptional tea blends
From Miro Tea, take a 10-minute drive or 20-minute bus ride down to Friday Afternoon Tea, a quirky, cozy shop that offers some of the best tea blends I've ever had.  
Even if you're not usually into blended or flavored teas, I'm sure you'll find something to like here. In a market saturated with pretty awful tea blends, Friday Afternoon is a rare find, combining a respect for traditional tea with a whimsical exploration of flavors and geeky culture.
Owner Friday Elliot makes all her tea blends in-house, which is already a big upgrade from the mass-produced blends you see in the market. I also admire the almost scientific rigor she has for the tea blending process: ask her about the ingredients in a certain tea, and she'll break out a hefty notebook filled with notes on over 300 finished teas.
I was blown away by her "Darcy's Delight", a light roast Wuyi Qi Lan oolong blended with orange peel and osmanthus, in which the tea still obviously takes front and center.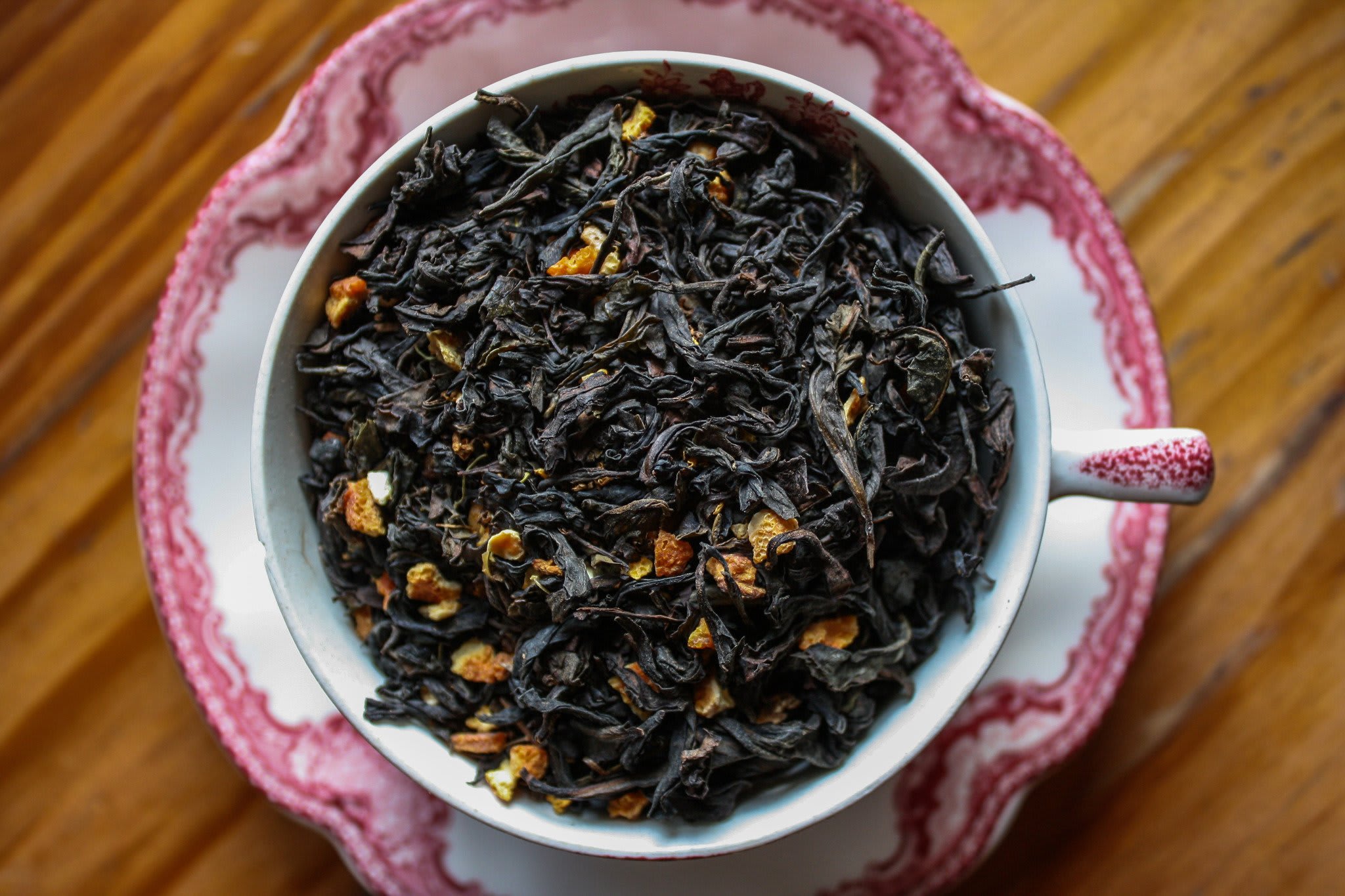 If you're feeling adventurous, try the "Knuckle Sandwich": a blend of black tea, crushed chili, and chocolate. You get all the exotic flair you'd expect from a craft chocolate bar, but at the fraction of the cost – and in a tea cup, too.
Most of Friday's teas are tasty, but also fun and geeky, making them great as tea gifts for friends. Check out the Wizarding Collection with Gryffindor, Slytherin, Ravenclaw, and Hufflepuff house teas, or the RPG series for the gamer in your life.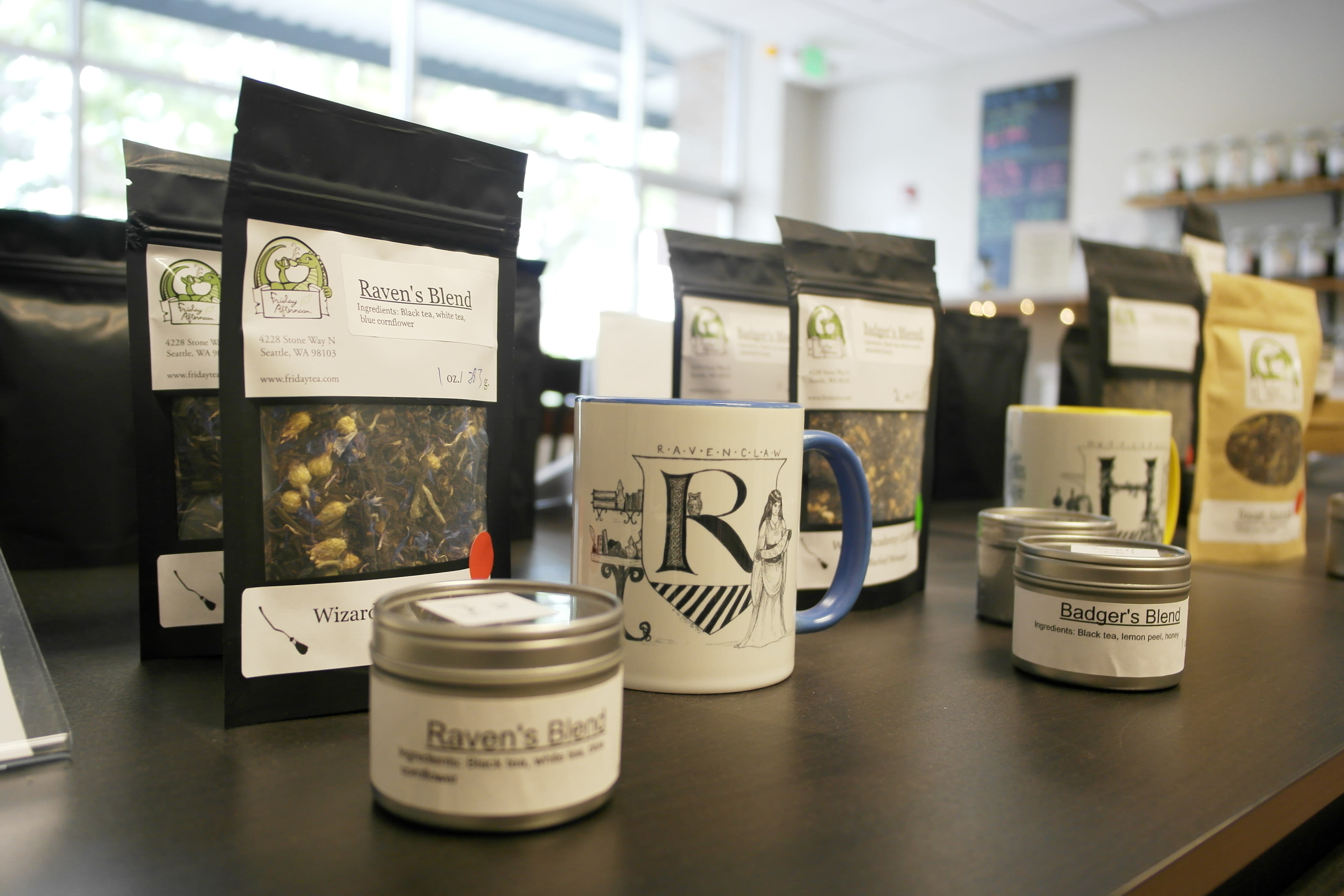 If you're the fun, geeky type yourself, you'll have a blast exploring the shop's quirky collection, or the extensive collection of board games, which you can play while enjoying your tea.
You'll also make quick friends with the lovely regulars, who are quick to share their favorite Friday Afternoon teas and maybe a current fandom of choice – that is, if you can spare a moment from the hilarious stories from Friday herself. She's a firecracker of a tea host! 
Don't forget to check their calendar for weekly meetups and themed events, including tea workshops hosted by Friday herself.
For as much as tea blends may not be everyone's cup of tea, I think Friday Afternoon Tea gets something right that many tea purists never do: that the beauty of tea is in community, not in competition. It's this secret sauce that makes the shop so lively, and that hooks people so easily into tea.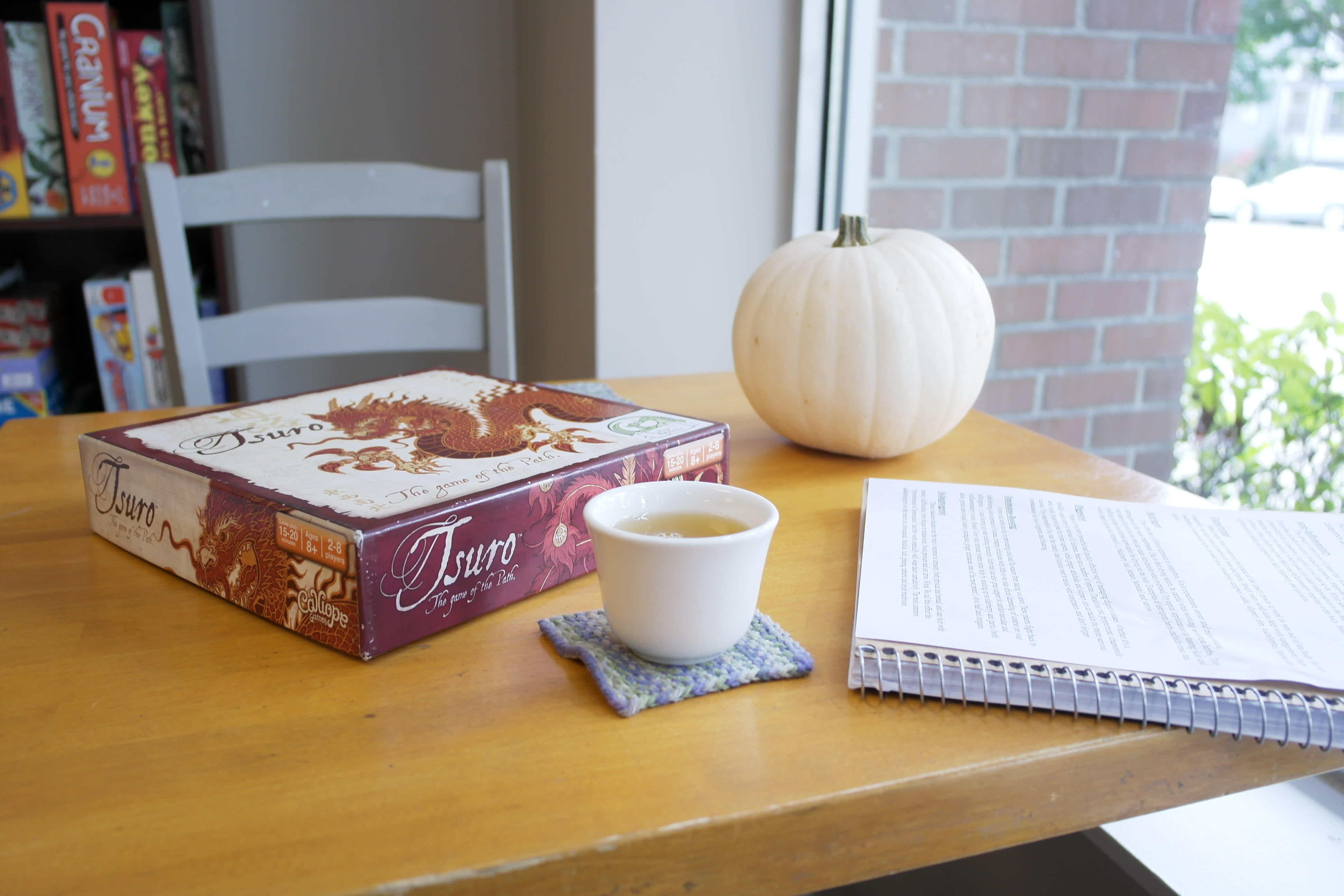 What To Get:
Geeky tea gifts – Best-sellers include the Wizarding Collection (also available as individual Harry Potter house blends) and caffeine-free blends
Darcy's Delight –

 A blend to impress even the tea purist. Qilan Wuyi oolong blended with orange peel and osmanthus. Incredible balance and depth for a blended tea. 

Knuckle Sandwich – That hipster chili dark chocolate bar, in tea form. Black tea, crushed chili, and chocolate
Zomba Pearls – For the tea purist who refuses to be impressed by blends. A truly unique white tea from Malawi, made only at that particular estate. Massive hand-rolled pearls with a bright, buttery character.
–
These three fantastic shops make a great, compact one-day tour, but if you're trying to pull an Anthony Bourdain a la The Layover and need even more options, check out a few more of my favorites:
Let me know how it goes.
See you on the tea road!
Rie