So there's this AMAZING group buy going on right now where you'll be able to get top-tier Korean teas basically at wholesale price.
Like, there's no markup on the teas at all. Zero. Zilch.
These are prices you'd get if you went to Korea and visited the producer directly, AND if you were buying in bulk.
It's virtually unheard of from Korea, and if you ever wanted to explore Korean teas, this is THE opportunity.
But here's the catch.
Today, Friday June 12, is the LAST day to get your order in.
That's because the person who heads the group buy, Arthur Park, orders the teas just once a year directly from his producer friends in Korea, before they're sold out. (More on that later.)
As always, I don't get sponsorships or commissions to talk about these teas: they're just that good. And even if you've had Korean tea before, I'm going to say you still gotta try the stuff Arthur Park offers. It changed my views on Korean teas forever.
Here's the scoop.
–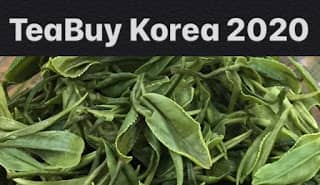 This group buy, named TeaBuyKorea, happens just once a year and is run by Korean-American ceramicit and retired professor Arthur Park.
He started studying Korean tea almost 40 years ago, as a way to deepen his ceramics work.
Since 2010, he has run TeaBuyKorea to showcase teas from his tea maker friends in Korea. And he's SO passionate about this work that he operates at a loss to make it happen. Every. Single. Year.
Don't get me wrong, I've asked him why he doesn't just raise his prices, at least just to cover his costs!
But Arthur insists that it's worth it to spread awareness of Korean tea culture — a part of the tea world that we really don't talk much about, now, do we? — and to help people access the crème de la crème of Korean tea which often don't make it outside the country.
We talk so much about Japanese, Chinese, and Taiwanese teas after all.
Why not Korean tea?
Well, here's THE chance to explore the best that Korea has to offer, and at much lower prices than you'd see anywhere else.
You can find the full list of Arthur Park's TeaBuyKorea teas here, but if you're just starting out with Korean tea then I highly recommend the sampler sets.
Option 1: Korean Green Tea Grades

Get to know the main grades of Korean tea, based on date of picking and flavor.
6 Korean green teas (Woojeon, Muwi Sejak, Sejak, Jungjak, Daejak, Yipcha) from the same producer.
Spring 2020 + Summer 2020 teas.

Option 2: Korean Balhyocha

Get to know Korean's unique oxidized tea balhyocha, which is processed in some ways like oolong or black tea, but also like yellow tea
4 Korean balhyocha from different producers, each with unique processing styles
Spring 2020
The sampler sets are just $45 each + shipping when they would really cost $150-$200 AT LEAST for both. You can order the sample sets through here.
Again, the deadline is TODAY, Friday June 12.
Just fill in the form and they'll get back to you about shipping and payment (the group buy has a 10 year history, so these guys know what they're doing).
–
I know these teas aren't the cheapest, even with the crazy discount. But once you factor in all the costs of cultivation, labor, and expertise from these small producers, it'll start to make a lot of sense why they're still priced this way.
And trust me, [FIRST NAME GOES HERE], we could fly to Korea right now and still not find teas of this caliber there unless we had Arthur Park right there with us.
So yeah. If you've ever been even a little curious about Korean tea, THIS IS IT!
Don't miss out!
Cheers,
Rie
–
P.S. For the record, me and Steven are picking up both the Korean green tea and balhyocha sampler sets, so we're right there with you. Arthur Park has also offered to host a free Korean Tea 101 class for all of us who pick up one or both the samplers (which will happen in August!) so we'll be able to learn together on these! Like I said — this is THE Korean tea opportunity, and we want you there with us, yeah?