In our previous email, we talked about improving the way we preheat teaware.
But how important is it really?
Will a tiny bit of hot water, sloshed around in the tea pot at the start of the session, really make or break your tea?
–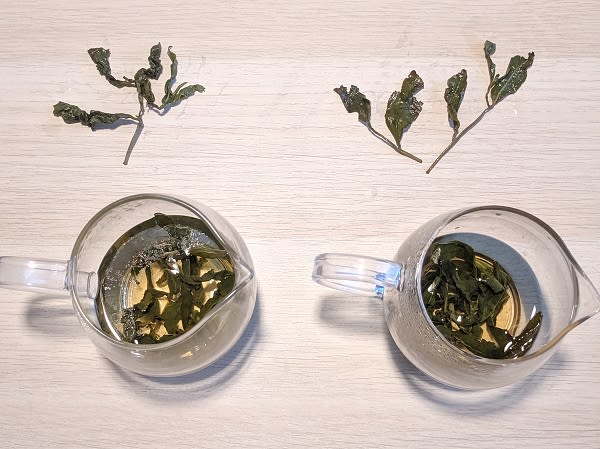 This weekend, I tested it out. (IG folks, you might recognize this bit.)
In the test, I brewed the same tea, a Taiwanese high mountain oolong, with preheated (right) vs. non-preheated (left) teaware to see if there was a difference in the final cup.
It was pretty clear which vessel performed better.
The brew from the preheated vessel just had more to offer. More creaminess. More sweetness. More depth overall.
You can see that the tea leaves clearly opened up more — smooth and evenly infused.
It was hands-down the better brew, and I was honestly shocked by how much of a difference the preheating made.
But the brew from the non-preheated vessel tasted just fine, really.
If anything, it was just a little light and dry on the finish, but I'd take that brew any day and be perfectly happy.
I'm not sure if I would have noticed such a huge difference if I weren't tasting the two side by side, to be honest.
So now, you have to ask yourself: is it worth the effort?

–
If you want to brew better tea, then you already know the answer.
Each tiny decision you make will make a difference: the tea leaves you purchase, the preheat, the pour, the water, and the teaware; heck, even the interior decor of the will change the subjective experience of your tea.
On their own, most of these factors won't make or break the final outcome, and at times it'll feel like too much trouble.
But they add up. And you can't win the war without winning the little battles.
You're in pursuit of a better cup of tea.
Fight for it.