Big topic, eh?
What tea is more difficult to study, authenticate, and buy than pu'erh?
Well, in April, we studied it for two straight weeks for the Pu'erh Love Challenge, to the tune of 287 total teas.
That's a lot of pu'erh, and some interesting trends popped up from data. (Spoiler alert: looks like tree age and region DO matter for pu'erh after all.)
You might also recall those kickass interviews from our pu'erh friends — and that one of them, the absolutely excellent interview with my friend Jeffrey McIntosh, was all messed up in terms of audio.
We had no idea until y'all let us know. (We owe you one!)
But the good news is, we finally got it all sorted out.
Today I am happy to share this incredible interview, "How to Study & Purchase Pu'erh", in a format you can actually listen to and enjoy. 😉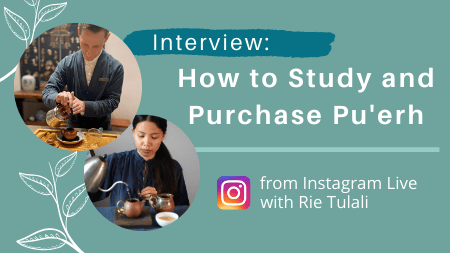 In this in-depth interview, we cover:
Jeffrey's experience in the pu'erh tea world
Old tree vs. young tree pu'erh
How to authenticate pu'erh tea from old trees
Methods for selecting and purchasing pu'erh
So grab a cup of sheng or shou, and click here to watch the interview on YouTube.
–
I've said it before and I'll say it again: I'd be totally lost in pu'erh without guidance from trusted friends like Jeffrey.
There will always be someone who has drunk just a little more tea than us. These people are treasure troves of knowledge. Listen to what they have to say, and then test it all out for yourself, too.
Actually, I want to do just that for Jeffrey's advice.
In the interview, Jeffrey suggests an interesting concept for testing pu'erh (especially before committing to a full cake or large purchase):
Drink the same pu'erh for two/three days with no other teas, then see how you feel.
It'll make more sense once you watch the interview, but I think this is a brilliant method. I'm all game.
Starting today, I'm going to drink just one tea — Denong's 2019 Jade Leaves Sheng — and no other teas until Saturday, three days from now.Then next week, I'll try this again with a different pu'erh to see if it feels any different.
I'll see you on the other side of these pu'erh cakes, I guess. 😉