It's May, and now, deep into Spring, the sunshine filtering through the window is even hinting towards summer. And for the time-honored tea traditions of the world, the tea table changes too, along with the seasons.
In China, spring means the arrival of fresh green tea, just picked in March and April. Green teas are at the peak of their beauty and flavor now, and people often bust out the glass teaware to show off such gorgeous teas. It's mesmerizing to watch the young leaves "dance" in a tall glass or tea pot.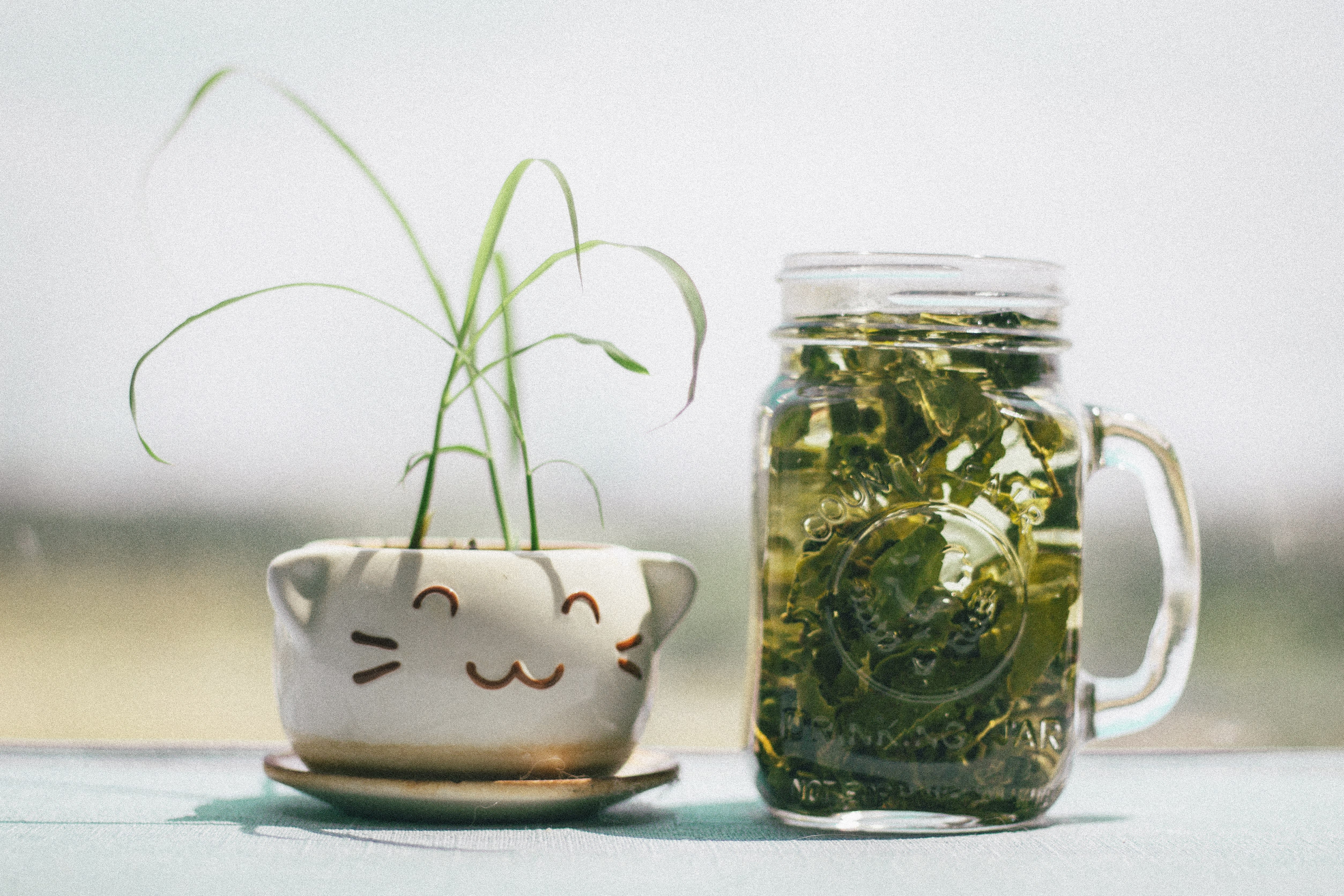 Over in Japan, the tea rooms for chanoyu are showing their spring colors, too. Chanoyu, often called the Japanese tea ceremony, is intimately tied with the changing of the seasons, and everything in the tea room is chosen carefully for the time of year.
For example, heavy tea bowls are replaced by thinner, cooler ones when it's warm outside, and any floral arrangements will always showcase the appropriate flowers for the season. Students of chanoyu spend years just learning the basics, partly because the subtle details change every season!
(It's not like the tea police will come if you're using off-season teaware or flowers, or anything, but still. You'll kinda be like that guy who still has his Christmas lights on during Easter.)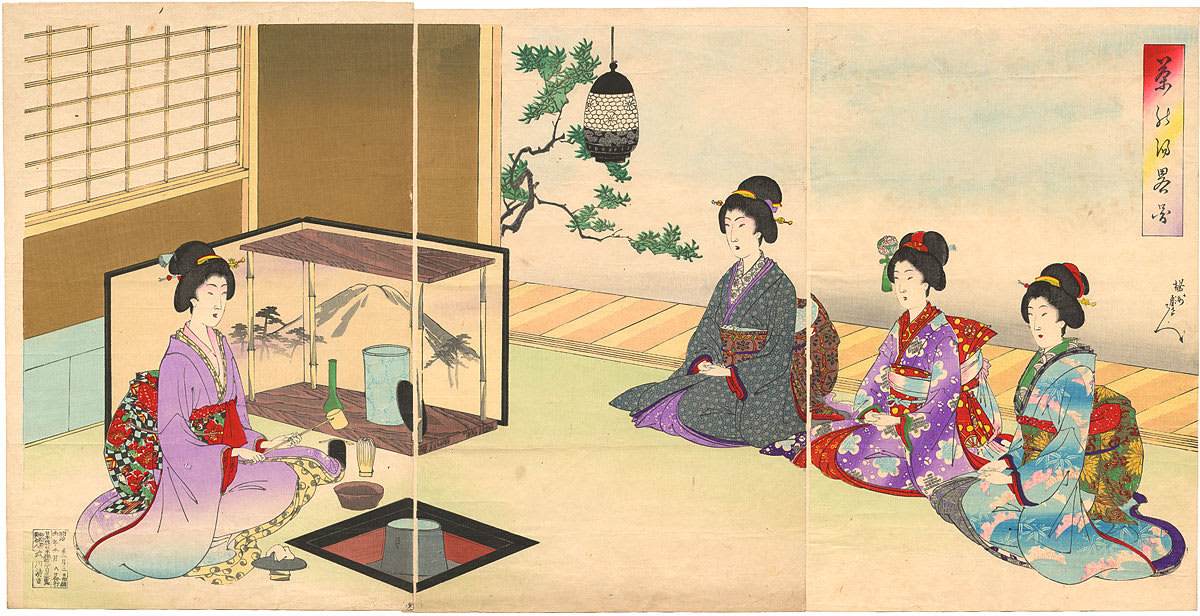 These tea sessions, guided by the seasons, can be a beautiful experience. But how practical are they for those of us who just like drinking good tea? I mean, I don't know about you, but I sure don't have a traditional tea room to host awesome tea gatherings in… actually, I don't even have a tea room, period. I've never studied something as sophisticated as flower arrangement, either.
And I definitely don't have the budget to be drinking only the finest, freshest Dragonwell or Bi Luo Chun green tea every time I want something to drink.
Look, we just want to brew good tea. What's the point of pretty flowers, tall glasses, and spring colors, when we could just focus on the tea itself?
Like you, I just like tea, so I'm definitely all for focusing on making the best tea possible. But a beautiful tea session can be more than just for show, too. By putting just a little thought into setting up our own tea sessions, we can enhance the tea in both beautiful AND practical ways, making the tea taste better for ourselves and our tea friends. Good design isn't a distraction from good tea: it's a necessary tool.
For example, let's say you have a gorgeous, deliciously sweet jasmine green tea you want to share with friends at a tea gathering. Except that someone's decorated the tea table with cinnamon-apple scented candles from Bath & Body Works, so your tea ends up smelling more like Thanksgiving than you bargained for. Oops.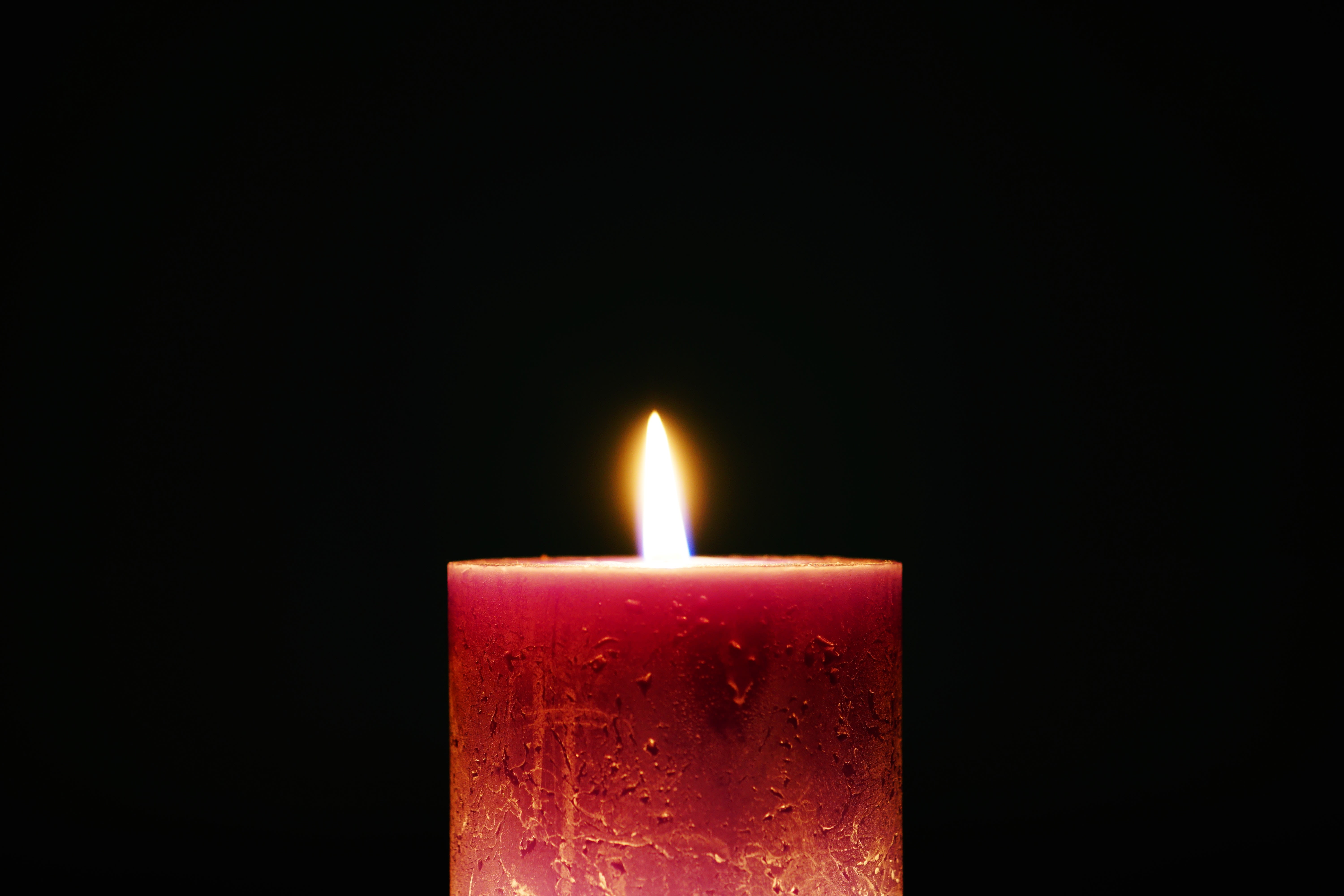 That's an extreme example, but even more subtle choices can cause issues, too.
Maybe someone brought a bouquet of roses for the tea table: the lush, flowery fragrance will clash a little with the aroma of your tea. Or maybe the tasting cups happen to be the type that reduce the tea's natural aroma. (More on that later.) It might seem frou frou to talk about tea design, at first, but we need good design to brew and serve better tea.
In this series, let's explore ways to design our tea sessions in beautiful AND practical ways, in the context of Spring.
Tea & Teaware
First, let's talk about the foundations of a good tea session: tea, and good teaware.
It's spring now, but do you remember what you were brewing all winter long?
It depends on taste, of course, but winter is usually the season for warm, intense, often roasted teas, like Japanese houjicha, medium to dark roast Taiwanese & Chinese oolongs, and heavily fermented pu'erh. Basically, any tea that pairs wonderfully with a warm, fluffy blanket, and coincidentally with more heavy teaware, too.
Here are some pictures of my tea sessions from the Winter. Do you notice a pattern?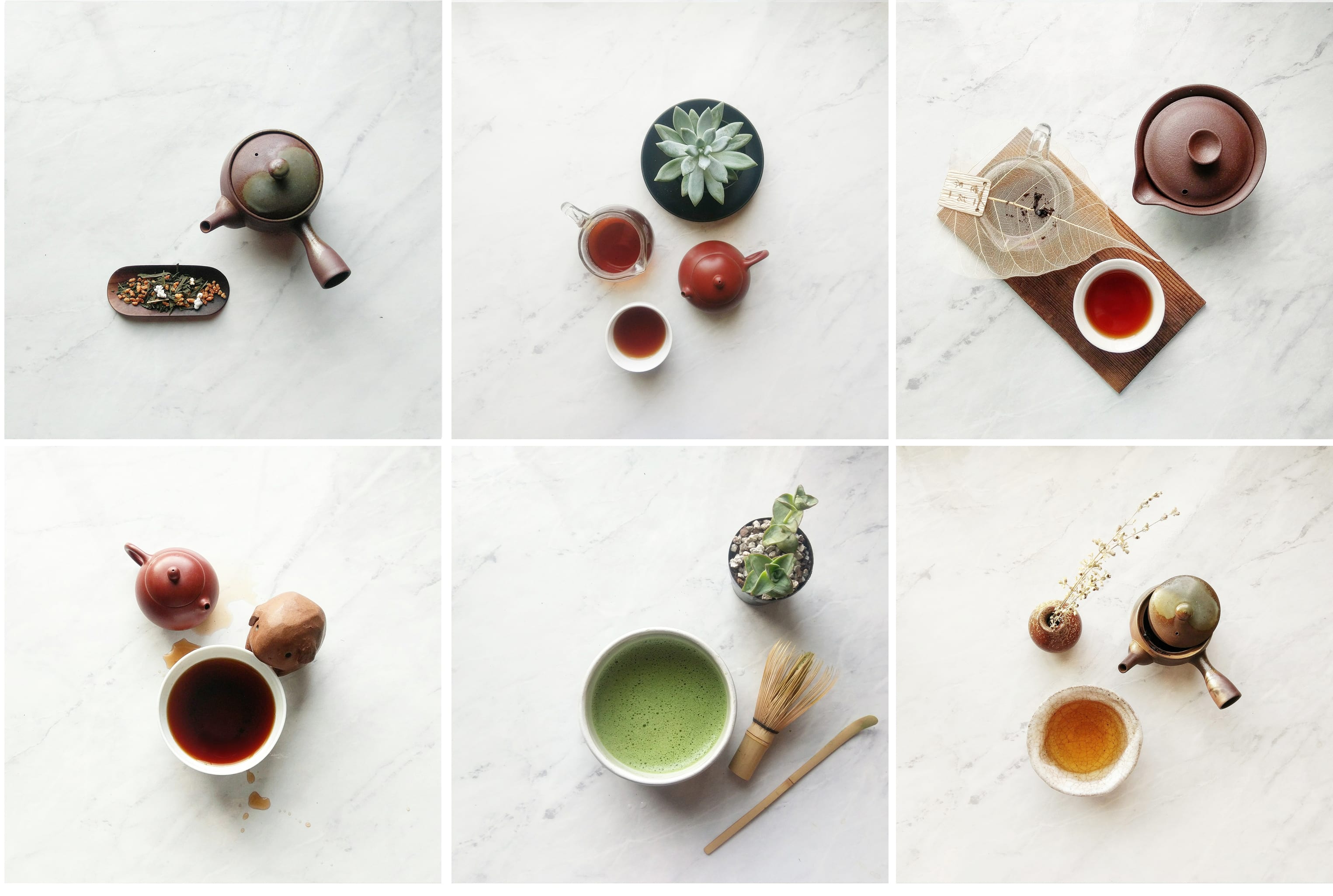 Over and over again, I was using the same heavy, rustic pieces, with pretty thick walls and dark colors. These teawares retain heat pretty well, and they're heavenly to handle on cold, Janaury mornings.
For example, that small, purple-brown Japanese kyusu is made of banko clay, and is actually pretty heavy for its size. It feels substantial in the hand, stays warm for a long time, and looks pretty bold on the tea table. All stuff that's a good match for the cold weather. 
I also used a lot of dark wooden coasters and tea scoops. The white marble is pretty cold and stark during winter, so they add a warm, cozy vibe to the tea session. Penchant, the heaviest of my tea pets, makes his appearance most often during the winter, too. He's basically a big, sturdy lump of hand-molded clay, so he adds a lot of presence to the tea table, too. 
These warm accessories help balance out my ivory white cups. Honestly, these small, white cups don't make much sense during the winter: they don't hold onto heat pretty well, so the tea gets cold pretty quickly. A larger, heavier cup would be a better match, with bonus points for warm colors to add depth to the tea session.
(To demonstrate the use of warm colors, look at the one matcha session in the picture above, with mostly cool colors. It doesn't look very warm or inviting for a cold day, does it?) 
But I just love plain white cups for drinking tea… so, by adding the wooden coasters, I get to keep my favorite cups while still keeping the tea session practical and in-season. I also have a few white cups that are just a little larger with a more heavy luscious glaze. They hold just a few extra mL than my small white cups, but it makes all the difference on a cold winter day.
If you have woven coasters or tea cloths, they also make a great addition to the tea table: personally, I left them out for most of winter because we had a pretty mild one, this year. 
Now, what about the Spring?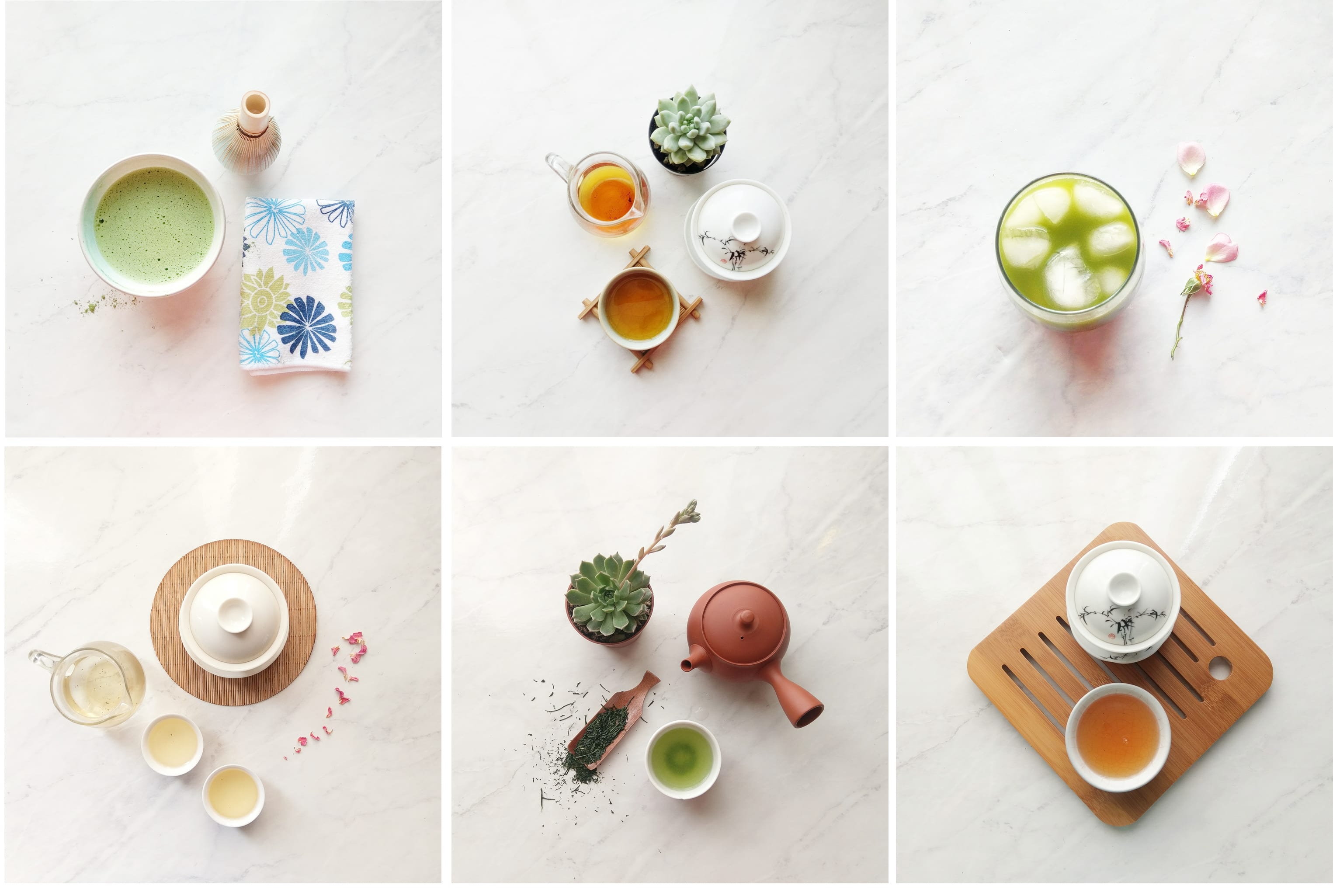 Do you notice any patterns?
Spring hits hard here in Las Vegas: the days turn warm almost overnight. It looks like I dropped the dark wooden scoops and coasters pretty quick, too. While I absolutely love those particular accessories, they just feel like overkill nowadays.
My favorite white cups stay warm just fine now, the coasters feel too heavy, and dark wood looks just a little too dramatic when it's so bright and dewy outside, especially in the middle of the day.
In general, bamboo accessories are a better fit for spring and summer. They have a nice, natural look, and because bamboo is so light, it feels effortless to handle. Also, doesn't it look awesome with teas that fit well with the season, like light oolong and green tea? The pale bamboo shows off the vibrant leaves really well.
For brewing, I started using my gaiwans a lot more. Well, I use my gaiwans a LOT anyway, since they're my favorite brewing vessel, but I think they're a particularly good match for Spring.
The weather swings between hot and cold during this time of the year, and gaiwans give you the ability to adjust to the weather on the fly. By leaving the lid on and filling the water to the top, you can brew hot tea for a rainy morning, but by leaving the lid off and filling the water lower, you can brew a more mild, refreshing tea for a warm Spring afternoon.
Gaiwans are also usually glazed and high-fired, so they don't absorb any flavors from the tea. This means they preserve the fragrance of the tea really well. That makes them a great match for the lush, aromatic teas, like lighter oolongs, young white teas, and scented teas, like jasmine green or sticky rice pu'erh, which are all great choices for the season.
Glass is also a good choice for spring, with the clear, delicate, and dewy look. However, I've noticed that glass mutes the taste of tea a little, so I don't like using glass cups. (I'm still testing this out, so I'm not 100% sure on this – your mileage may vary.) Instead, I prefer glass for fairness pitchers, or for serving cold-brewed or iced teas. The tea liquor looks beautiful in glass, and it's hard to beat a tall, sparkling glass of iced tea on some of the 100 degree days we've had already in Las Vegas!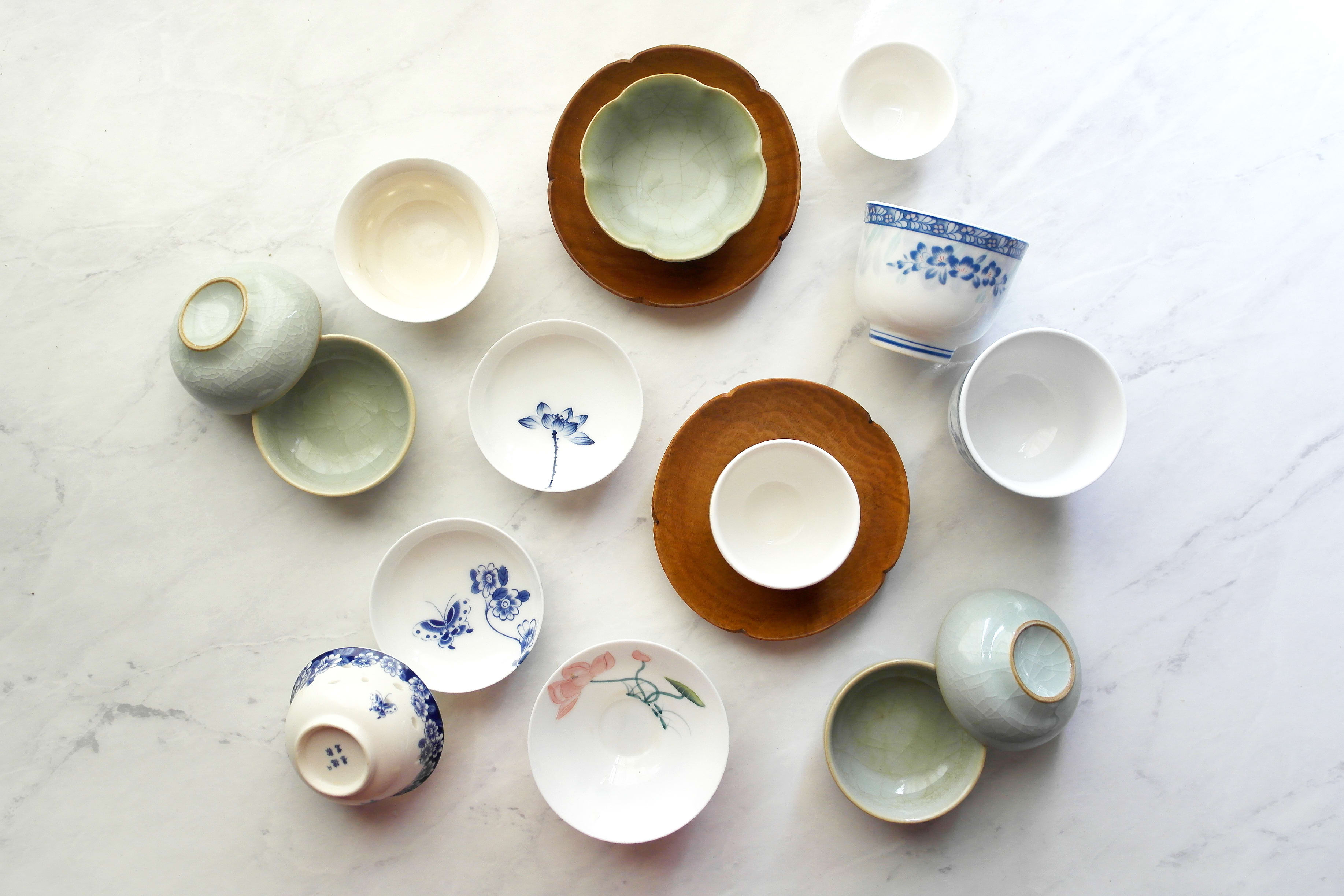 In terms of cups, I'm still using my favorite white cups, of course, but I've also added some more delicate, shallow cups to the rotation.
Thin, shallow cups lose heat more quickly, so they're awful in the winter. They turn into ice cubes on a cold tea table! They become a delight to use on warm spring days and all throughout summer, when you just want your tea to cool down already.
There is one downside with shallow cups: they don't preserve aroma very well. The tea fragrance seems to dissipate together with the heat. If you're using shallow cups, I recommend using them with a glazed gaiwan, so you can still enjoy the fragrance directly from the gaiwan before drinking.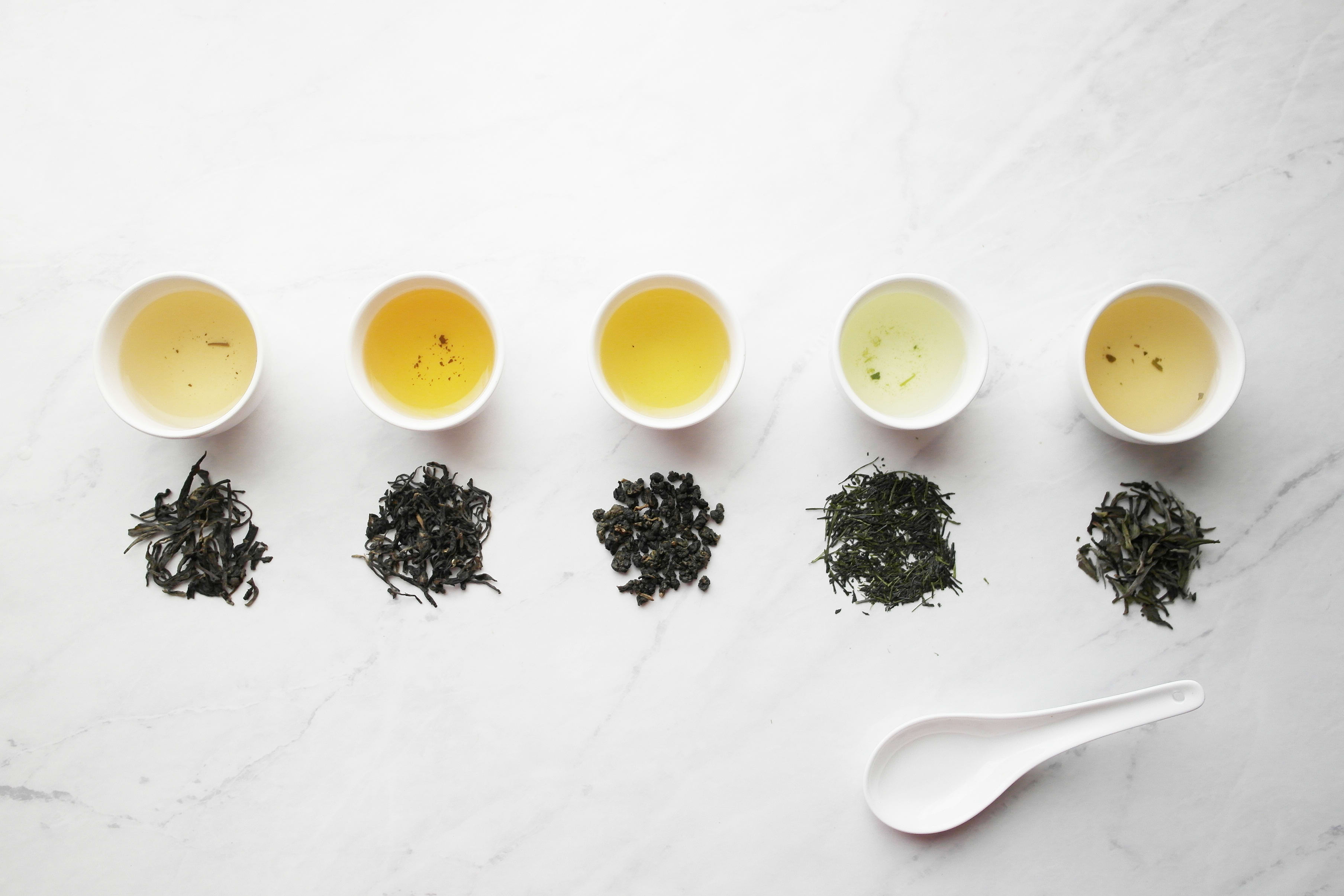 If you have them, Taiwan's wen xiang bei, or "aroma cups", are another great option for spring. Wen xiang bei usually come in a set of two cups: a tall, scenting cup designed to showcase the fragrance of the tea, and a shallow cup, designed for drinking. If you don't, then don't worry – I don't own a set either, and while they're on my wishlist, I've done just fine without them. It's a reminder that you don't need tons of teaware to create great tea experiences.
As you set up your tea session, use what you have available, and remember that it's YOUR tea space. Consider what's practical, of course, but don't lose sight of your personal preferences and personality. Stick to your guns: the tea police won't come, and your enjoyment is what matters in the end.
Cheers,
Rie