Silver Needle (Bai Hao Yin Zhen) is a classic Chinese white tea, known for its bright, elegant flavors. It's the highest grade of white tea, requiring a meticulous harvest to produce.  
It's one of China's most iconic teas, but also one of its most misunderstood. In this article, get the facts behind Silver Needle and learn how to identify, brew, and serve it with confidence.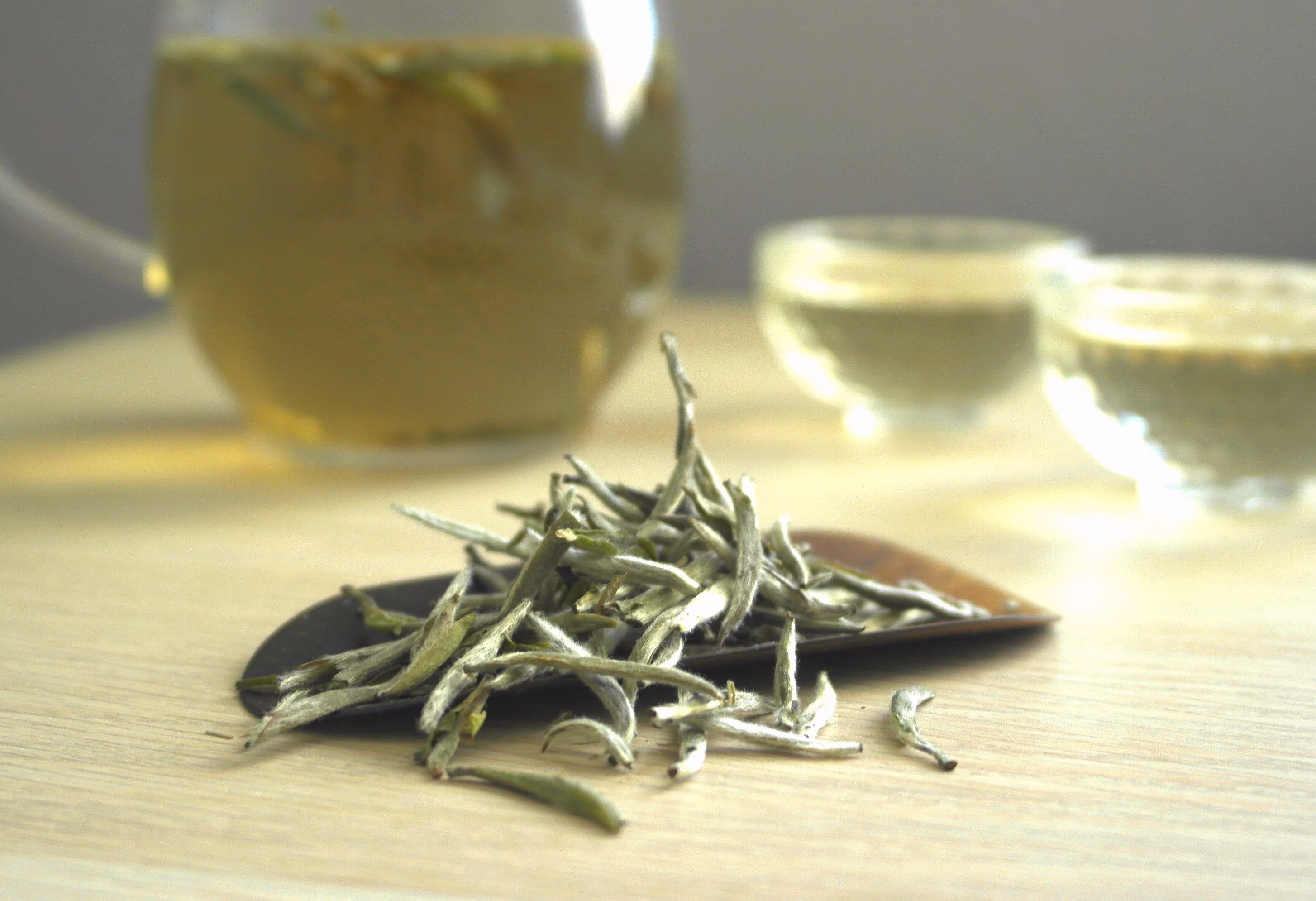 If we take a bunch of Chinese teas and line them up on the counter, I bet you could easily spot the Silver Needle.
With those beautiful, downy white buds, it's visually as far as you can get from a Lipton teabag. It's the kind of tea that people reserve for special guests in China, with a level of fame – and a high price tag! – that can leave a lasting impression.
It's the kind of tea that people reserve for special guests, with a level of fame – and a high price tag! – that can leave a lasting impression.
In the West, Silver Needle is dialed up even more.
It's marketed as this rare, delicate tea that was once reserved for emperors, so fragile that it gets ruined by boiling water (thanks Teavana).
Common knowledge says to brew Silver Needle at 175°F, or around 80°C, which will give you a decent enough brew that's definitely subtle, maybe a little watery, and often a bit of a let down for such an expensive tea.
In truth, you need hot water to really experience a Silver Needle. When you brew a Silver Needle with the boiling water it needs, you'll understand what makes this tea so special. It's an incredible balance of pure, bright, and lively flavor along with an almost electric energy, a surprising punch from those pretty, little buds.
Sure, Silver Needle might seem delicate, but it was this punchy energy that kept me awake during those late nights in college, finishing papers. Not an Assam – a Silver Needle.
There's also a surprising range of flavor in Silver Needles. Some are light, floral, and a little creamy, while others are more wild and herbaceous, almost peppery.
The exact flavor profile depends on how you brew the tea, and on which style of Silver Needle you select.
There are many types of Silver Needle in China, but the most common are Fujian Silver Needle (which includes Fuding and Zhenghe Silver Needle), and Yunnan Silver Needle.
Fujian Silver Needle
Fujian Silver Needle is named for Fujian Province, which is the birthplace of white tea.
Silver Needle has been produced there since the late 1700s, and the processing styles have largely remained unchanged. After all that practice, you bet they make some pretty fantastic Silver Needle.
You can spot Fujian Silver Needle with its small, even leaves and fresh, sweet flavor.
There are two main regions in Fujian that make Silver Needle, and they also have their own distinct style: Fuding, which is near the coast, and Zhenghe, which is more inland.
Illustration: Map of Fujian Province vs Yunnan Province
There are two main types of Silver Needle from Fujian: Fuding, nicknamed "North Road" Silver Needle, and Zhenghe, nicknamed "South Road" Silver Needle.
The styles are different – Fuding Silver Needle tends to be more soft and subtle, with a refined fruity and lightly herbaceous flavor. Fuding Silver Needle is made from the Fuding Da Bai cultivar, which tends to be more thick and downy.
Zhenghe Silver Needle is processed to be slightly darker and more bold, with a rich, full body and a lush, herbaceous, and sometimes more earthy or smoky flavor. It's made from the Zhenghe Da Bai cultivar, which is a little thinner than the Fuding version, and thus less pretty and downy. Zhenghe feels like the more rustic twin to Fuding Silver Needle – perhaps not as pretty or elegant, but with tons of character to make up for it.
Finally, there's a third type of Silver Needle, from Yunnan. While many folks in China don't technically consider Yunnan Silver Needle to be true Silver Needle, it's taken on this name in the West and is closer to Fujian Silver Needle than other regions' examples, so we'll include it here. Yunnan Silver Needle has a stronger flavor and more intense aroma, bordering on sharpness. The leaves are more yellow, since more heat is applied to its processing.
A lot of Yunnan Silver Needle comes from Jinggu, a town known for Yunnan's most famous white tea, Moonlight White or Yue Guang Bai (月光白), but other regions also produce Silver Needle style teas. Because Yunnan is such a big area, the leaf material and processing is less consistent, so the flavor profiles can vary more.
Yunnan Silver Needle can range from having baked bread notes to more lush fruity and fragrant wood notes. It's made from the plants in Yunnan which naturally have larger leaves and buds and a more potent, wild flavor.
Other regions outside China also produce Silver Needle-style white teas, like Assam in India, and Nepal. However, the leaf material, processing, and terroir are so different that they haven't formed their own distinct flavor profiles yet, so the resulting teas are quite variable, and it's arguable if these teas, like Yunnan Silver Needle, should be considered "Silver Needle" or if they should be categorized differently.
Occasionally, Silver Needle is also scented with jasmine flowers, creating Jasmine Silver Needle.
If you prefer a more delicate, lightly sweet, and refined taste, try Fuding Silver Needle.
If you prefer bolder, more intense flavors and interesting aromas, try Yunnan Silver Needle.
For something in the middle, try Zhenghe Silver Needle.
How To Pick a Silver Needle
Like many famous teas, picking out a Silver Needle for the right price can be tricky. The demand for these teas is higher than the supply, so there are a lot of mid to low grade teas out there marketed as high quality Silver Needle. What should we look for?
For Fujian Silver Needle (Fuding and Zhenghe), fresh Silver Needle (0-1 years) should be comprised mostly of buds, with just a few leaves. Look for straight, unbroken buds with a silvery green appearance. If the buds are broken, they release bitter tannins, which results in an imbalanced flavor in the tea. The tea liquor will also look darker with broken buds.
Another tell of a good Silver Needle is the price range. The average going-rate (as of November 2018) is around $15 – $20/oz for a high quality Fuding or Zhenghe Silver Needle. As we see with many famous teas, the prices reflect a high demand and low supply.
A particularly high grade Silver Needle, picked earlier in the season, could fetch higher prices, while a lower price might hint at Silver Needle made from other, less famous areas or harvested later in the season.
Yunnan Silver Needle has a larger, more downy appearance, with a slightly more yellow appearance. Because the production area is larger and the demand is lower, they tend to be cheaper than Fujian Silver Needle, around $6 – $10/oz.
Sometimes, other white teas are labeled as Silver Needle even if they contain the leaves and stems. This should not be sold as Silver Needle, and is more accurately White Peony (a white tea with buds and leaves) or Shou Mei.
Aged Silver Needle
White teas are delightful to enjoy when fresh and young, around 0-1 years. They have a sweet, vibrant character and almost creamy texture that is only apparent during this early stage. However, Silver Needle can also be properly aged to develop a deeper, more earthy flavor, with a thick honey-like and raisin sweetness that can only be found in aged tea.
The aging of white tea is different from pu'erh aging. The aging of pu'erh happens through microbial fermentation, in which the yeasts in the tea actively change the tea over time. White tea just slowly oxidizes over time, developing more of the fruity, malt and honey notes you'd see in a black tea. An aged Silver Needle will have a light plummy and honeyed flavor.
Aged Silver Needle can be found in loose-leaf form, or more rarely in compressed cakes, which make them easier to stack and store for aging. Aged loose-leaf tends to have a more vibrant taste, while compressed tea tends to have a more smooth, balanced flavor.
How To Pick Aged Silver Needle
As for aged Silver Needle, prices vary wildly on the original quality of the tea as well as the storage and age. Prices should start at the going-rate for a fresh Silver Needle, since proper storage and age command a premium, ranging from $15 to $25/oz or more. An aged Silver Needle will have a more reddish, almost rusty tint to the leaves, but should still have bright silver down. The liquor will also brew up darker, but with a rich reddish tone.
The leaves will be slightly more dry than a fresh Silver Needle, but not brittle or "crunchy" – if the tea seems a little too crumbly, or if it lacks any aroma, it might be stale instead of properly aged! It's best to taste aged Silver Needle before buying.
All in all, it's best to buy Silver Needle from vendors who can provide more information about the provenance of the tea. For example, a shop that can provide the specific origin of the Silver Needle (Fuding vs Zhenghe vs Yunnan) will likely have more knowledge and better sources for the tea, and thus might carry a pretty great Silver Needle.
Brewing Silver Needle
Because of the downy, white hairs on the buds, Silver Needle brews up a little differently from most teas. The tea is lighter by volume, so a whole handful of tea actually isn't very much by weight. Use a little more than you think is needed, so we can get a fuller flavor from the tea, or better yet, actually weigh the tea so you can get an idea of how the volume matches with the actual weight.
Then there's that pesky myth again that white tea is so delicate that it must only be brewed in cool water, around 175F. While a cooler temperature can brew up a nice, delicate, smooth and sweet taste, this might also translate as being too light or watery for some. That's because the white hairs on the buds help protect the leaves and are pretty tough, so it takes pretty hot water – up to boiling! – to fully infuse Silver Needle.
When infused with hot water, Silver Needle can be herbaceous, full-bodied, with a pleasant peppery kick. If a Silver Needle becomes bitter or dry with near-boiling water, it's a sign of a lower-quality tea. This can happen with Silver Needle with broken buds or coarse leaves still attached.
Another popular myth is that white tea has the least caffeine – to the contrary! Because white tea is picked and very minimally processed, it has a tendency to be pretty high in caffeine, so be aware of this before brewing up a batch right before bed. Silver Needle is a great tea in the morning before breakfast, or for when you need to get a ton of work or studying done. (( Silver Needle caffeine measurements?? ))
To enjoy Silver Needle with a little less caffeine, you can cold-brew the tea by infusing the leaves in good quality water, around 15g – 30g (0.5oz – 1oz) per liter of water. The thick buds take longer than other types of tea to infuse in water, so give your cold-brew some time to open up – at least 8-12 hours, and up to 48 hours in the fridge. The flavor will be even more refined, sweetly fragrant, and juicy than a hot brew, and because caffeine is less efficiently released with cooler temperatures, you have a naturally smoother, less caffeinated brew.
Whichever method you use for brewing Silver Needle, make sure that after the water is poured, the buds are completely submerged in the water.
The downy hairs on the buds trap little air pockets which can cause the tea to float or be a little hydrophobic, so either adjust your pour to gently agitate the buds into the water, or gently push the buds into the water with the lid of your gaiwan or a clean tea tool. 
I usually don't like pouring boiling water directly on tea leaves, since they get scorched, but Silver Needle seems to take the heat pretty well. After all, it has that nice, downy coating to protect it.
Teaware
Going back to our tea design blog post, it's important to consider not just the flavor of the tea, but also the appearance and overall experience. With such beautiful leaves, you'll want to pick teaware that emphasizes both the look and elegant taste of the tea.
Use lighter, brighter teaware to show off Silver Needle. A glass teapot is a great choice to enjoy the beautiful buds dancing in the water, and to show off the clear, sparkling color of the tea liquor. A porcelain gaiwan is also a great choice, as it helps emphasize the aroma of the tea, and you can easily show the buds in the gaiwan as they unfurl.
Most porous clay pots aren't a good match for fresh Silver Needle, since they tend to take away from the fresh, subtle flavors of the tea. If you do want to experiment with clay pots for white tea, use a hard clay that's not as porous. I really like the taste of white tea in Nosaka clay, or even Tokoname.
On the other hand, aged white tea with its more rustic, robust flavor could match better with clay pots in general. The combination of your brewing style, teapot material, and water will dramatically alter the taste of your tea, though, so make sure to experiment.
For teacups, use light-colored cups to show off the light apricot color of the tea, and ones with a bell shape to emphasize aroma. Different cups will bring a different experience to the tea, so pick carefully!
Use this opportunity to incite the curiosity of friends! Silver Needle is a strikingly beautiful tea, probably much different than most people's conception of tea, so it's a great talking point and can help you explain better why loose leaf is different from boring old teabags. Just the appearance itself is usually enough to make others curious to try, and the unique flavor of the tea is both pleasant and distinct enough to make an impression with others.
Processing
White tea, including Silver Needle, is often said to be the most simple of all teas, which is true in terms of processing – the raw tea leaves are picked, sorted, withered, and then dried. The result is that white tea truly captures the essence of the tea plant itself.
However, because of the simple processing, the leaves used to make white tea must be very high quality. It's a little like cooking. The simpler the dish, the better the ingredients need to be, allowing quality ingredients to really shine.
To make Silver Needle, it's ideal to use a tea plant with larger buds, hence the classic Da Bai (Big White) and Da Hao (Big Tip) cultivars. Imagine trying to make a Silver Needle with tea plants that have very spindly buds – it'd take a lot of buds!
Depending on the cultivar, a pound of Silver Needle can contain several thousands of buds, so it's a laborious process. It's easy to cut corners and try to make Silver Needle with a little bit of leaf still attached, to increase the weight of the tea, but high quality Silver Needle is made from mostly buds only.
It requires a lot of skill from tea pickers to pick the right leaves precisely, avoiding any with physical damage or discoloration, and picking gently as to not harm the tea plant.
If the leaves are picked with too much force, or with a sharp surface like a fingernail or metal shears, oxidation begins to happen prematurely, which changes the flavor of the tea and increases bitterness.
For high grade Silver Needle, the buds are picked in very early Spring before they develop into leaves. Later in the season, the buds are plucked together with the first leaf, after which the first leaf is removed manually, to minimize damage to the buds.
If the first leaf is retained to make tea, the result is White Peony, another classic white tea with a stronger flavor and thicker texture. Using the lower leaves results in Shou Mei, an even more full-bodied white tea.