Silver Needle's fuzzy, beautiful buds make it one of China's most iconic teas! But like many other big names, there are lots of myths that surround it. In this article we'll dive deep into Silver Needle white tea (a.k.a. Bai Hao Yin Zhen) and learn how to brew, choose, and compare different styles of Silver Needle.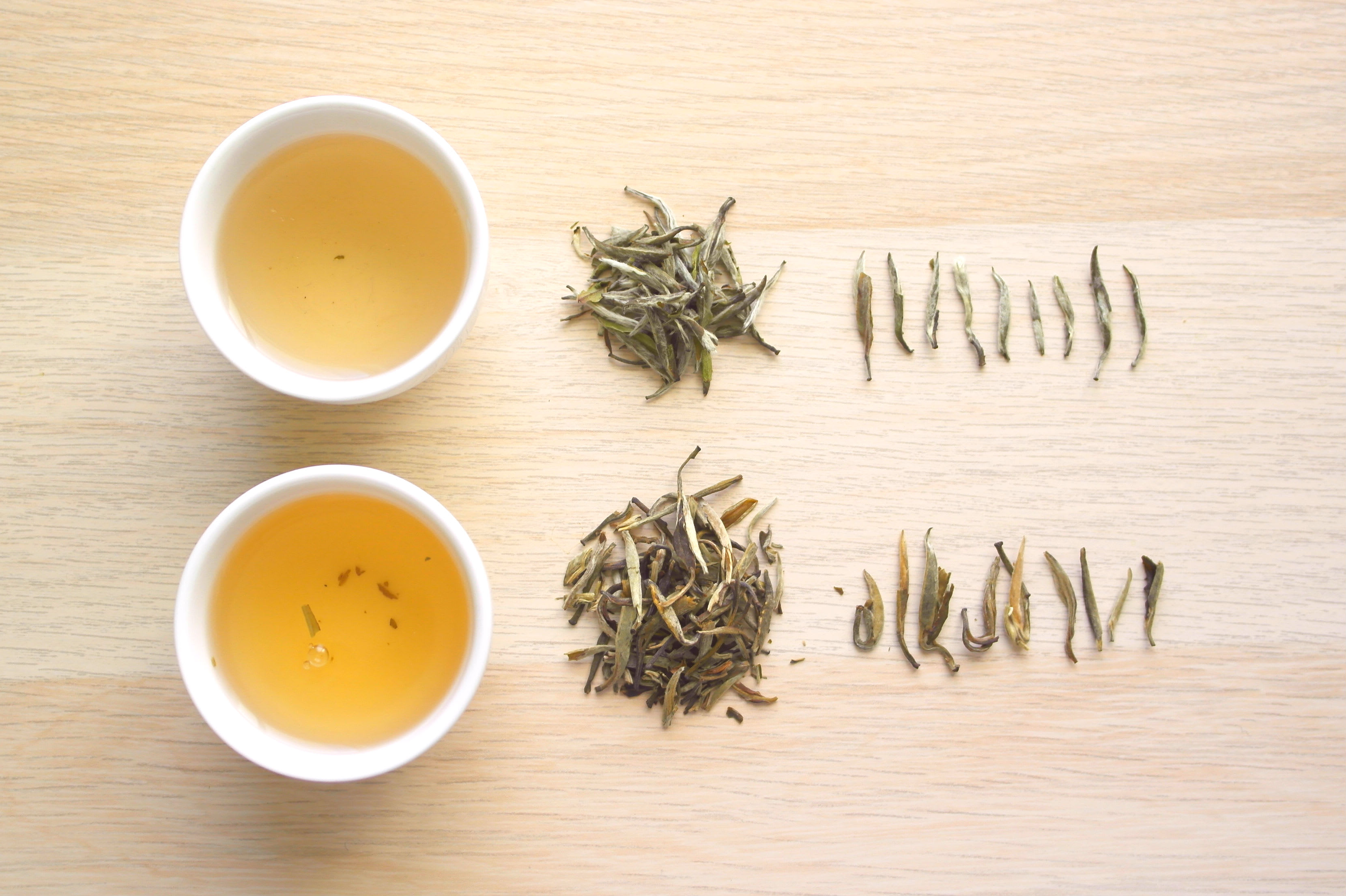 Silver Needle
Also known as: Silver Needle white tea, 白毫銀針 "Bai Hao Yin Zhen" (Chinese, lit. "white pekoe silver needles")
General flavor profile: Flavor is on the light side but with lots of potential complexity: it can have fruity, floral, herbal, grassy, and hay-like notes. The texture is light to medium, which can read as being "crisp" or juicy and satisfying in the right contexts! Smooth and elegant. Energetic — this stuff wakes us up!
Where it's from: Originally China, but Silver Needle-style teas are now found globally, we most often see them from Kenya, India, Indonesia, Thailand, and Vietnam
–
Here's why I'm so big on Silver Needle: it was one of my first tea loves, and like many first loves, it was attractive at first before it really burned me for a bit because I didn't know what the heck I was getting into.
It makes sense, since few teas are as immediately impressive and kinda sexy as a Silver Needle. It's a gorgeous tea, with thick, downy white buds that feel a little like bunny fuzz when you touch them, along with a price point that just commands attention. It's one of those "why is this so dang expensive?" teas for sure.  
So let's dive into it, so you're armed with more information than I was when I first met — and was eaten up by — a Silver Needle.
It was at Teavana, with a backstory that involved emperors, tea-picking monks, and lots of sheisty af health claims, and we'll debunk those and more in this super in-depth guide coming right up. 
And before we get into it, know that while Silver Needle does get overhyped a lot, there is definitely something to love once you get to know it.
Few teas are as elegant but energizing as a good Bai Hao Yin Zhen: here's why you should give them a go.
It's All In The Buds
Silver Needle is just one of China's many white teas, but it's considered to be the "highest grade". What exactly does that mean?
While most teas are made from both the bud AND the leaves of the tea plant, Silver Needle is made just with the buds.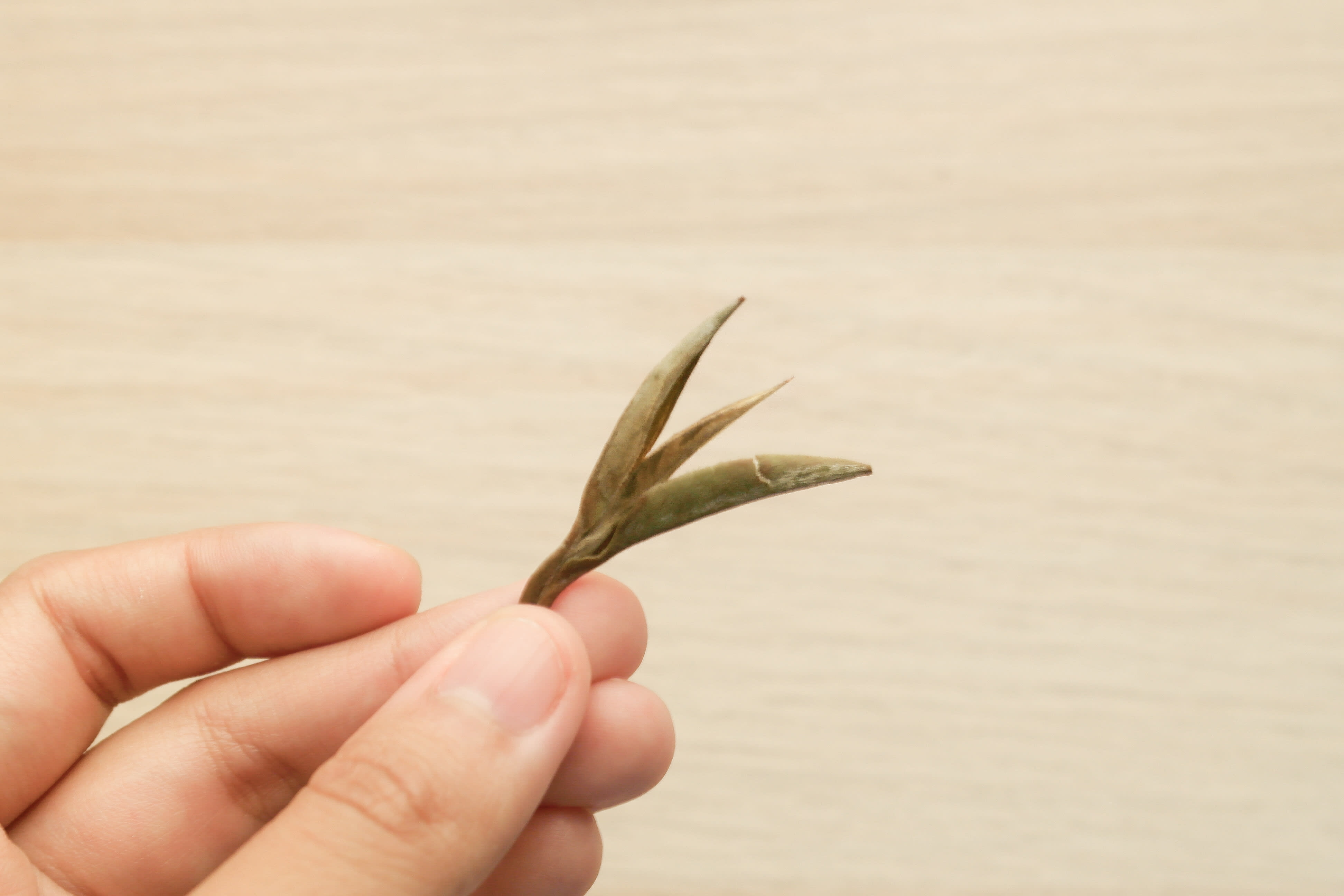 Tea buds, also called tips or needles, are the youngest part of the tea plant and are bursting with goodness. On the other hand, they also happen to be tiny AND super time-consuming to pick: you need thousands and thousands of buds to make just one kilo of Silver Needle.
This bud-only pick is why Silver Needle is so expensive, and also less common than other white teas. In most cases, it's not worth it to pick just these tiny little buds alone.
But something interesting happens when you use just the buds, Remember that the buds are the smallest, most precious part of the tea plant (since they'll later grow up to be bigger leaves).
So tea bushes put in TONS of effort into producing these buds AND protecting them from cold, stress, and pests. As a result they contain the highest levels of the good stuff in tea: caffeine, theanine, and polyphenols.
Translation? A good Silver Needle should be SUPER lively and just bursting with energy and flavor.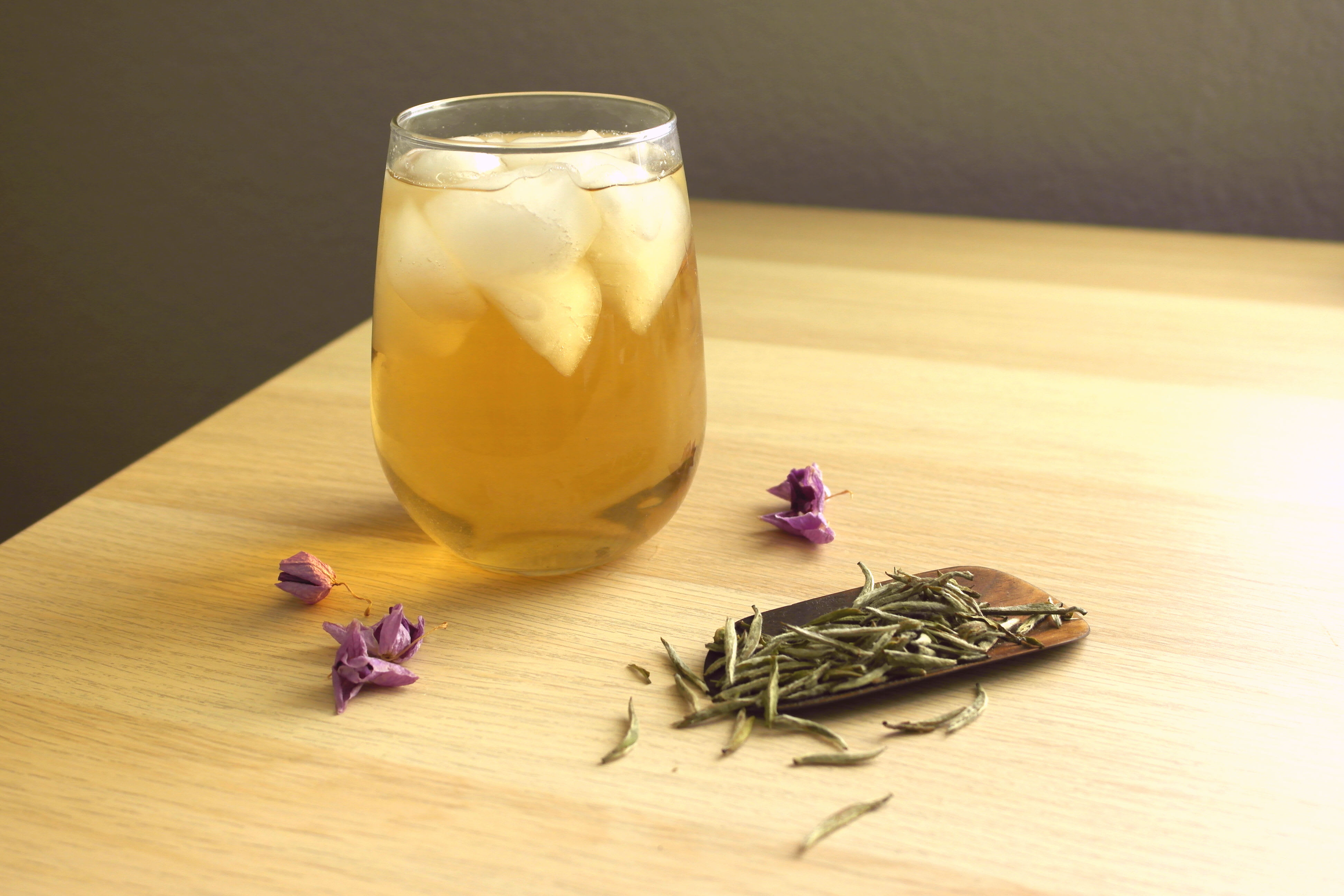 Some Myth Bustin'
Well hol' up a minute. Aren't white teas supposed to be like… super duper delicate and fragile and stuff?
That's what I was told for a long time, too. And many of those myths are actually holding us back from totally understanding Silver Needle, so before we dive deep into the deets, let's get a few big things cleared up first.
Myth #1: White tea has the least caffeine of all teas.
"Just 1% the caffeine of a cup of coffee!", I was told the first time I bought a Silver Needle.
In fact, white teas often contain more caffeine than other types of teas (we'll explain more in a minute). Silver Needle in particular can contain some of the highest levels of caffeine per cup!
And that really does make sense if you think about it.
Why would the buds, which are basically supposed to be the young whippersnapper parts of the plant, be weak and low on energy? (Spoiler alert: they're really not. Just try drinking a Silver Needle late at night and see what happens.)
That leads us to another misconception.
Myth #2: Silver Needle is a delicate tea that needs cooler water to brew.
So the idea here is that the young buds are so delicate and fragile that they'd be scorched by boiling water. For example, I was told to brew my first Silver Needle at 85°C (175°F), and so I did for a long, long time.
To the contrary though. By nature's design, tea buds are tender but tough, and the protective fuzz on the tea buds helps repel water to some extent — so we need to use hot water and a bit of force to extract the goodness inside.
So unless you have a broken up (and likely lower-grade) Silver Needle, no more of this tepid, wimpy water for white teas. OK?
We'll talk more about brewing later. But now that we got those myths out of the way, we have a better shot at REALLY getting to know this tea.
And boy is it worth it. From what I've seen, "delicate" Silver Needle can come in a surprising range of flavors: some are light and floral with some vanilla ice cream vibes, while others are more wild, herbaceous, and downright zesty!
Exactly what you'll get depends on a few factors, which we'll cover in the rest of this guide. And while I'm not an expert on Silver Needle by any means, I think this is more than enough to get you confident and comfortable with your Bai Hao Yin Zhen.
So go on and explore!
What Makes Silver Needle Different?
White teas in general already have more pure and light flavor profiles compared to other teas, and Silver Needle takes that up a notch. It's pure elegance in a cup, and some people do consider to be too light for their tastes.
Silver Needle Stats
Pros: pure flavor, easy to brew, high caffeine and L-theanine content,
Cons: relatively expensive, more uncommon, low to mid grade examples often sold as high grade teas
It's certainly not as bold or strong as other Chinese white teas, like White Peony (Bai Mu Dan) or Shou Mei, so if you prefer a super dark flavor I'd opt for those white teas instead, which are made with both leaves and buds and thus brew up stronger.
Here's a comparison of the three teas.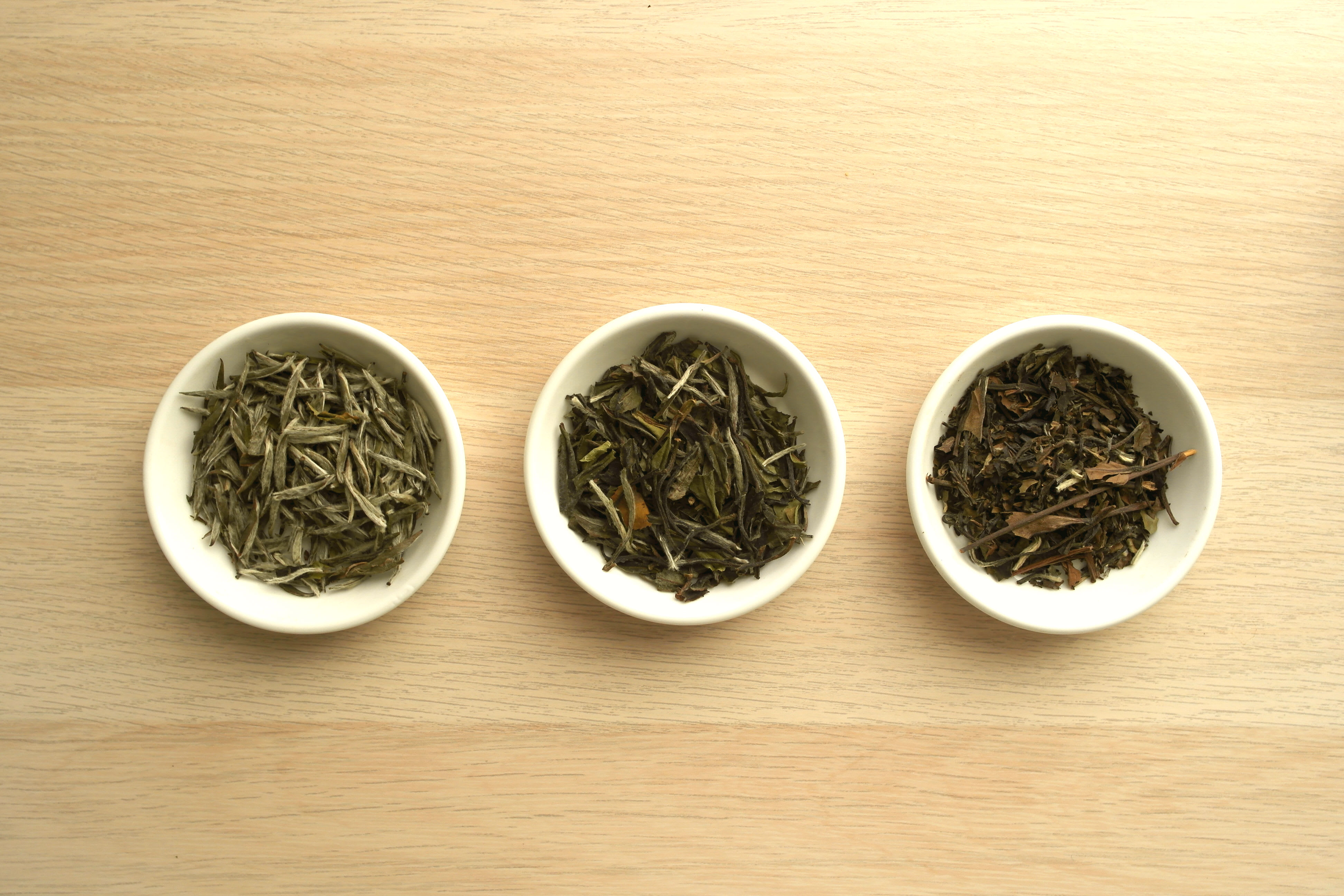 Note the differences in the color and the leaves. In general with white tea, as the color gets darker and more leaves are present, the flavor profile becomes more bold and full-bodied.
Personally, I always have to have a Silver Needle on hand because it helps me a lot with productivity. The high caffeine and L-theanine levels help me focus, and I owe many a barely-made deadline to a pot of Silver Needle.
Your mileage may vary of course, but as always, pay attention both to the flavor and the feeling of the tea when deciding whether or not to add it to your regular rotation.
How To Choose a Silver Needle
So now you've decided to explore Silver Needle (Bai Hao Yin Zhen). How can you spot the good stuff?
The first thing to remember is that Silver Needle is a big deal: it's famous, high grade, and in high demand.
Any tea like that is going to be more tricky to navigate, and there's a lot of mid-grade and low-grade Silver Needle floating around marketed as the good stuff. And while I can't promise that you'll always land a good one, I can give you some ways to evaluate the tea once you get it.
What should we be looking for?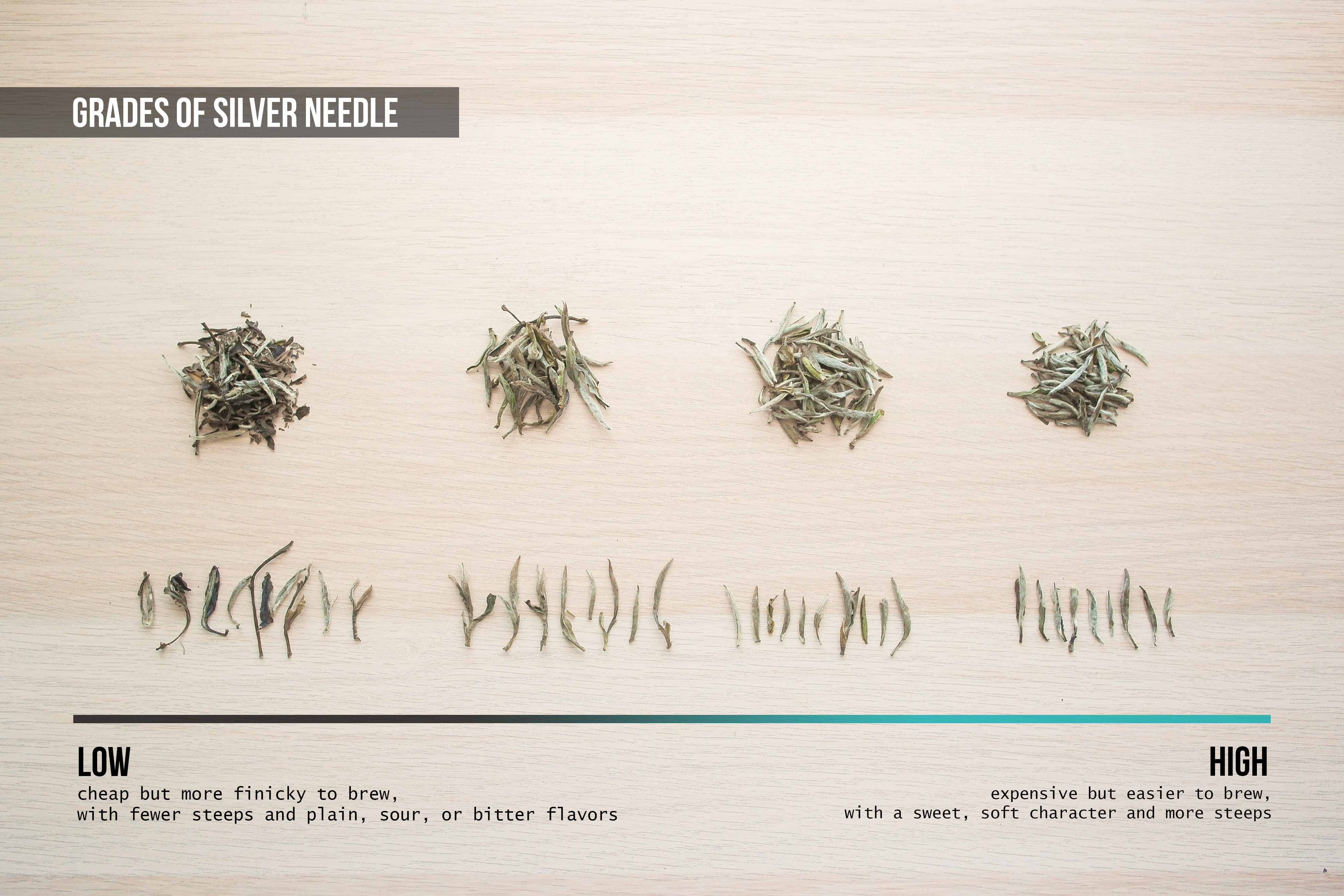 For any Silver Needle, the tea should be made up of mostly buds with as little leaves and extra stems as possible. Look for:
relatively straight, unbroken buds, and

an even color.
This means that the people making the tea were super careful with it, and with that care often comes a better tea.
The only time I see high grade teas with some inconsistency is when you're dealing with a natural or wild garden, which will naturally have buds of different sizes. The color should still be nice and even, though!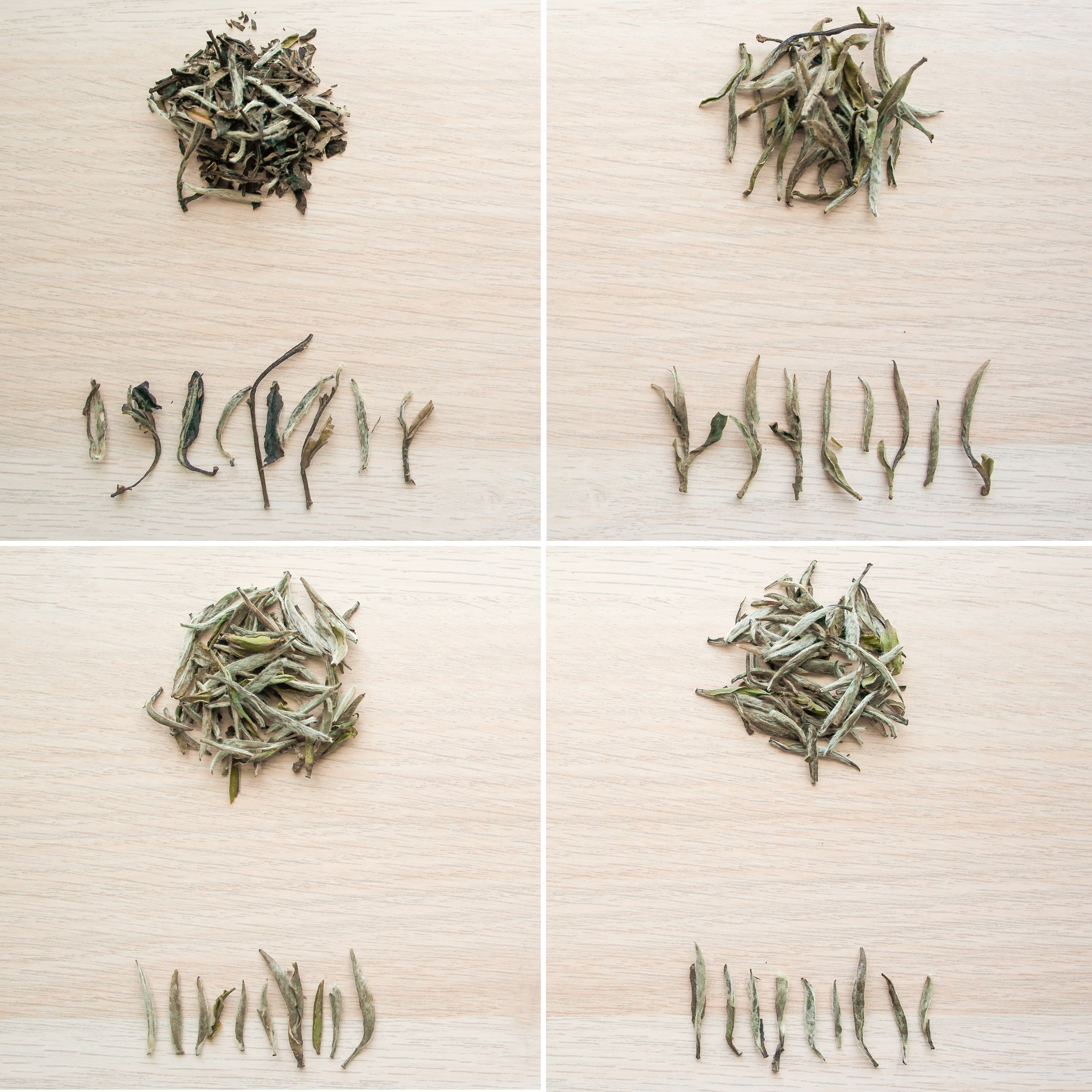 Breakage is a big no no. Tea buds are tough, but if they're broken during processing, they release bitter and sour compounds, which ends up making a dry and unpleasant tea.
Where you get your Silver Needle is a big deal, too. Pick vendors who are willing to share lots of information about the tea — it shows that they've probably done their homework!
Bonus points if they're responsive to questions about their teas too. As someone who used to sell tea, I used to write novels in my emails to customers, I was SO excited.
Finally, the ultimate test of a good tea is in the brew. Can you tell which is the high grade Silver Needle in this photo?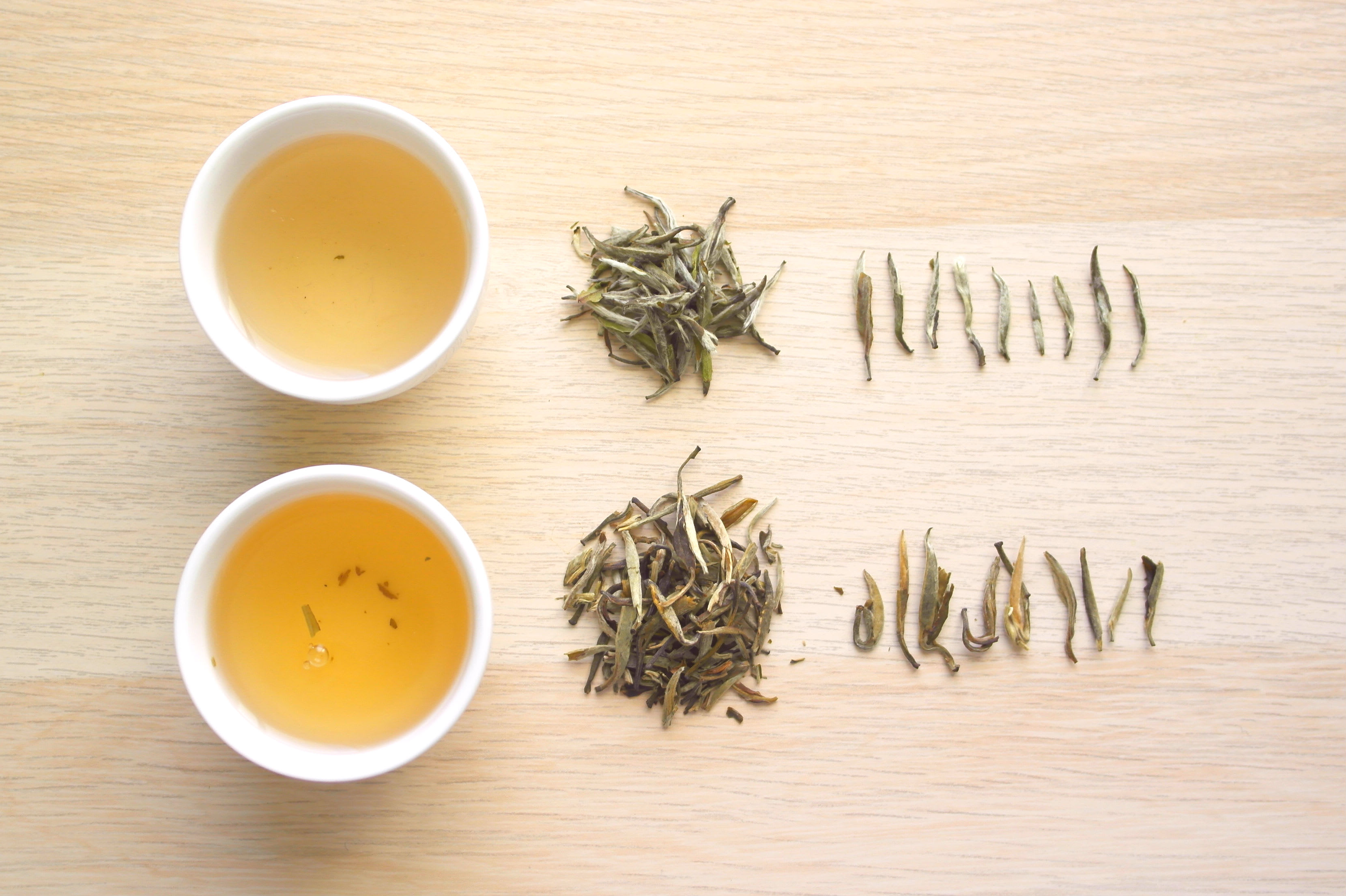 It's a general rule of thumb that the better the tea, the more forgiving it is to brew. That's because poorly made teas are inconsistent, and thus brew up inconsistently too.
So hit that Silver Needle with near boiling water for a minute or so. And if it crash and burns, I'd be kind of suspicious of the tea!
Check out the tea liquor. Good Silver Needle should look clear and translucent in the cup, with a bright pale gold color, while lower grade Silver Needle brews up more orange and cloudy liquor, another sign of problems during processing.
Overall, good Silver Needle should be sweet, soft and smooth. The tea can be light but it definitely shouldn't be unsatisfying! The worst Silver Needles I've had brewed up dark and cloudy, with a sour, bitter, almost dusty flavor. Nooooooo thanks.
No dusty Silver Needle for you, ok? Use these tell-tale signs and land a good one!
Types of Silver Needle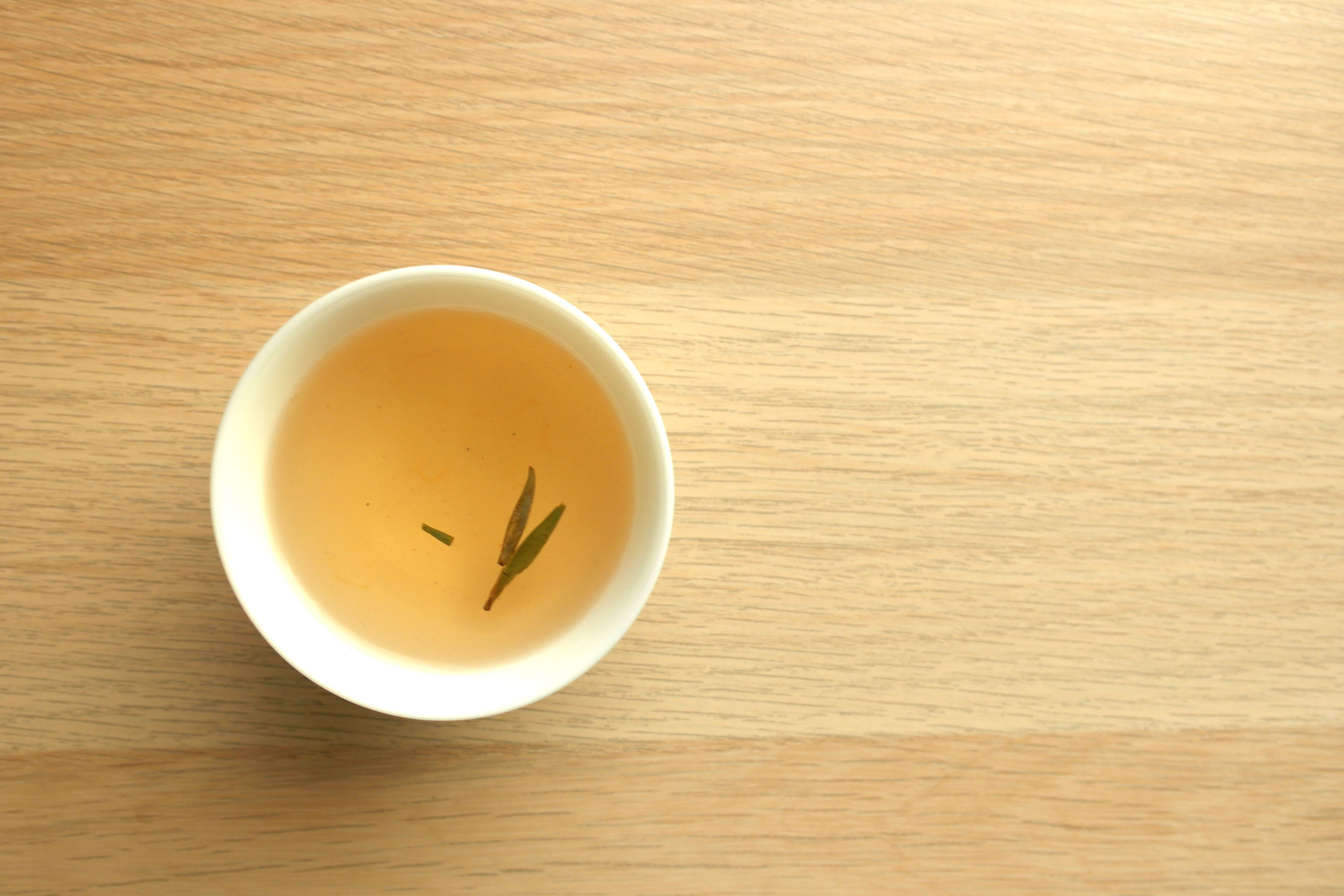 Nowadays, there are many regions that produce "Silver Needle" teas: basically any bud-only white tea is often named Silver Needle.
But let's focus on the OG stuff: Silver Needle from China.
There are two types of Chinese Silver Needle you'll most commonly find on the market:
the sweet, refined Fujian Silver Needle,
and its more wild, unruly cousin, Yunnan Silver Needle.
Both are named for their respective provinces, Fujian Province in the southeast, and Yunnan Province in the southwest.
And yes, they do taste SUPER different. So pay attention and see which one you might want to pick up (hint: probably both).
Fujian Silver Needle (plus two subtypes)
Of the two styles, Fujian Silver Needle is considered the most traditional and "authentic" Silver Needle. I think of it as the most "classic" example.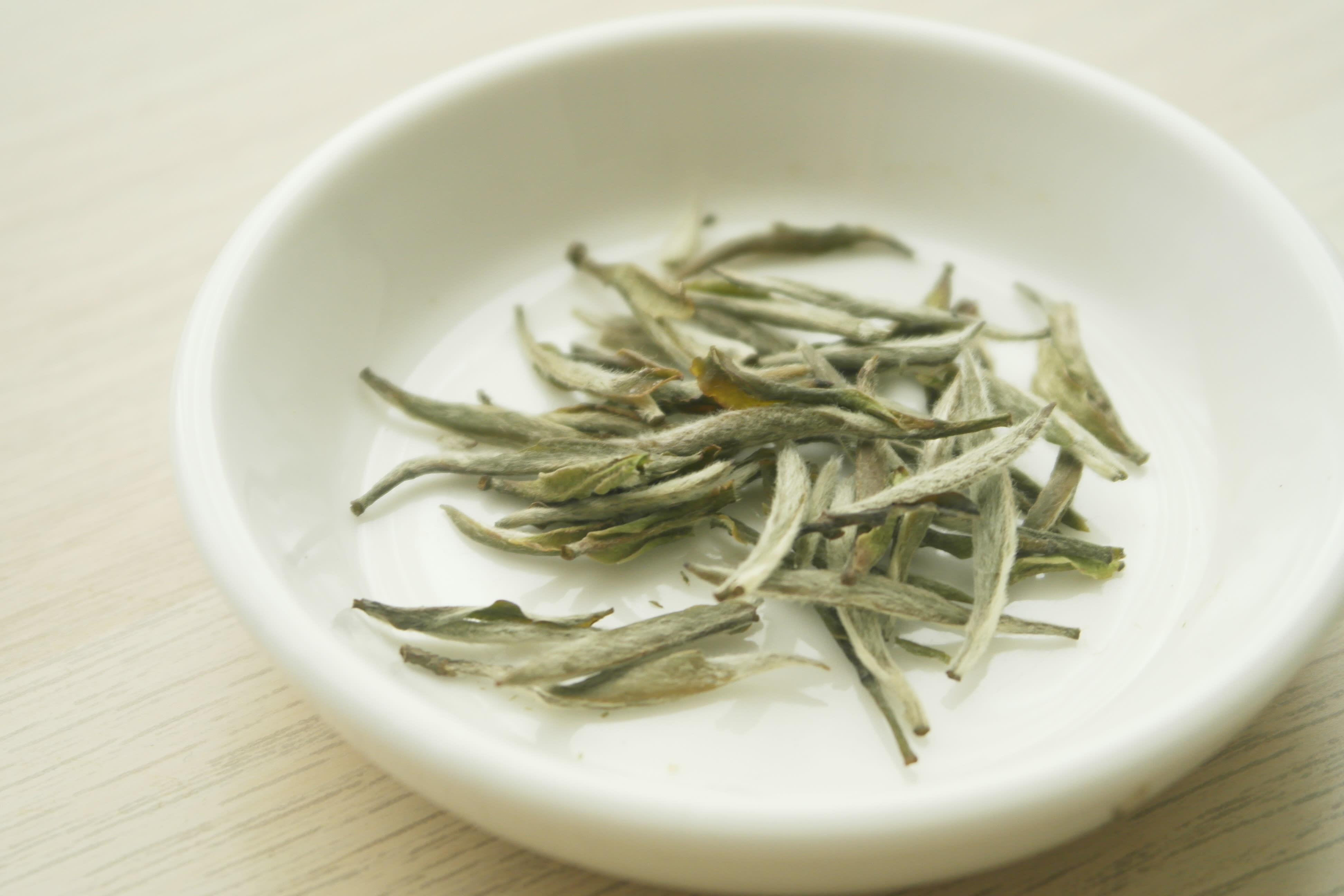 It's a balanced and elegant tea, with common notes of hay, apricot, vanilla, and florals. Overall, it comes across a little softer and more restrained than Yunnan Silver Needle.
Now, Fujian Province itself has a long history of tea production. It's known as the birthplace of white tea, and Silver Needle has been made there since at least the early 1800s.
And while history is cool and all, that means big things for the tea.
What happens is that over many generations, the local teamakers have develop a deep knowledge of the tea. Their neighbors, cousins, and BFFs know Silver Needle, so it's not hard to find an expert to learn from.
That also means that a standard gets set: Silver Needle is usually only made with a specific type of tea plant, particularly with thick, downy buds.
As a result, Fujian Silver Needle teas tend to look very consistent, with small but thick, downy buds and a silvery, pale green color.
I find that the best ones are SUPER sweet and almost creamy!
And with such a long history of Silver Needle, two distinct subtypes have come about from Fujian: Fuding and Zhenghe. These two areas, while both in the same province, have unique microclimates and local cultures that have influenced the way they make Silver Needle.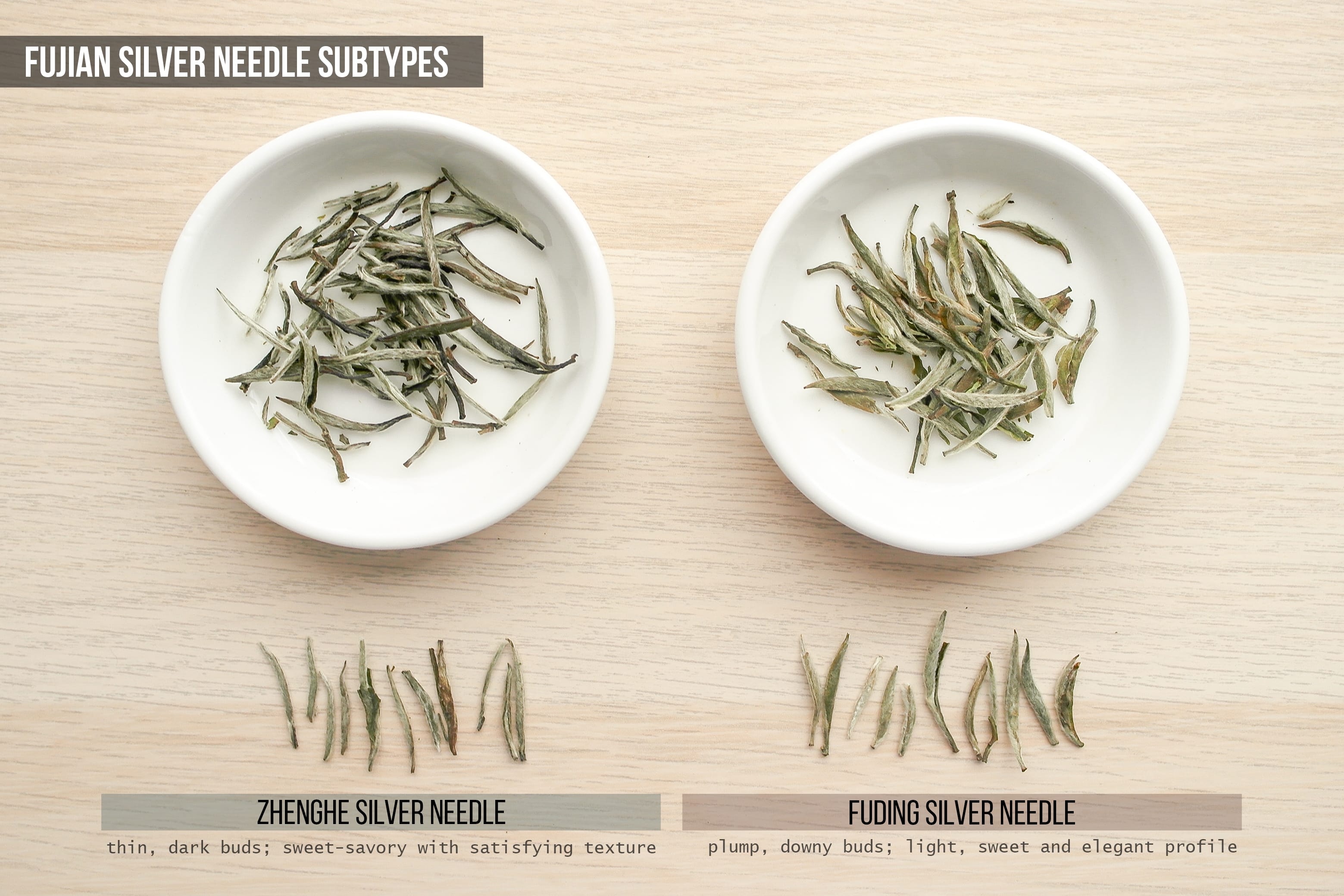 Fuding Silver Needle is more famous, and more commonly available. Most of the Silver Needle I see is from Fuding. It tends to be more light, sweet, and fruity, with a character like creamy oats. It's my personal favorite.
Zhenghe Silver Needle is not as well known, but offers an interesting departure from the Fuding style. It tends to be more deep, herbaceous, and savory, sometimes with a hint of smoke, so if you like Silver Needle with a bit more heft, opt for this one!
Note the differences in the buds too. The two regions both use the small leaf Chinese tea plant, Camellia sinensis sinensis, but have slightly different plant strains they like to work with. That can lead to pretty big differences in the cup.
Zhenghe needles are often little thinner, with a dark, olive-green color. And when we see darker leaves, you know what that means: more oxidation, leading to darker, more developed flavors.
I've noticed that Zhenghe Silver Needle often has a savory, almost smoky character. I can't confirm this 100%, but I think that's the influence of Zhenghe's proximity to Wuyishan, which we know and love for producing hefty roasted oolongs.
Fuding needles are often a little more plump, with even buds and a brighter, pale green color. Fuding teamakers are super proud of their local misty, high mountain terroir, which is great for producing elegant and fresh-tasting teas (think Taiwan's high mountain oolong!).
They highlight that high elevation character in their processing style: Fuding white teas are less oxidized, resulting in a fresh, creamy flavor with more high notes.
Overall, Fujian is kind of the gold standard for Silver Needle. It's a good starting point to learn what to expect from Silver Needle in general, and its long history with Bai Hao Yin Zhen speaks for itself, I think!
Yunnan Silver Needle
Over in Yunnan, the Silver Needle they produce is a different beast altogether.
Yunnan Province is known primarily for pu'erh, and a decidedly warmer, more diverse and often tropical landscape. The tea trees there are a different, much larger variety, most often Camellia sinensis assamica among many others.
Together, these tea trees are called da ye zhong, literally "big leaf type", and they tend to be much more punchy than their cousins elsewhere in China. Make Silver Needle from these tea plants and you'll get something surprisingly bold and fragrant!
If you're used to subtle white teas, these Yunnan Silver Needles can be a bit of a surprise. They pack strong, heady flavors, with common notes of fragrant wood, malt, florals, summer fruit, and pepper.
The buds are sight to see, too: huge, extremely downy and pettable (like puppies, but drinkable), and incredibly aromatic.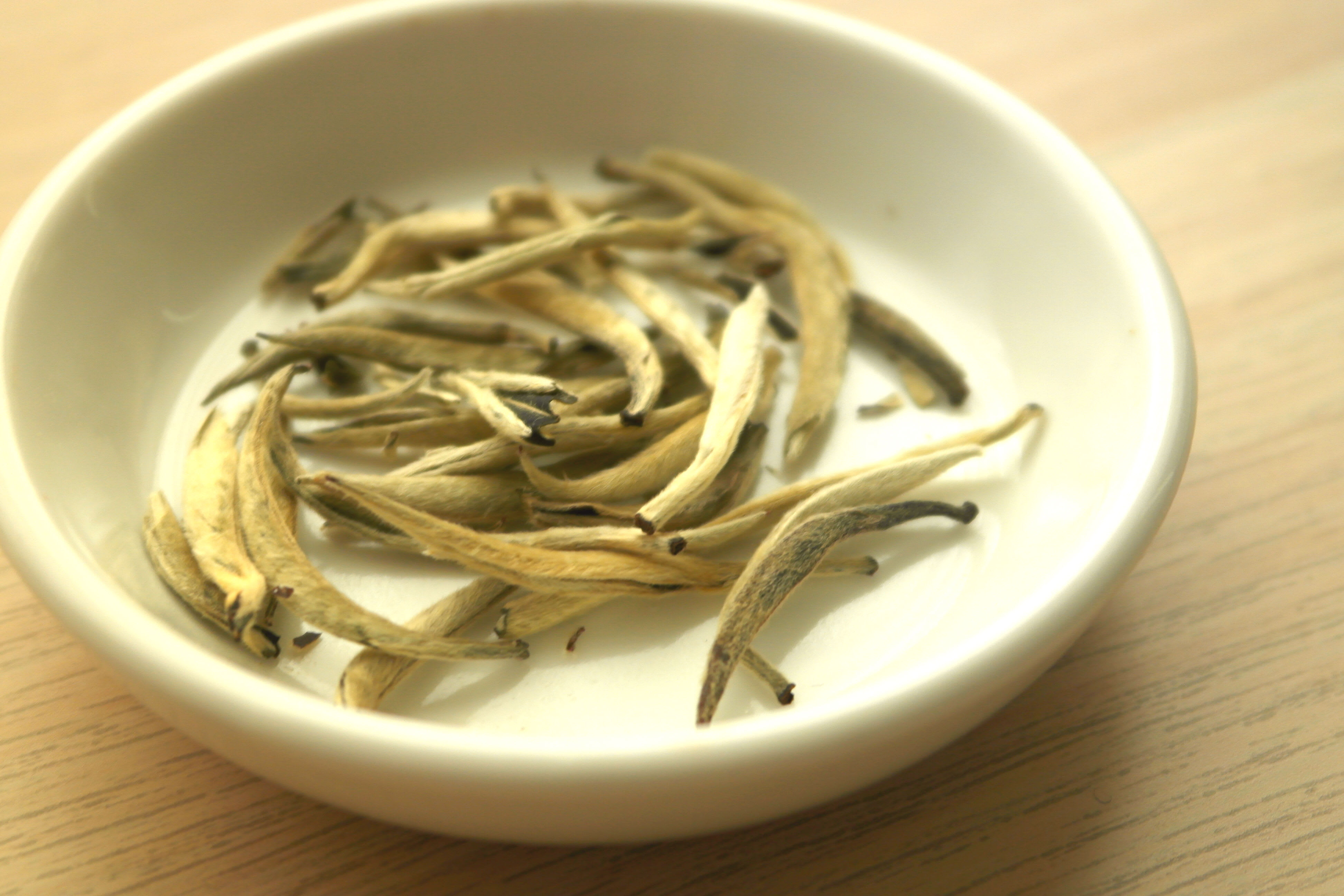 Huge buds are a characteristic of Yunnan's da ye zhong tea plants. Big leaves, big buds.
And while da ye zhong offers potent flavors, that sometimes comes with more bitterness, so Yunnan Silver Needle tends to be just slightly more sensitive to brew.
To spot Yunnan Silver Needle, look for those jumbo buds but also a more yellowish tint with dark undertones. Yunnan's hotter climate means that the buds are more prone to oxidation, and the local da ye zhong plants tend to make for darker-colored leaves in general.
Also, be prepared to see and taste much more variation in your Yunnan Silver Needle. After all, Yunnan is a BIG place and is home to many, many different genetic variations on the tea plant as well as local ethnic minorities who each have their own take on tea production.
That's exciting but also less unpredictable, so don't be surprised to see tea quality vary wildly based on the producer, the region, and the tea plants used.
Watch out for lower-grade teas with too much yellowing and browning (a.k.a. excess oxidation) and inconsistent buds.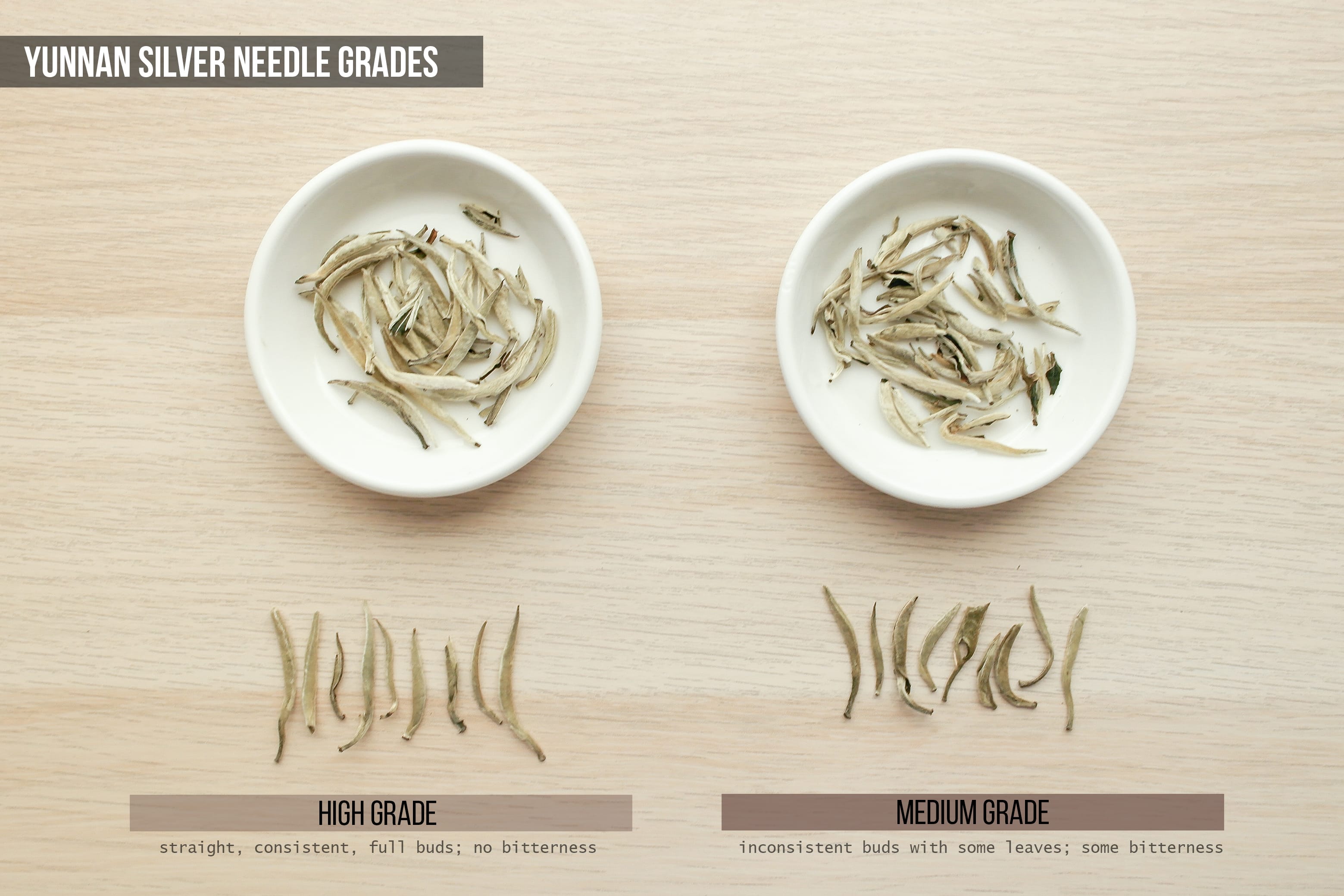 The processing also often less consistent than in Fujian Province with their neatly trimmed bushes, so don't be surprised to see buds of varying sizes or more breakage.
Still, an ideal Silver Needle will have at least some consistency. And to get that, look no further than Yunnan's own iconic white tea area: Jinggu.
Jinggu County is a mountainous region with a more temperate climate, and while Yunnan does have lots of mountainous regions, Jinggu is particularly well-suited for Silver Needle. Not only does the climate help to develop the subtle flavors that work well for white teas, the local da ye zhong tea plants in Jinggu just seem to work well for Silver Needle production, with particularly plump and fuzzy buds.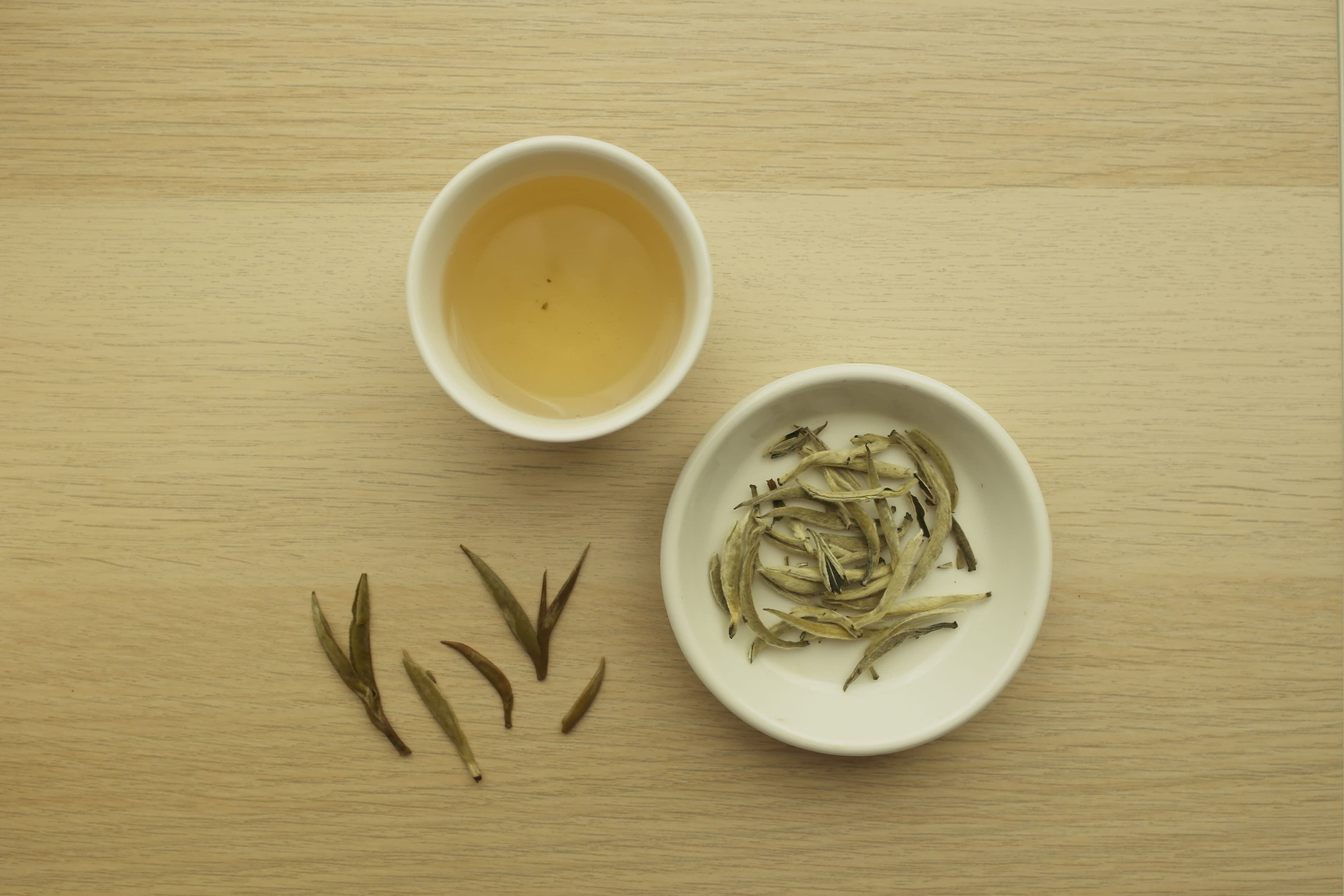 Hurray for more fluff!
It's known for another famous white tea, Moonlight White (Yue Guang Bai), which is made with both buds and leaves.
A good Jinggu Silver Needle is just lovely. There's often a big wave of almost perfumey, floral aroma and then a honey-like sweetness. The texture is often more thick and full-bodied, which makes it quite the satisfying Silver Needle!
One more bonus: because Yunnan Silver Needle doesn't quite have the same star power as its Fujian counterpart, you'll tend to get slightly cheaper teas for the price.
The demand for Yunnan white teas is just not as high, and when people do want to shell out money for Yunnan teas, it'll be for pu'erh over anything else. So if you'd prefer big flavor for a good value, Yunnan Silver Needle is your tea.
Again this will vary a lot and it's not a hard and fast rule. And it just depends on which style you like to have — I opt for having both!
What about Silver Needle from other regions?
Yes: other regions DO produce bud-only white teas. But the big question is… are they technically Silver Needle?
Silver Needle is translated from the Chinese name bai hao yin zhen, literally "white pekoe silver needles".
And more than just a bud-only pluck, bai hao yin zhen implies that the tea is made from the specific cultivars in Fujian that gave rise to the tea in the first place, along with the exact processing steps and growing environment that exists there.
So it's arguable that bud-only white teas from anywhere else should be called Silver Needle, too. Technically, they should have their own names: unique area = unique taste = deserves a unique name, right?
Just check out this comparison between a Chinese Silver Needle and a Nepalese "Silver Needle"
Even visually, the thin buds of this Nepalese white tea on the right tell us that they'll taste much different than the Chinese Silver Needle.
And that's not a bad thing: that means that it's really distinct (and distinctly exciting!) Nepalese white tea, and not just an off-brand version of a Chinese white tea. I certainly think that deserves its own name!
For now though, you'll find majority of the bud-only white teas from other areas under the Silver Needle moniker. Most commonly you'll find them from India, Nepal, Indonesia, and Kenya, and regardless of their name, they offer exciting new potential for white teas.
As with any region getting into a new tea, just be aware that it takes time to develop the techniques needed to make a good tea, so many of these experimental new Silver Needle-style teas can be hit or miss. The important thing is to treat them as their own entity though: they are not just "worse" Silver Needles!
Aged Silver Needle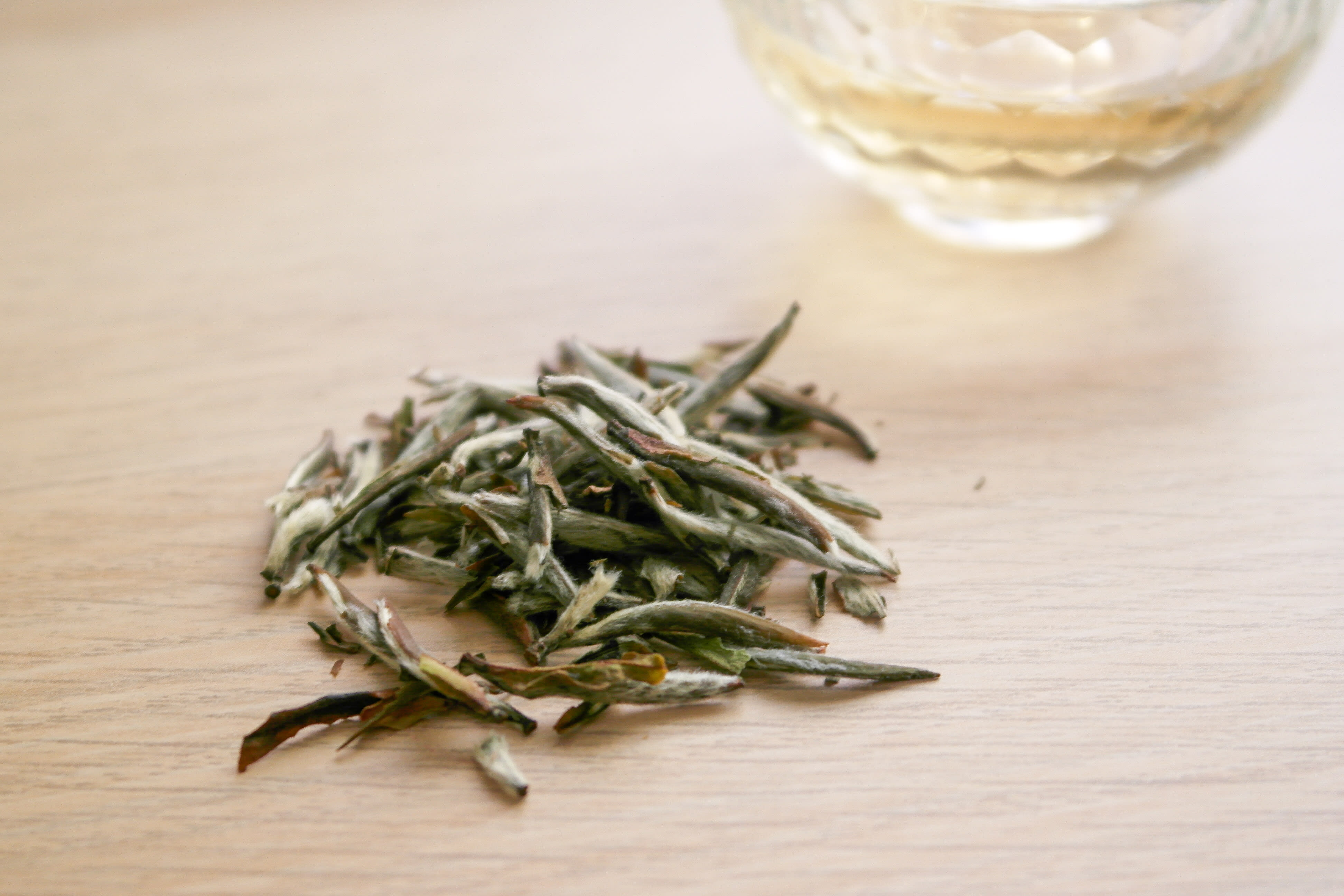 OK, back to OG Silver Needle.
In China, some folks will store white tea specifically for medicinal purposes: you may have heard the saying "one year tea, three year medicine, seven year treasure" floating around lately.
Whether or not the aging is successful depends on a lot of factors. 😉 See: humidity, temperature, the microbiome of the storage area, seasonal variations, the type of material used for storage… the list goes on and on.
It'll also depend on whether or not the tea was loose or compressed: Aged Silver Needle can be found in both formats, and there is indeed a difference in taste between loose-aged and cake-aged white tea.
To me, that "compression taste" makes for a more balanced, full-bodied texture but also more muted flavor.
When aged, Silver Needles develop a more reddish, almost rusty tint to the leaves. The liquor will also brew up darker (kinda like a burnt orange tone) and any bitterness or roughness in the tea gets smoothed out, to be replaced by that distinct aged flavor — which to me tastes like dried fruit and baking spice. Yum!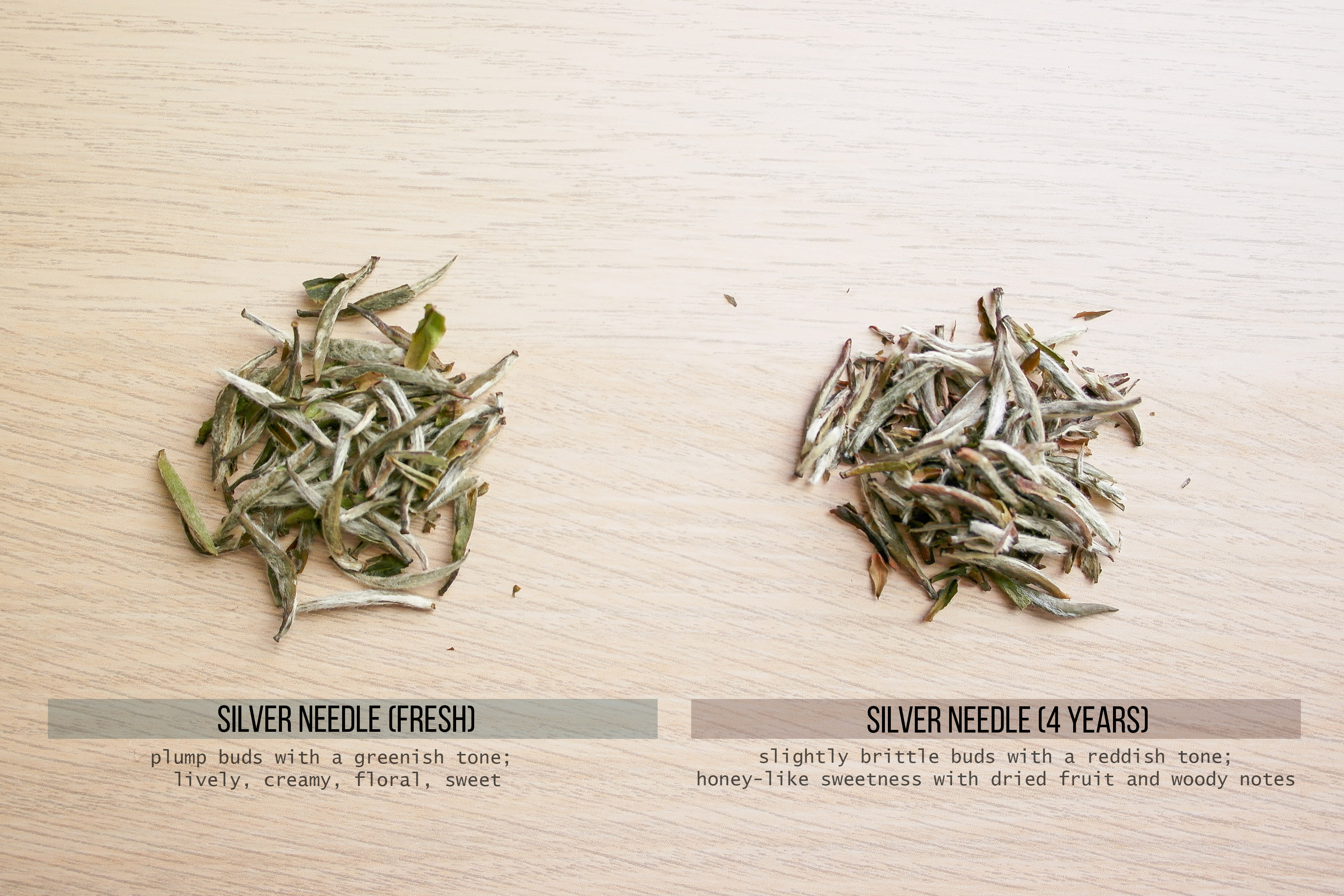 Beware that the classic reddish color of aged Silver Needle can also be caused by exposure to light over just a matter of days. That's not real aged tea! You can tell the difference between stale and well-stored aged tea by testing the texture: aged buds should be slightly more dry than a fresh Silver Needle, but not too brittle or crunchy.
The buds should also still have a pleasant, sweet aroma. If the tea feels super brittle or has a weak or weird smell, it might be stored poorly!
And while it's true that many people prefer the sweet, creamy vibes of a fresh Silver Needle too, both are good in their own ways and the best thing to do is to try it for yourself and see.
One more thing about aging: you may notice that other grades of white tea, like White Peony (Bai Mu Dan) or Shou Mei, are aged much more commonly.
This is because tea buds don't tend to develop as much as the leaves over time. For example, if you compare a 2010 Silver Needle to a 2010 White Peony, you'll see much more development in the White Peony.
So if you're looking for a white tea with a super obvious aged taste, it might be better to opt for a White Peony or Shou Mei. They're often cheaper and more reliable than aged Silver Needle as well since they're just more commonly stored and aged.
Choose vendors who also carry other aged white teas, since this is a sign that they are paying attention to storage.
And with all that, you have what you need to choose a good Silver Needle!
Now, if you wanna dive even deeper, let's learn about why there are so many variations. It all depends on the processing.
How It's Made: Silver Needle Processing
White tea, including Silver Needle, is often said to be the most simple of all teas. That's true when you look at how it's made, which is just a few steps:
Harvest: First, the tea is picked (bud only). Stray leaves get sorted out.
Withering: The buds get withered to remove moisture and develop sweetness.
Drying: The buds are dried, either in sunlight or indoors, to develop more sweetness and allow the tea to be stored over time (think fresh fruit vs. dried fruit)
That's pretty much it!
Seems simple, right?
But with such a simple process, every step needs to be perfect, and you really need quality leaves to make white tea work.
It's a little like cooking: the simpler the dish, the better the ingredients need to be, since you can't just hide them under layers of other ingredients. You know?
Compare that to oolong tea, which requires many, many steps but also allows for a bit more error. Lower quality leaves or processing flaws can be hidden underneath a deep roast, for example, but there's just no hiding with the minimalist processing of a Silver Needle.
Silver Needle also requires a specific type of tea plant: one with big buds. We're looking for hefty chonkers here: no spindly little buds, otherwise it'd take forever to make a pound of tea.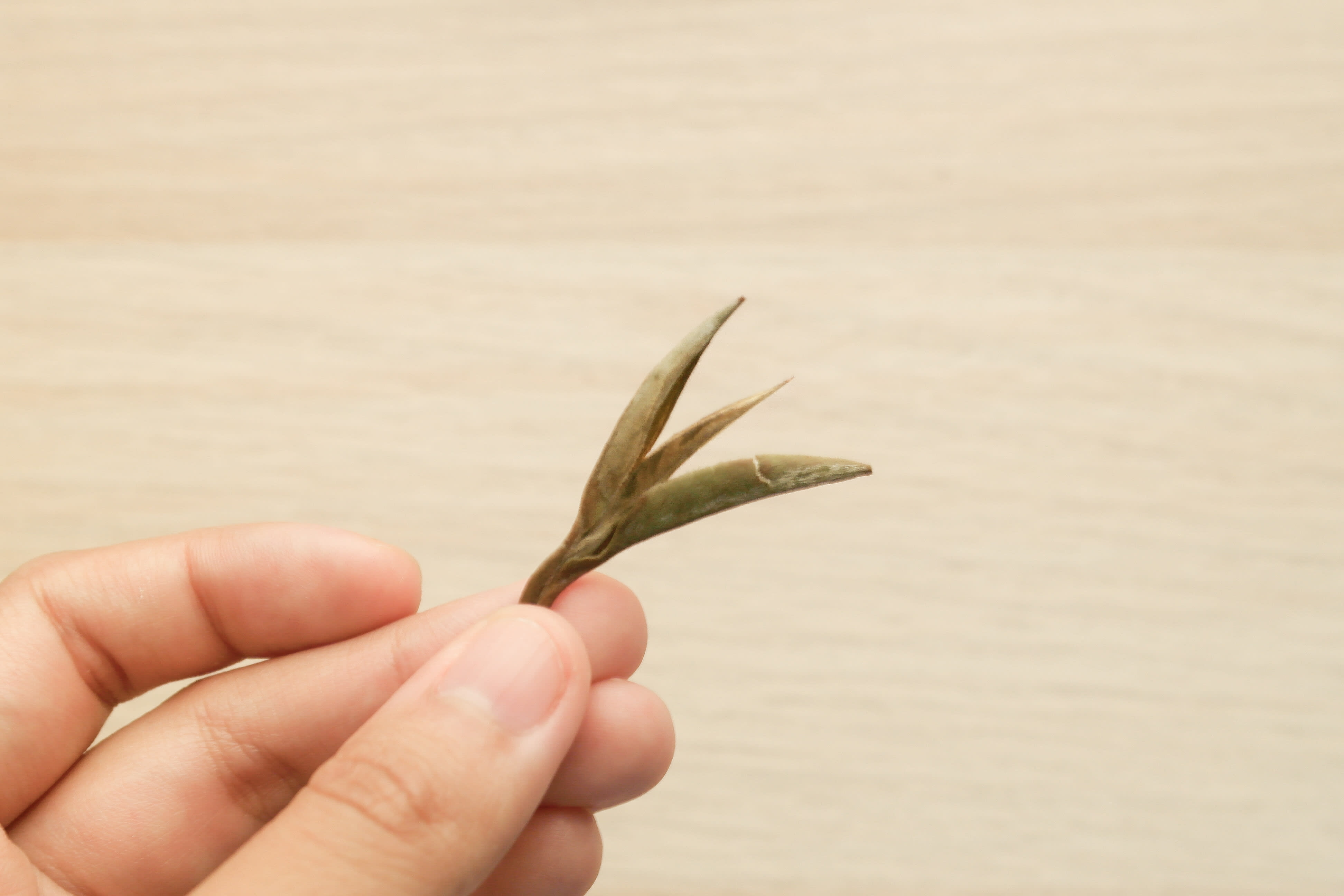 Just imagine trying to make Silver Needle from the same plants that produce oolong — with their tiny, spindly buds, it'd take a LONG time and would be extremely expensive!
Even with the large bud cultivars, a pound of Silver Needle contains several thousands of buds, so it's a laborious process. Some teamakers cut corners and try to make Silver Needle with a little bit of leaf still attached to increase the weight of the tea, but technically speaking, high quality Silver Needle is made from buds only.
Pick the bud AND the leaf? That's now White Peony. Pick the bud AND a few more leaves? That's now Shou Mei. Remember, more leaves = darker, more full-bodied profile.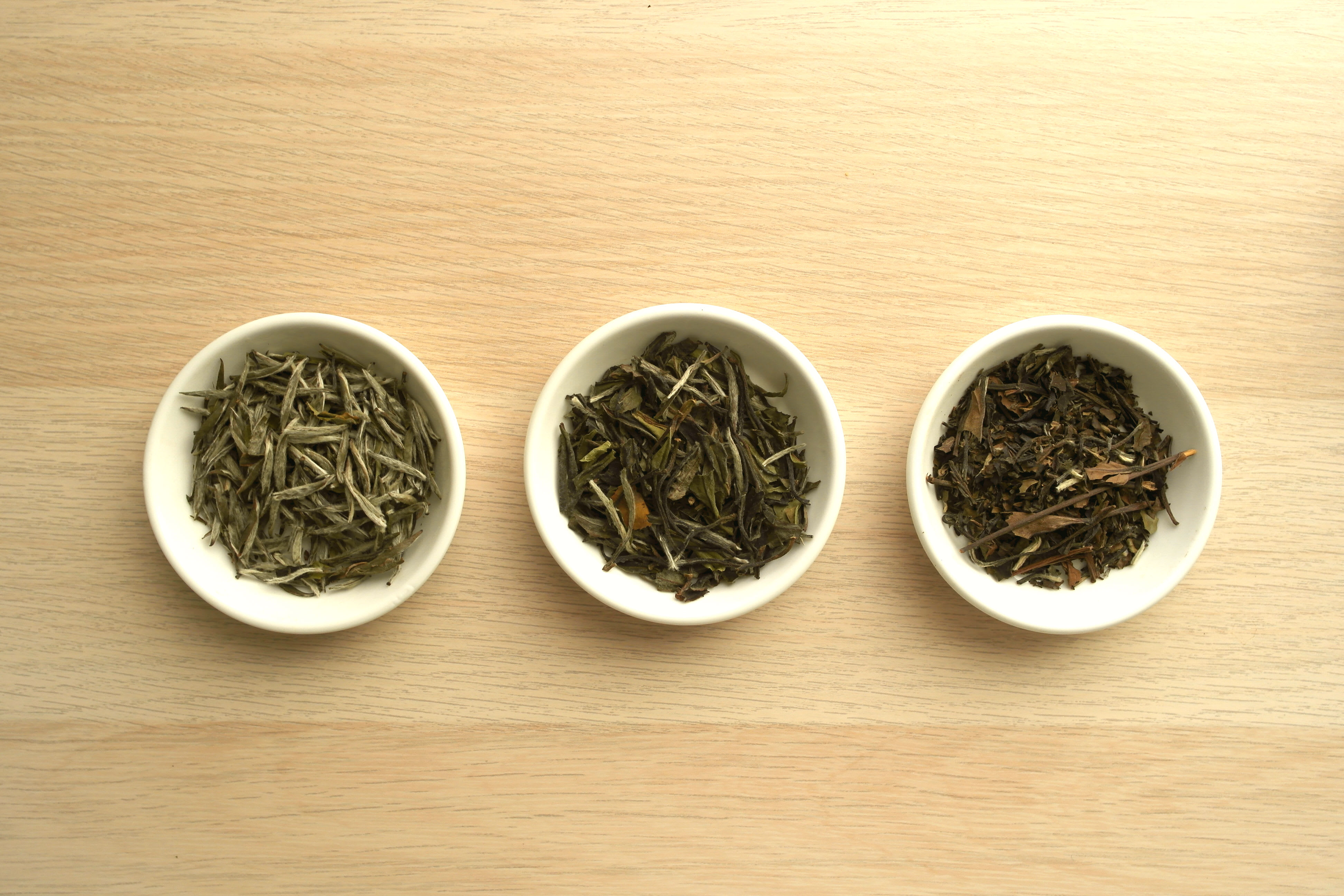 It requires a lot of skill from tea pickers to pick the right leaves precisely, avoiding any with physical damage or discoloration, and picking gently as to not harm the tea plant.
If the leaves are picked with too much force, or with a sharp surface like a fingernail or metal shears, oxidation begins to happen prematurely, which changes the flavor of the tea and increases bitterness.
Lots of tiny details, right?
But if the teamakers did their job, they're really making your life easier for this next step: actually brewing the Silver Needle.
How to Brew Silver Needle
OK, so you have some Silver Needle to brew. Congrats!
Now, I know the tea might come with instructions on the label. Go ahead and look at them. They're probably a fair guide. But just like in cooking, the magic happens when you understand (1) how the ingredients really work — which you do already, after all that reading! — and (2) what you can do to bring the best out of them.
And you know that those buds are tougher than they seem, and the quicker we can accept that, the better we'll be able to work with them (and extract maximum flavor!).
Our biggest challenge is that pesky myth that white tea is so delicate, it must only be brewed in cool water. This is the bane of Silver Needle, because the buds are covered in a layer of downy white hairs that can trap little pockets of air and prevent the tea from infusing evenly.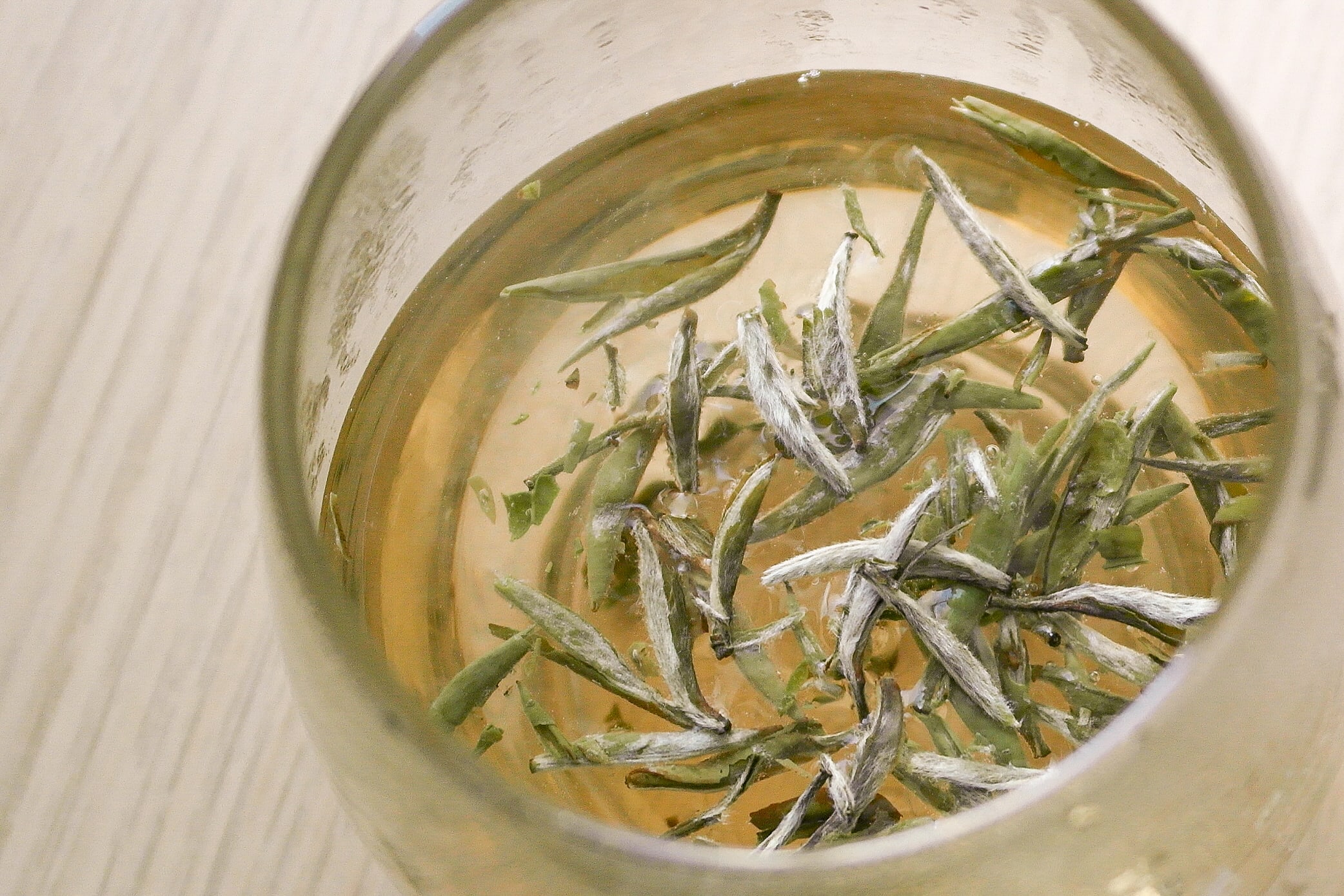 See how some of the buds are floating on the surface (not infusing!) while others are submerged? That's going to lead to uneven extraction — kinda like a wonky stir-fry with one burnt area and one undercooked area. We don't want wonky tea, now do we?
In nature, these white hairs protect the buds from physical damage and bug bites, so they're actually pretty resilient. Trust me. They can take it: use hot water, at least 90°C (195°F). Start with a 30 second to 1 minute infusion, and adjust the time thereafter for taste.
Make sure to pour evenly over the buds to submerge them under water if possible, or gently push the buds into the water with the lid of a gaiwan or tea tool if need be, so we get a nice, even brew.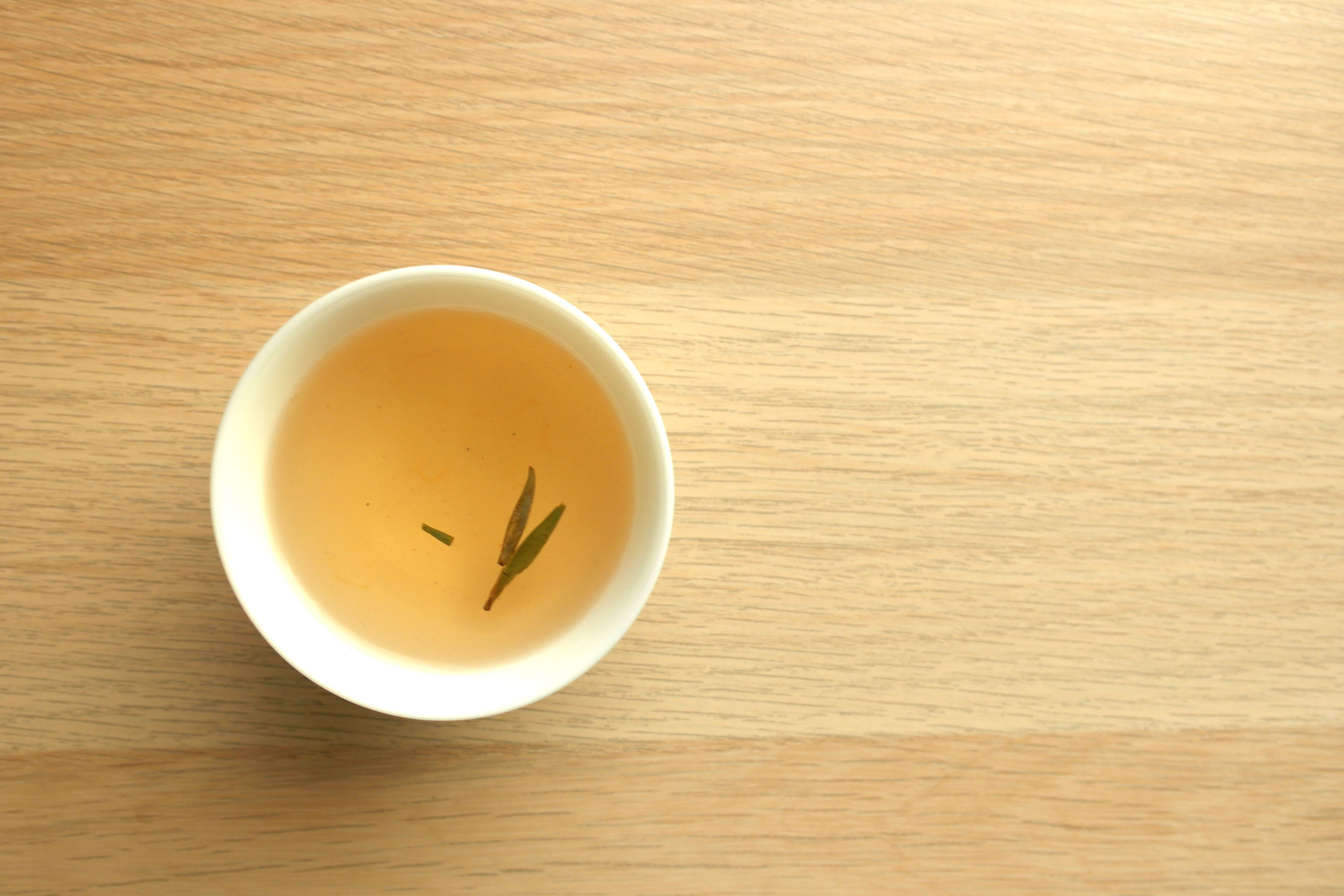 If you do find that your Silver Needle performs poorly under heat, then it may be a lower quality tea. Again, broken buds (and any kind of breakage in the leaves) translates into bitterness and sourness, and turning up the heat will help you identify subpar tea sooner rather than later.
Another thing to remember with Silver Needle is that it's high on volume, but low on weight. Just think about how tiny your floofy cat or dog gets right after a shower. A handful of Silver Needle looks poofy, but it actually doesn't actually weigh much, so grab a scale the first few times to brew to make sure you're using enough.
In general, we want around 3-5 grams of tea per 100 mL of water when brewing gongfu style, or around 2 grams per 100mL when brewing Western style.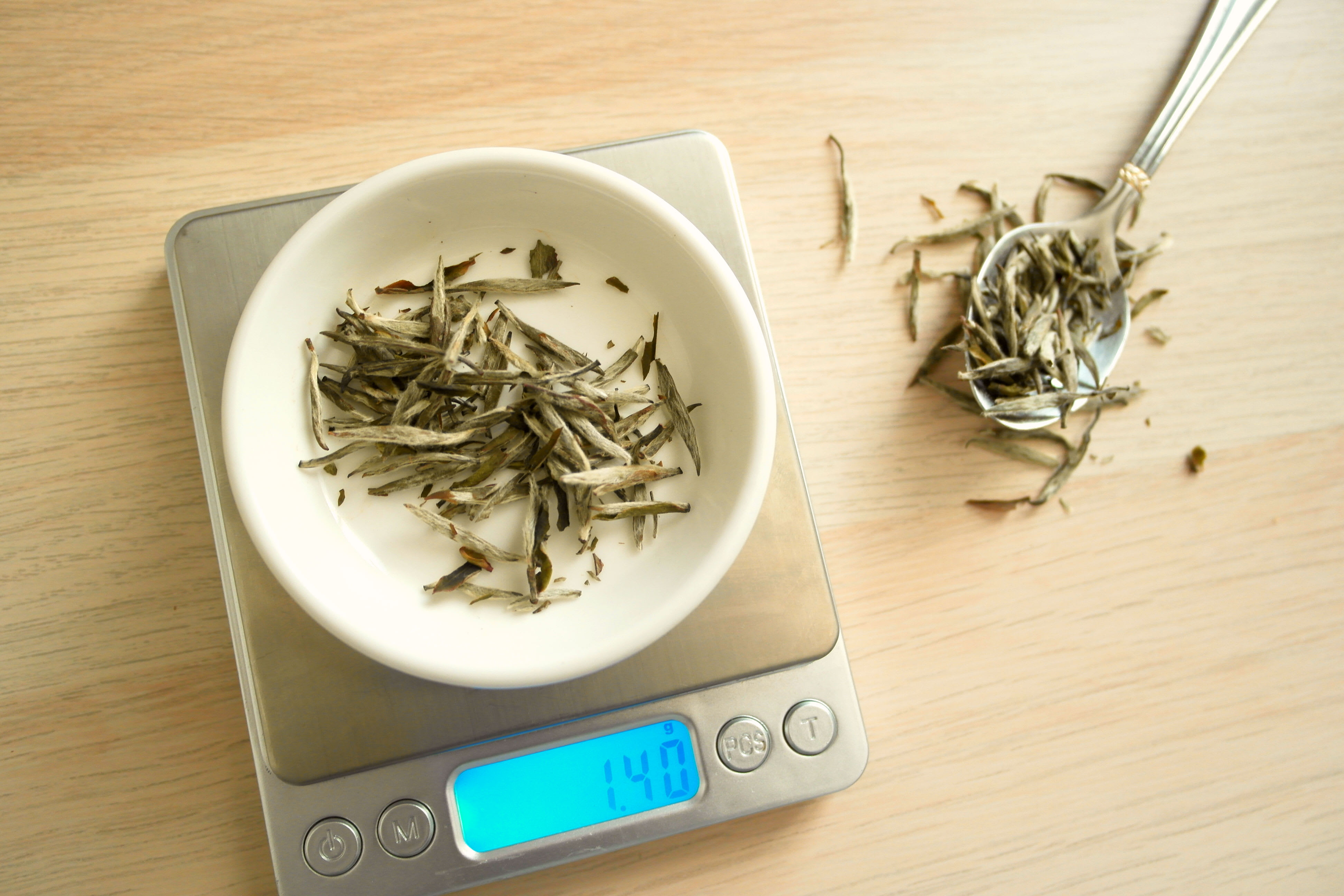 If you don't have a scale, use twice the amount you think is needed, but this is really a tea that rewards having a scale on hand when you're getting to know it, so you can start learning to eyeball how much you need when brewing.
Just check out how 5 grams of oolong compares to 5 grams of Silver Needle.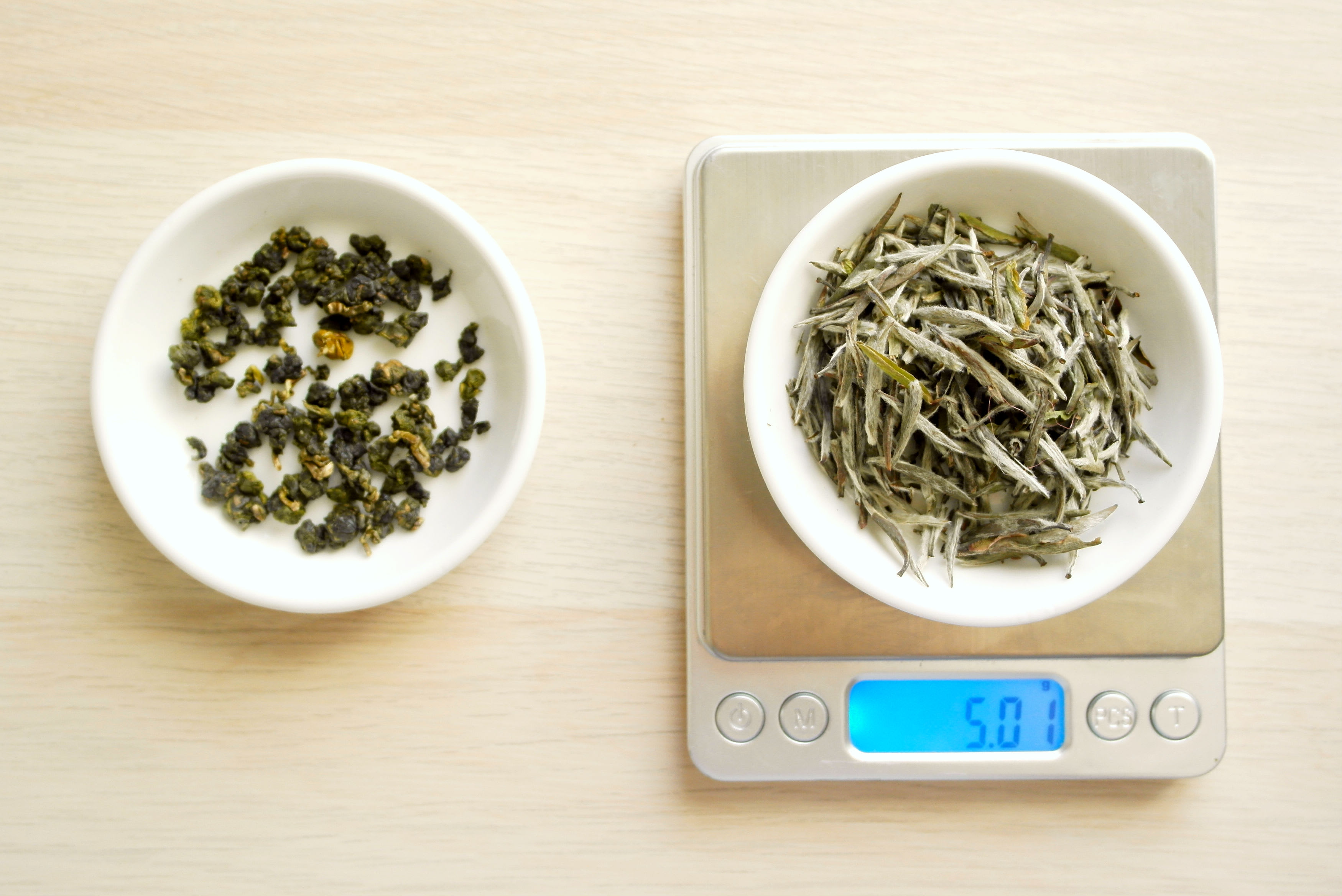 It looks like a LOT of Silver Needle, but in reality it's just enough!
This deceptive volume is also partly why Silver Needle has a reputation for being too bland or weak: folks often don't get to experience its full reputation, whether by using water that's not hot enough or from not using enough leaf. Or both, yikes!
But now you know. With these basics in mind, don't be afraid to get your money's worth from your batch of Silver Needle.
Cold Brewing Silver Needle
Because white tea is picked and very minimally processed, it has a tendency to be pretty high in caffeine, so be aware of this before brewing up a batch right before bed.
Silver Needle is a great tea in the morning before breakfast, or for when you need to get a ton of work or studying done.
To enjoy Silver Needle with a little less caffeine, you can cold-brew the tea by infusing the leaves in good quality water, around 15 – 30 grams per liter of water. The thick buds take longer than other types of tea to infuse in water, so give your cold-brew an initial shake to get it infusing, and allow at least 8-12 hours in the fridge, up to 48 hours.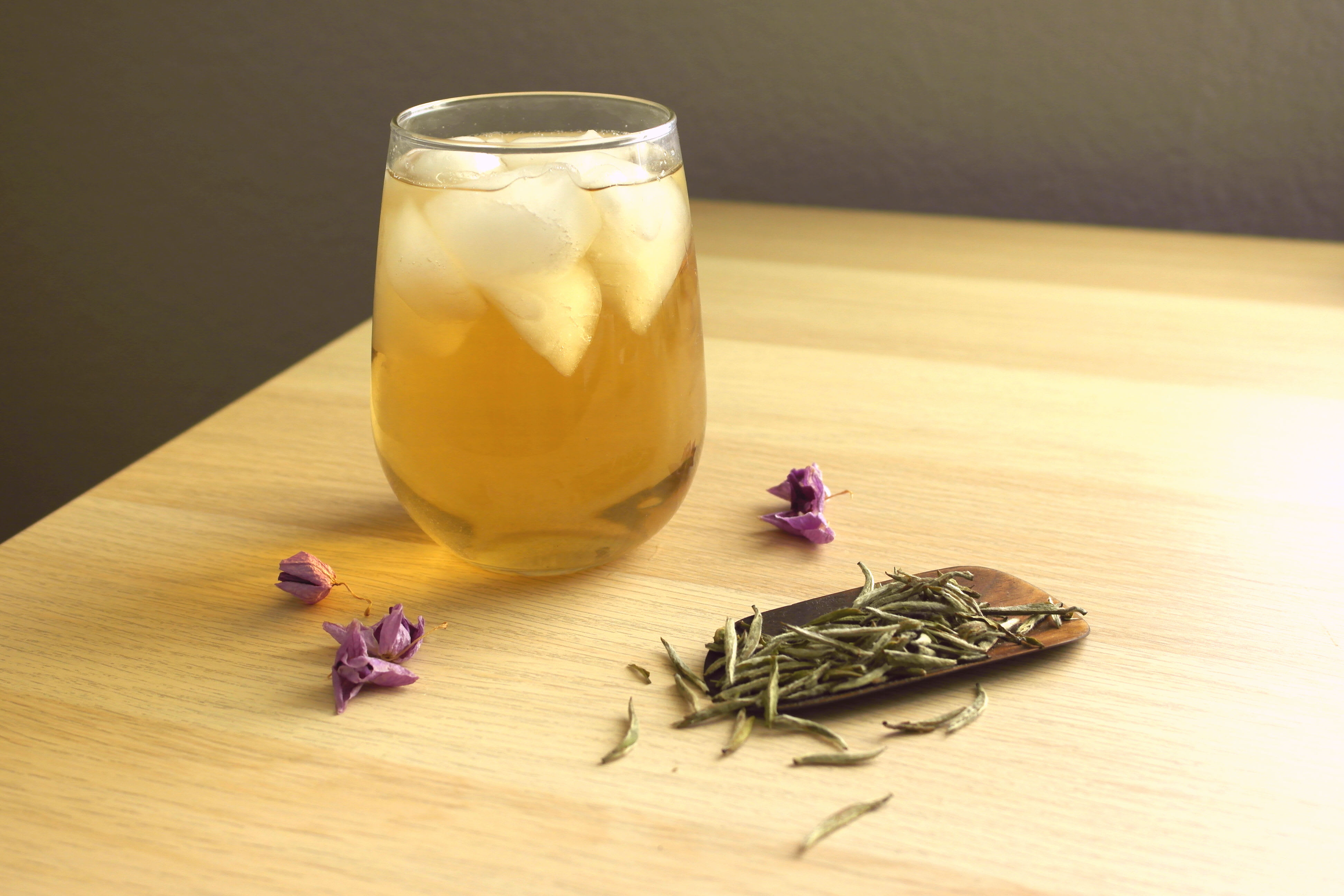 Because caffeine is less extracted at cooler temperatures, you'll have a naturally smooth, less caffeinated (but not totally caffeine-free) brew.
Be sure to use decent quality water for a cold-brew. Water quality is always important for tea, but it's especially important for a cold-brew since any off-tastes in the water will show through clearly in the flavor.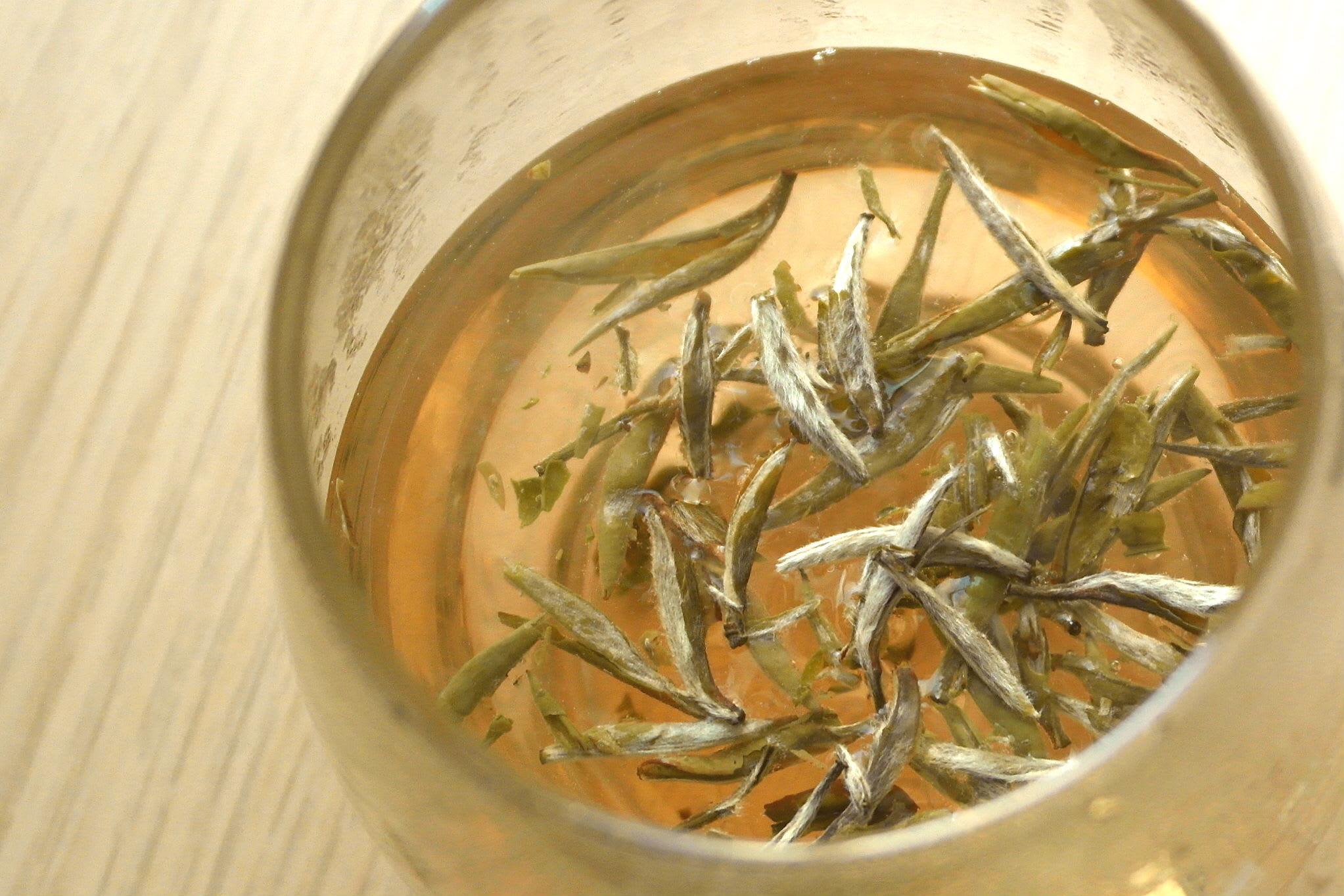 Teaware for Silver Needle
Last bit about brewing here: with such a gorgeous tea on your hands, how can you best show it off?
I always love tea sessions that are both practical and beautiful, but Silver Needle is an especially good tea to practice with. It's a striking tea and people in China often specifically seek out Silver Needle for its showmanship, so here's a few ways to feature that on your tea table.
Glass teapots are a favorite for Silver Needle in China. It's a great choice to enjoy the beautiful buds dancing in the water, and to show off the clear, sparkling color of the tea.
Glass also helps offset heat, so if you're dealing with a relatively more delicate Silver Needle, it'll be less likely to overbrew in glass even with boiling water.
Porcelain gaiwans are my personal favorite for Silver Needle. I find that good porcelain heightens the aroma of the tea, adds texture, and doesn't take away from the high notes; all of which I want to do for a Silver Needle. Gaiwans give you sooooo much control over the tea and you can still take off the lid to show off the tea during brewing if you'd like.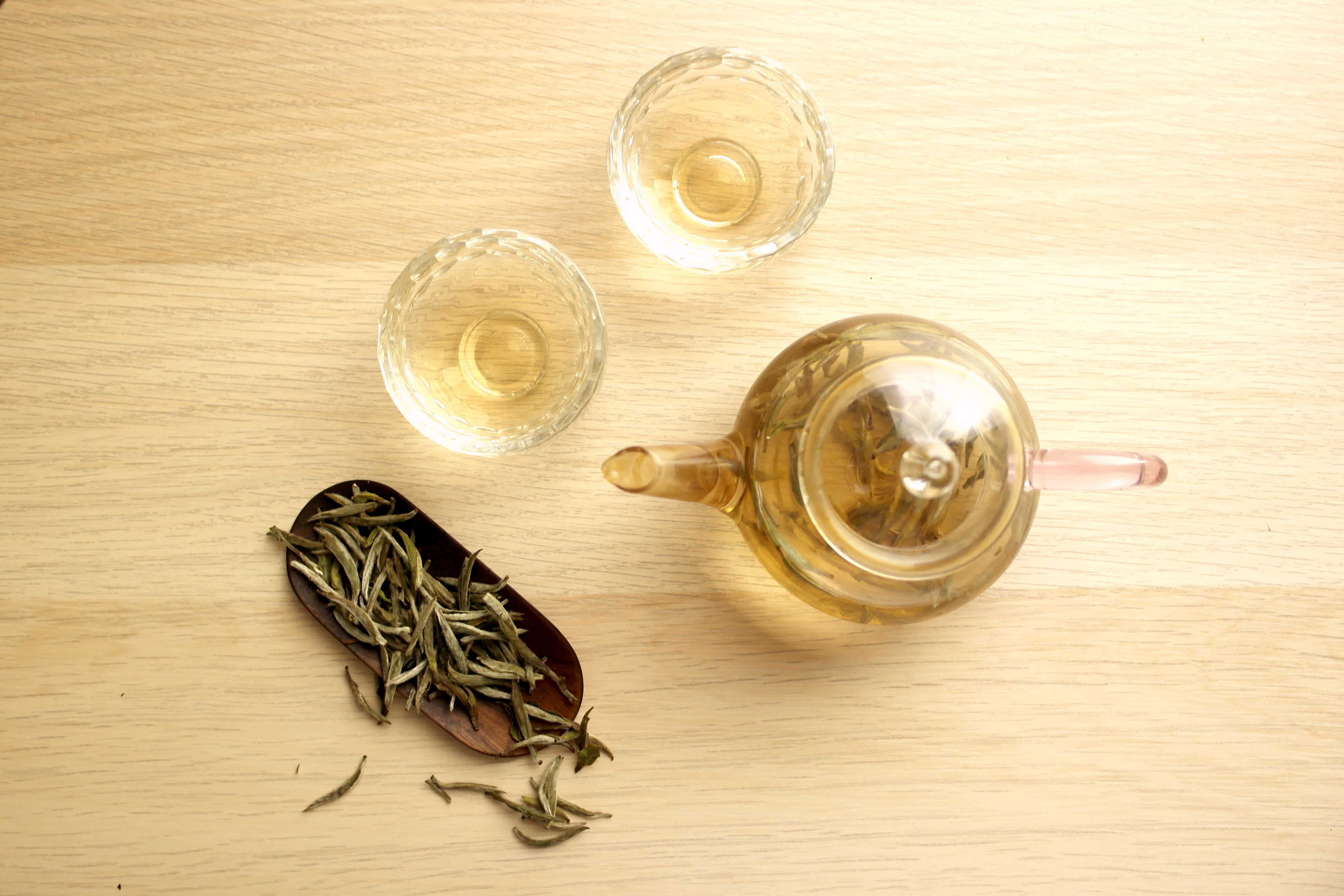 I find that super porous clay pots (with a super rough surface) don't do so well for Silver Needle. These pots often do better with teas that need some chillin' out: like roasted oolongs with too much roast, or pu'erh with a bit of an edge. Silver Needle sometimes need some help to shine, so I'd be careful to choose a clay that enhances aroma and high notes.
I've had some luck with white tea in classic Tokoname clay and the more unusual Nosaka clay, as well as in certain woodfired vessels.
Otherwise, just go with porcelain and call it a day!
Finally, round out the experience by choosing lighter colored cups to brew Silver Needle. The best ones brew up with a gorgeous, pale apricot liquor, and with the right angle and lighting, you can see the white pekoe from the buds dancing on the surface.
It's a gorgeous experience, and you can imagine how that might change with a different cup. Which one would you choose to serve in?
I love the look of Silver Needle served in thin porcelain and glass, but you should experiment with your cups and have fun with it.
And now you've made it to the bottom! Congratulations! I hope you've learned a bit about Silver Needle and what it can offer — it's a tea that's both overhyped and underrated for many reasons, and it's time it deserves a balanced treatment as part of our tea world.
Take the time to explore and enjoy it. Cheers!
Many thanks to white tea specialist Ross Allman for peer-reviewing this article.
Related : Getting To Know Taiwanese Teas